Deprecated
: Array and string offset access syntax with curly braces is deprecated in
/home/hxchector/hxchector.com/wp-content/plugins/easy-table/inc/Encoding.php
on line
156
Deprecated
: Array and string offset access syntax with curly braces is deprecated in
/home/hxchector/hxchector.com/wp-content/plugins/easy-table/inc/Encoding.php
on line
158
Deprecated
: Array and string offset access syntax with curly braces is deprecated in
/home/hxchector/hxchector.com/wp-content/plugins/easy-table/inc/Encoding.php
on line
159
Deprecated
: Array and string offset access syntax with curly braces is deprecated in
/home/hxchector/hxchector.com/wp-content/plugins/easy-table/inc/Encoding.php
on line
160
Xiezhai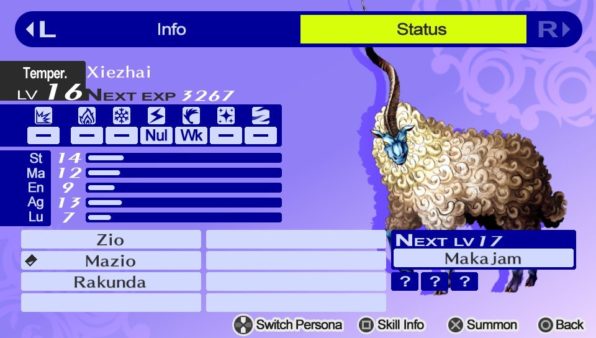 Xiezhai is a persona of the Temperance arcana. It specializes in the Electric element. Its default level is 16.
Info
A spirit from Chinese legend, shaped like a sheep, that can see through any lie. It occasionally appears in the human world to punish evildoers with the power stored in its sharp horn.
How to Obtain
Xiezhai can be found during shuffle time in the Bathhouse and Marukyu Striptease dungeons or by fusion.
Archangel + Eligor
Archangel + Titan
Archangel + Phoenix
Jack Frost + Eligor
Affinities
| Phys. | Fire | Ice | Elec. | Wind | Light | Dark |
| --- | --- | --- | --- | --- | --- | --- |
| - | - | - | Nul | Wk | - | - |
Skill List
| Skill | Level | Element | Cost |
| --- | --- | --- | --- |
| Zio | 16 | Electric | 4SP |
| Mazio | 16 | Electric | 10SP |
| Rakunda | 16 | N/A | 6SP |
| Makajam | 17 | N/A | 5SP |
| Silence Boost | 18 | N/A | Passive |
| Rampage | 19 | Physical | 12%HP |
| Electric Boost | 21 | Electric | Passive |