Persona are the creatures this series spotlights! Use them to battle shadows in the shadow world, or keep them alongside the Protagonist to help max out Social Links. Each main character in the group has their own Persona that will be "reborn" to a newer, stronger Persona once their Social Link is maxed out at level 10. The Protagonist can use 206 different Persona!
Izanagi is the very first Persona the protagonist will unlock. All other Persona must be obtained after battle through Shuffle Time or by Fusing Persona together in the Velvet Room. Once a Persona is accepted into the Protagonist's heart by selecting their card, it will be automatically added to the Persona Compendium. The Protagonist can hold up to 12 Persona at a time at max level. If there is no more room for a new Persona, one can be dismissed to accept the new creature. The amount of Persona you can hold at one time depends on the Protagonist's level.
Level 1: 6 Persona
Level 15: 8 Persona
Level 25: 10 Persona
Level 30: 12 Persona
Arcana and Social Links
All of the personas are connected to one of the 24 different Arcana. The name of these Arcana do not necessarily have any bearing on which Personas are categorized within them; however, there are some commonalities within groupings.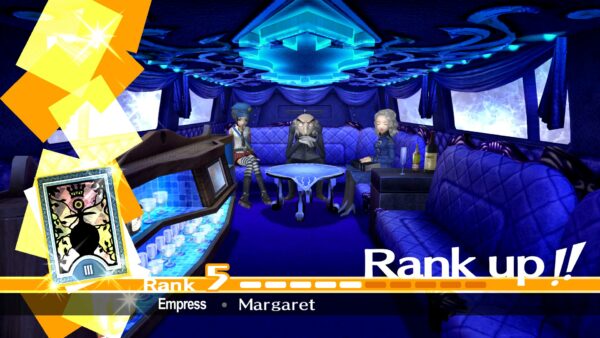 Each Arcana is tied to a Social Link you can establish in the game. Improve the Social Link to get an EXP Boost when fusing Persona of the same Arcana. For example: Yosuke is connected to the Magician Arcana. If Yosuke's Social Link reaches rank 8, any Persona that is fused together to become a Persona of the magician arcana will level up 8 times.
| | | | |
| --- | --- | --- | --- |
| Aeon | Fool | Judgment | Star |
| Chariot | Fortune | Justice | Strength |
| Death | Hanged Man | Lovers | Sun |
| Devil | Hermit | Magician | Temperance |
| Emperor | Hierophant | Moon | Tower |
| Empress | Jester | Priestess | The World |
Each Arcana must be maxed out to Rank 10 in order to receive a special key item. This key item will allow you to fuse the strongest Persona of that Arcana. That means you must max out all social links to fully register all Persona. This can be done over multiple play throughs if using New Game Plus.
Fusing Personas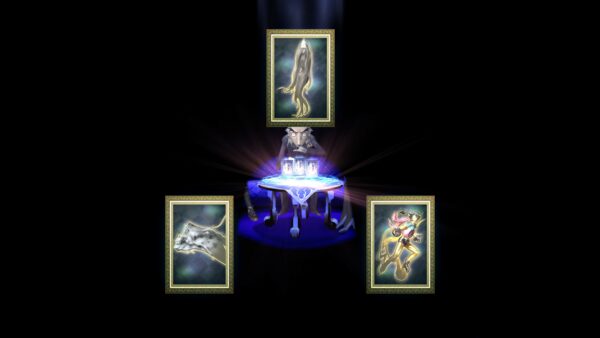 The Arcana also help decide what sort of Persona will result from a Persona fusion. If two Persona of the same Arcana are fused together, the resulting Persona will often be a Persona of the same Arcana and at a lower level. See the table in the picture below to see how a Fusion will turn out.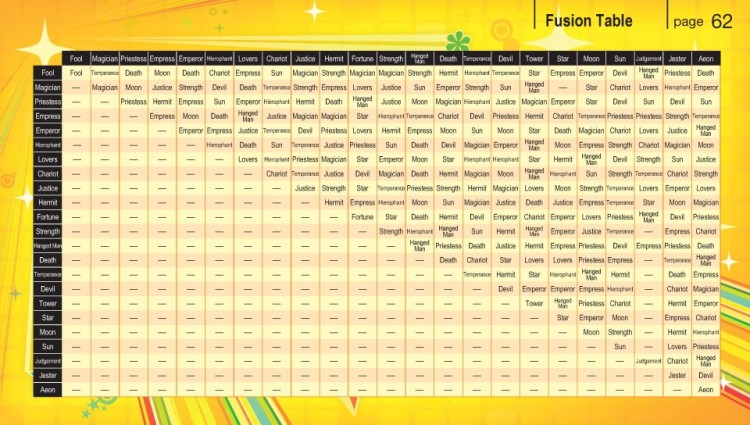 Specific Fusions
Igor will allow you to Fuse Personas in The Velvet Room. Present him with either two or three cards to create one new Persona. Starting July 10th, Igor will allow you to fuse four, five, or six Personas into one, called Cross-, Pentagonal-, and Hexagonal-fusion, respectively. Unlike the fusion with two or three cards, only select Persona can be used in advanced fusion to create specific Persona.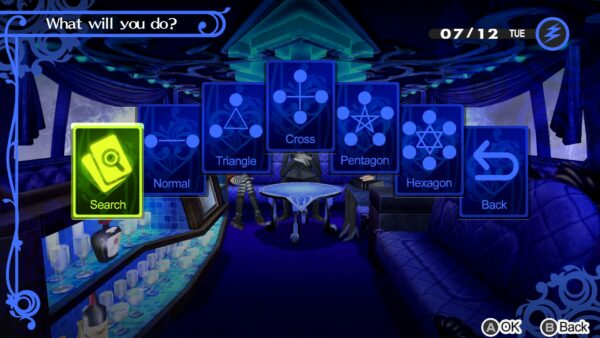 However, as concrete as the options may appear, Fusion is not an absolute process. An "accident" can happen. When a fusion accident occurs, you will not fuse the Persona you might have been anticipating, so be sure to save your game before you fuse too many high-leveled Persona. The first time an accident occurs, you receive the The Nose Doesn't Always Know trophy.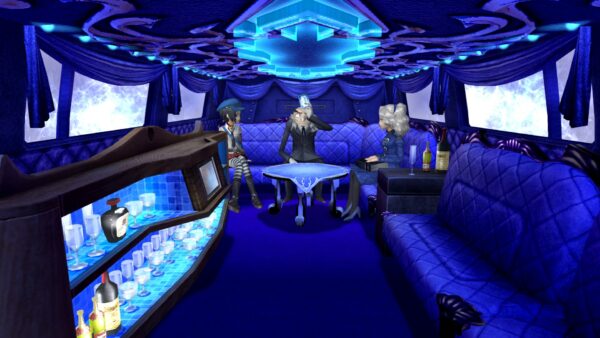 Searching for Fusions
If you don't wish to mix and match the cards you have to find the right Persona, you can choose the "Search" option in the Fuse menu to find the right Persona you wish to create. Only the Personas that can be created from the cards you have will be in this menu. If the Persona has a card icon next to their level, that means you already have the Persona registered in your Persona Compendium.
Fusion Forecast
Before fusing, you can check the Fusion Forecast in the Fuse menu of the Velvet Room. The Fusion Forecast shows bonuses that will be granted to newly-fused Personas. Sometimes a requirement must be met before this bonus is given, and sometimes it will be given to all Personas that are fused. Only the current day and the next day will be shown in the forecast at any given time.
Persona Compendium
The Persona Compendium is list of all Personas you have collected. After obtaining a Persona from a Shuffle Time, it will be automatically registered here. Fusing a Persona will also automatically register it to the Persona Compendium.
Persona can be manually registered by speaking with Margaret in the Velvet Room. Make sure to do this after going through a dungeon and leveling up a Persona! Registering a Persona will allow you to recall that Persona with the same stats, levels, and skills at a later date. Recalling a Persona from the Persona Compendium will cost a specific amount of money. The higher the level of the Persona, the more Yen you must spend. Register more Persona to earn a key item that grants you a discount when recalling Persona:
Velvet Ticket: Register 25% of all Personas to the Persona Compendium and you will get 10% off purchasing Personas.
Velvet Card: Register 50% of all Personas to the Persona Compendium and you will get 15% off purchasing Personas.
Velvet Pass: Register 75% of all Personas to the Persona Compendium and you will get 20% off purchasing Personas.
Persona Statistics
Each Persona has their own status screen. The screen will show their affinity to the eight different types of attacks.
Physical
Fire
Ice
Electricity
Wind
Light
Darkness
Almighty
Each of these attacks can have one of five effects on a Persona and the character currently holding the Persona. These effects are:
| Resist | Block | Drain | Repel | Weak |
| --- | --- | --- | --- | --- |
| Str | Nul | Dr | Rpl | Wk |
| Damage is reduced | Damage does nothing | Damage restores HP | Damage is shot back at attacker | Damage is increased, and knocks down enemy |
Not only are affinities changed for the player holding the Persona, but so are their stats.
| Stat | Use |
| --- | --- |
| Strength | Indicates the effectiveness of a Persona's Physical Skills. |
| Magic | Indicates the effectiveness of a Persona's Magic Skills and Magic Defense. |
| Endurance | Indicates the effectiveness of a Persona's Physical Defense. |
| Agility | Affects a Persona's Hit and Evasion rates. |
| Luck | Affects the possibility of a Persona performing Critical Hits and other things. |
Persona Skills
Each Persona can learn a total of eight skills. More skills can be taught as a Persona levels up. Each of your friends' Persona can also gain a new skill at select Social Link ranks.
Additionally, Skill Cards can be picked up during Shuffle Time in a dungeon. A Skill Card will allow you to teach a single attack to a single Persona in the Protagonist's inventory, it will not work for the other main characters. The skill will be semi-random when obtained from Shuffle Time, though better skills will show up in later dungeons. Give a Skill Card to Marie to register the card in the Skill Library. Doing so will allow you to buy that particular Skill Card multiple times. Using a Skill Card will consume the item, so make sure it's registered before using the item on a Persona!
Skill Cards can also be obtained from a Persona's current skills if the attack has a card icon. Drive to Chagall Cafe in Okina City with that Persona equipped and pay 5,000 Yen. At the end of the day, you'll receive a skill card from the equipped Persona if it has a skill with a card icon.
From time to time, you may find a friend near the Gas Station in the Central Shopping District during the day. They won't have an exclamation mark above their head, but you can still talk and spend the day with them. Doing so should take you to a hot spring.
There will be two options available while at the Hot Spring, each with their own purpose:
Talk about memories: This option will allow your friend's Persona to relearn an older, forgotten Skill.
Talk about the future: This option will allow your friend's Persona to learn a new Skill. These skills are bonus skills that cannot be learned through leveling up.
Persona in Alphabetical Order
Here is a list of all Persona available in Persona 4 Golden in Alphabetical Order. There are a total of 206 Persona, not including the Persona unique to the other characters. All must be obtained to complete the Persona Compendium and earn a Trophy.
Abaddon
Alice
Alilat
Alraune
Ame-no-Uzume
Ananta
Andra
Angel
Anubis
Anzu
Apsaras
Ara Mitama
Arahabaki
Archangel
Ardha
Ares
Asura
Atavaka
Atropos
Attis
Baal Zebul
Baphomet
Barong
Beelzebub
Belial
Belphegor
Berith
Black Frost
Byakko
Cerberus
Chernobog
Clotho
Cu Chullain
Cu Sith
Cybele
Daisoujou
Decarabia
Dis
Dominion
Eligor
Flauros
Forneus
Fortuna
Futsunushi
Fuu-ki
Gabriel
Ganesha
Ganga
Garuda
Gdon
Genbu
Ghoul
Girimehkala
Gorgon
Gurr
Hachiman
Hanuman
Hariti
Helel
Hell Biker
High Pixie
Hitokotonusi
Hokuto Seikun
Horus
Hua Po
Ikusa
Incubus
Ippon-Datara
Ishtar
Isis
Izanagi-no Okami
Izanagi
Jack Frost
Jatayu
Jinn
Kaguya
Kaiwan
Kali
Kartikeya
Kikuri-Hime
Kin-Ki
King Frost
Kingu
Kohryu
Kumbhanda
Kurama Tengu
Kushinada
Kusi Mitama
Lachesis
Laksmi
Lamia
Leanan Sidhe
Legion
Lilim
Lilith
Loa
Loki
Lucifer
Mada
Magatsu-Izanagi
Mahakala
Makami
Mara
Masakado
Matador
Melchizedek
Metatron
Michael
Mithra
Mokoi
Mot
Mother Harlot
Mothman
Narasimha
Narcissus
Nata Taishi
Nebiros
Neko Shogun
Nidhoggr
Nigi Mitama
Norn
Nozuchi
Obariyon
Oberon
Odin
Omoikane
Ongyo-ki
Oni
Orobas
Orthrus
Ose
Oukuninushi
Pabilsag
Pale Rider
Parvati
Pazuzu
Phoenix
Pixie
Power
Principality
Pyro Jack
Queen Mab
Quetzalcoatl
Raja Naga
Rakshasa
Rangda
Raphael
Saki Mitama
Samael
Sandalphon
Sandman
Sarasvati
Satan
Sati
Saturnus
Scathach
Seiryuu
Seiten Taisei
Senri
Setanta
Seth
Shiisaa
Shiki-Ouji
Shiva
Siegfried
Skadi
Slime
Sraosha
Succubus
Sui-ki
Suparna
Surt
Suzaku
Sylph
Take-Minakata
Tam Lin
Taotie
Taowu
Thor
Thoth
Throne
Titan
Titania
Triglav
Trumpeter
Tzitzimitl
Ukobach
Undine
Unicorn
Uriel
Valkyrie
Vasuki
Vetala
Virtue
Vishnu
White Rider
Xiezhai
Yaksini
Yamata-Orochi
Yatagarusu
Yatsufusa
Yomotsu-Shikome
Yoshitsune
Yurlungur
Zaou Gongen