Protagonist
The Hero of the story doesn't have a name in Persona 4, but his name can be learned through the anime and Persona 4 Arena. His cannon name is Yu Narukami.
He comes to Inaba because of his parent's work. During his stay he lives with Ryotaro Dojima and Nanako Dojima, who happen to be his Uncle and Cousin.
Throughout the game, he makes friends with other kids at Yasogami High School while trying to solve the mystery behind several murders.
Character Profile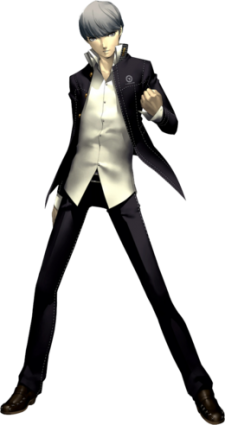 [table th="0″ width="100%" colwidth="50|50″ colalign="left|left"]
First Appearance|April 11th
Date of Birth|1994
Height|180 CM
Weight|?
Sex|Male
Preferred Weapons|Swords
Persona|Izanagi, Izanagi-no-Okami
Social Link|Fool
Voice Actor(s)|Johnny Yong Bosch
[/table]
Izanagi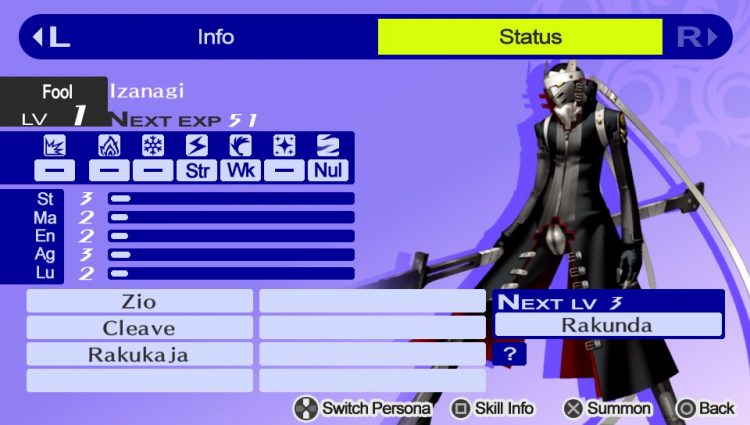 Izanagi is the very first Persona that will be obtained. It will become available at the Twisted Shopping District at the default Level 1.
[table caption="Affinities" width="100%" colwidth="15|15|15|15|15|15|15″ colalign="center|center|center|center|center|center|center"]
Physical|Fire|Ice|Electricity|Wind|Light|Darkness
-|-|-|Str|Wk|-|Nul
[/table]
[table caption="Skill List" width="100%" colwidth="25|25|25|25″ colalign="left|left|left|left"]
Skill|Level|Element|Cost
Zio|-|Electricity|4SP
Cleave|-|Physical|5HP
Rakukaja|-|N/A|12SP
Rakunda|3|N/A|12SP
Tarukaja|5|N/A|12SP
[/table]
Izanagi-no-Okami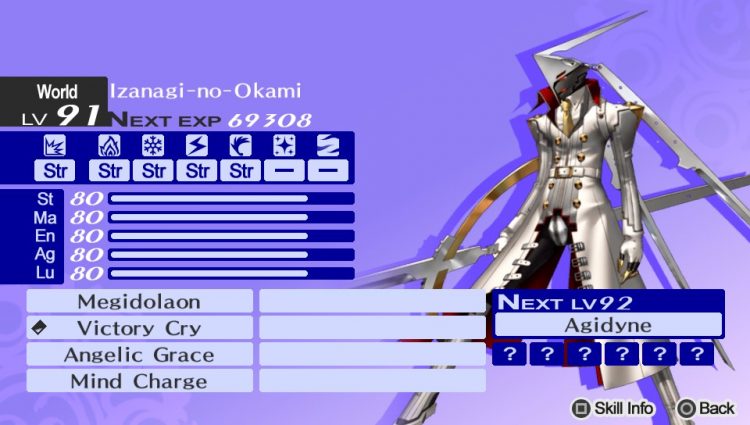 Izanagi-no-Okami is the only Persona in The World arcana and thusly, it cannot be found in a dungeon and must be fused using a Dodecagon special fusion (meaning "twelve").
You can only fuse Izanagi-no-Okami once you have completely finished the game once and received the True Ending. It cannot be fused on your first playthough.
Also, it will not receive any Bonus Experience during fusion, nor can it inherit any skills; its skill list is set in stone.
To fuse Izanagi-no-Okami, you will need to use:
Izanagi (Fool)
Sandman (Strength. Found in Yukiko's Castle.)
Nata Taishi (Chariot. Found in Yukiko's Castle.)
Girimehkala (Moon. Found in Secret Laboratory and Heaven.)
Norn (Fortune. Fuse Lachesis (Fortune), Clotho (Fortune), and Atropos (Fortune) with maxed Fortune Social Link.)
Okuninushi (Emperor. Found in Secret Laboratory.)
Orthrus (Hanged Man. Found in Void Quest or Secret Laboratory.)
Kartikeya (Star. Found in the Magatsu Mandala portion of the Magatsu Inaba, and Yomotsu Hirasaka.)
Mithra (Temperance. Found in Void Quest.)
Tzitzimitl (Priestess. Found in Yomotsu Hirasaka.)
Cu Chullain (Tower. Must be fused. There are a number of options. One is Neko Shogun (Star), Mithra (Temperance), Black Frost (Fool).)
Legion (Fool. Found in Marukyu Striptease.)
[table caption="Affinities" width="100%" colwidth="15|15|15|15|15|15|15″ colalign="center|center|center|center|center|center|center"]
Physical|Fire|Ice|Electricity|Wind|Light|Darkness
Str|Str|Str|Str|Str|Str|Str
[/table]
[table caption="Skill List" width="100%" colwidth="25|25|25|25″ colalign="left|left|left|left"]
Skill|Level|Element|Cost
Megidolaon|91|Almighty|60SP
Victory Cry|91|Healing|Passive
Angelic Grace|91|N/A|Passive
Mind Charge|91|Magic|15SP
Agidyne|92|Fire|12SP
Bufudyne|93|Ice|12SP
Ziodyne|94|Electric|12SP
Garudyne|95|Wind|12SP
Fire Amp|96|Fire|Passive
Ice Amp|97|Ice|Passive
Electric Amp|98|Electric|Passive
Wind Amp|99|Wind|Passive
[/table]