Taotie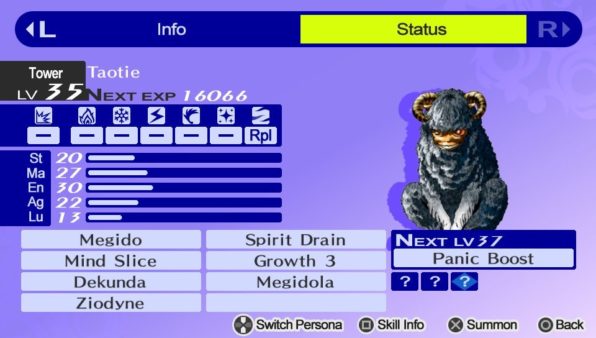 Tao Tie is a persona of the Tower Arcana. It specializes in the Almighty element. Its default level is 35.
Info
One of the Si-xiong of ancient China. It has a human face on a sheep-like body, and sharp fangs. Its insatiable hunger causes it to eat until nothing remains.
How to Obtain
Tao Tie — as with the other Tower Personas — cannot be found during shuffle time. Tao Tie must be fused.
Unicorn + Apsaras + Oni
Affinities
[table class="table-bordered" align="center" width="100%" colalign="center|center|center|center|center|center|center"]
Phys.|Fire|Ice|Elec.|Wind|Light|Dark
-|-|-|-|-|-|Rpl
[/table]
Skill List
[table class="table-bordered" align="center" width="100%" colalign="left|left|left|left"]
Skill|Level|Element|Cost
Megido|35|Almighty|18SP
Mind Slice|35|Physical|14%HP
Dekunda|35|N/A|10SP
Panic Boost|37|N/A|Passive
Mind Charge|38|Magic|15SP
Null Enervation|40|N/A|Passive
Torrent Shot|41|Physical|16%HP
[/table]