Deprecated
: Array and string offset access syntax with curly braces is deprecated in
/home/hxchector/hxchector.com/wp-content/plugins/easy-table/inc/Encoding.php
on line
156
Deprecated
: Array and string offset access syntax with curly braces is deprecated in
/home/hxchector/hxchector.com/wp-content/plugins/easy-table/inc/Encoding.php
on line
158
Deprecated
: Array and string offset access syntax with curly braces is deprecated in
/home/hxchector/hxchector.com/wp-content/plugins/easy-table/inc/Encoding.php
on line
159
Deprecated
: Array and string offset access syntax with curly braces is deprecated in
/home/hxchector/hxchector.com/wp-content/plugins/easy-table/inc/Encoding.php
on line
160
Sati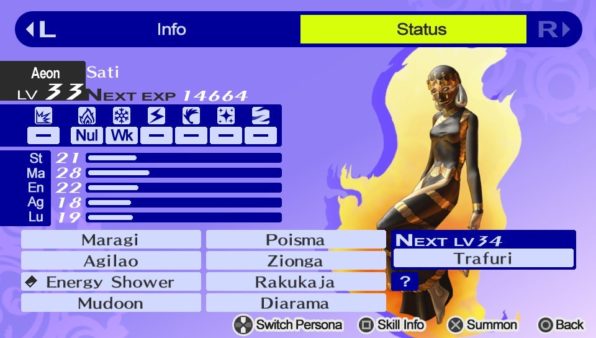 Sati is a persona of the Aeon Arcana. It specializes in recovery and the Fire element. Its default level is 31.
Info
Shiva's first consort in Hindu myth, she threw herself into a sacrificial fire in protest of her father's treatment of Shiva. Reborn as Parvati, she was reunited with Shiva.
How to Obtain
Sati, as with the other Aeon personas, cannot be found during shuffle time in any dungeons; it must be fused.
Possible Fusions
Kaiwan + Nozuchi
Pale Rider + Cu Sith + Queen Mab
Affinities
| Phys. | Fire | Ice | Elec. | Wind | Light | Dark |
| --- | --- | --- | --- | --- | --- | --- |
| - | Nul | Wk | - | - | - | - |
Skill List
| Skill | Level | Element | Cost |
| --- | --- | --- | --- |
| Maragi | - | Fire | 10SP |
| Agilao | - | Fire | 8SP |
| Energy Shower | - | N/A | 18SP |
| Diarama | 33 | Healing | 6SP |
| Trafuri | 34 | N/A | 24SP |
| Maragion | 36 | Fire | 16SP |