Deprecated
: Array and string offset access syntax with curly braces is deprecated in
/home/hxchector/hxchector.com/wp-content/plugins/easy-table/inc/Encoding.php
on line
156
Deprecated
: Array and string offset access syntax with curly braces is deprecated in
/home/hxchector/hxchector.com/wp-content/plugins/easy-table/inc/Encoding.php
on line
158
Deprecated
: Array and string offset access syntax with curly braces is deprecated in
/home/hxchector/hxchector.com/wp-content/plugins/easy-table/inc/Encoding.php
on line
159
Deprecated
: Array and string offset access syntax with curly braces is deprecated in
/home/hxchector/hxchector.com/wp-content/plugins/easy-table/inc/Encoding.php
on line
160
Phoenix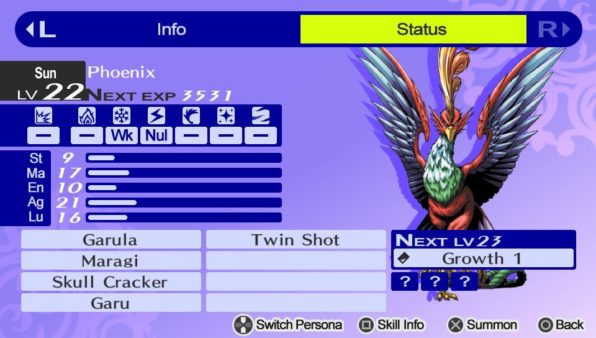 Phoenix is a Persona of the Sun arcana. It specializes in the Fire element. Its default level is 20.
Info
The legendary bird of Chinese myth. Said to appear only in times of peace. It is the ruler of all birds; when it dies, birds across the land chirp with sadness.
How to Obtain
Phoenix can be found during shuffle time in the Bathhouse and Marukyu Striptease dungeons or by fusion.
Jack Frost + Berith
Affinities
| Phys. | Fire | Ice | Elec. | Wind | Light | Dark |
| --- | --- | --- | --- | --- | --- | --- |
| - | - | Wk | Nul | - | - | - |
Skill List
| Skill | Level | Element | Cost |
| --- | --- | --- | --- |
| Garula | 20 | Wind | 8SP |
| Maragi | 20 | Fire | 10SP |
| Twin Shot | 22 | Physical | 10%HP |
| Growth 1 | 23 | N/A | Passive |
| Dodge Ice | 25 | Ice | Passive |
| Fire Boost | 26 | Fire | Passive |
| Maragion | 27 | Fire | 16SP |