Deprecated
: Array and string offset access syntax with curly braces is deprecated in
/home/hxchector/hxchector.com/wp-content/plugins/easy-table/inc/Encoding.php
on line
156
Deprecated
: Array and string offset access syntax with curly braces is deprecated in
/home/hxchector/hxchector.com/wp-content/plugins/easy-table/inc/Encoding.php
on line
158
Deprecated
: Array and string offset access syntax with curly braces is deprecated in
/home/hxchector/hxchector.com/wp-content/plugins/easy-table/inc/Encoding.php
on line
159
Deprecated
: Array and string offset access syntax with curly braces is deprecated in
/home/hxchector/hxchector.com/wp-content/plugins/easy-table/inc/Encoding.php
on line
160
Isis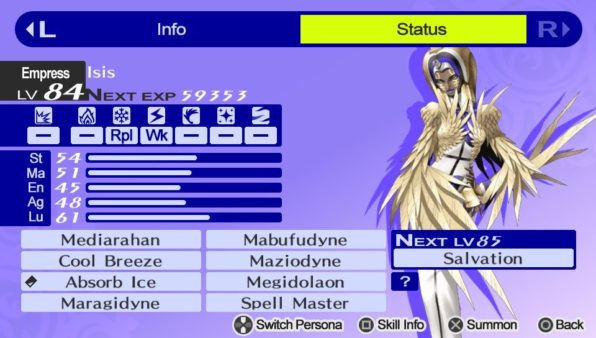 Isis is a persona of the Empress Arcana. It specializes in recovery. Its default level is 79.
Info
Osiris's wife as well as his younger sister. Upon the death of her husband, she revived him with her incredible magic power. Isis is seen at many gravesites as the guardian goddess of the dead.
How to Obtain
Isis can only be obtained through fusion once you have maximized the Empress Social Link with Margaret.
Possible Fusions
Zaou Gongen + Odin + Loki
Kaguya + Alice + Kin-ki
Ishtar + Alice + Trumpeter
Affinities
| Phys. | Fire | Ice | Elec. | Wind | Light | Dark |
| --- | --- | --- | --- | --- | --- | --- |
| - | - | Str | Wk | - | - | - |
Skill List
| Skill | Level | Element | Cost |
| --- | --- | --- | --- |
| Mediarahan | - | Healing | 30SP |
| Bufudyne | - | Ice | 12SP |
| Tetrakarn | - | N/A | 36SP |
| Cool Breeze | 80 | Healing | Passive |
| Absorb Ice | 82 | Ice | Passive |
| Mabufudyne | 83 | Ice | 22SP |
| Salvation | 85 | Healing | 40SP |
| Null Electric | 86 | Electric | Passive |