Deprecated
: Array and string offset access syntax with curly braces is deprecated in
/home/hxchector/hxchector.com/wp-content/plugins/easy-table/inc/Encoding.php
on line
156
Deprecated
: Array and string offset access syntax with curly braces is deprecated in
/home/hxchector/hxchector.com/wp-content/plugins/easy-table/inc/Encoding.php
on line
158
Deprecated
: Array and string offset access syntax with curly braces is deprecated in
/home/hxchector/hxchector.com/wp-content/plugins/easy-table/inc/Encoding.php
on line
159
Deprecated
: Array and string offset access syntax with curly braces is deprecated in
/home/hxchector/hxchector.com/wp-content/plugins/easy-table/inc/Encoding.php
on line
160
Gurr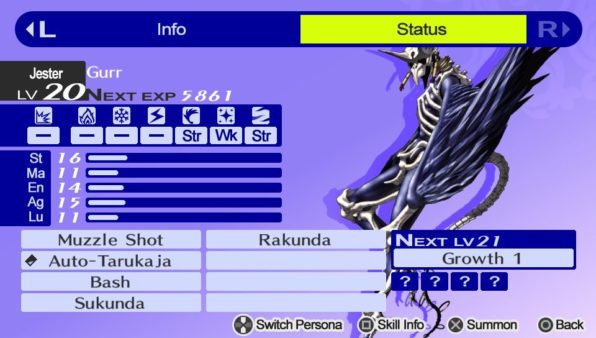 Gurr is a persona of the Jester / Hunger Arcana. It specializes in Physical attacks. Its default level is 20.
Info
A demon that takes the shape of a giant bird in Sri Lankan myth. It is thought to be a derivation of Garuda.
How to Obtain
Gurr — as with the other Jester/Hunger personas — cannot be found during shuffle time in any dungeons; it must be fused.
Affinities
| Phys. | Fire | Ice | Elec. | Wind | Light | Dark |
| --- | --- | --- | --- | --- | --- | --- |
| - | - | - | - | Str | Wk | Str |
Skill List
| Skill | Level | Element | Cost |
| --- | --- | --- | --- |
| Muzzle Shot | - | Physical | 9%HP |
| Auto-Tarukaja | - | N/A | Passive |
| Growth 1 | 21 | N/A | Passive |
| Swift Strike | 22 | Physical | 12%HP |
| Poison Mist | 23 | N/A | 12SP |
| Poison Boost | 25 | N/A | Passive |
| Resist Physical | 27 | Physical | Passive |