Routes 16 (Cycling Road – North)
Wild Pokemon

| Pokemon | Type |
| --- | --- |
| Pidgeotto | Normal/Flying |
| Oddish | Grass/Poison |
| Gloom | Grass/Poison |
| Venonat | Bug/Poison |
| Bellsprout | Grass/Poison |
| Weepinbell | Grass/Poison |
Route 16 is a short route west of Celadon City. It's the first / north part of Cycling Road. You can only enter it if you have a bicycle. Bicycles are sold at the Bike Shop in Cerulean City for 1,000,000. However, you can get one completely for free with a Bike Voucher by speaking to the head of the Pokemon Fan Club in Vermilion City.
Secret Hideout – Route 16
When you first reach the route, the main path will be blocked by a sleeping Snorlax, but you can use Cut on one of the small trees to the north. Follow this road to the west to find a secret hideout. Speak with the person inside to obtain HM02 Fly. This is a powerful flying-type attack, and it also allows you to fly from previously visited towns!
When you're ready to continue with the story, you can either challenge the Celadon City Pokemon Gym at the far southwest side of town, or you can uncover the secret of the Rocket Game Corner.
Return with a Poke Flute
The only way to wake up this Snorlax is with the PokeFlute. It will be awarded to you upon completing the Pokemon Tower quest. Speak with Mr. Fuji in his home to receive it.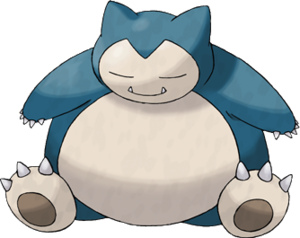 Sleeping Pokemon

| Pokemon | Level | Type | Moves |
| --- | --- | --- | --- |
| Snorlax | 30 | Normal | Amnesia, Headbutt, Rest |
Trainers
The rest of the route is nothing but Pokemon Trainers before going downhill—literally.
Biker

| Pokemon | Level | Type | Moves |
| --- | --- | --- | --- |
| Grimer | 29 | Poison | Pound, Disable |
| Koffing | 29 | Poison | Tackle, Smog |
Cue Ball

| Pokemon | Level | Type | Moves |
| --- | --- | --- | --- |
| Machop | 28 | Fighting | Karate Chop, Low Kick, Leer |
| Mankey | 28 | Fighting | Leer, Karate Chop, Fury Swipes, Focus Energy |
| Machop | 28 | Fighting | Karate Chop, Low Kick, Leer |
Cue Ball

| Pokemon | Level | Type | Moves |
| --- | --- | --- | --- |
| Mankey | 28 | Fighting | Leer, Karate Chop, Fury Swipes, Focus Energy |
| Machop | 28 | Fighting | Karate Chop, Low Kick, Leer |
Biker

| Pokemon | Level | Type | Moves |
| --- | --- | --- | --- |
| Weezing | 33 | Poison | Tackle, Smog, Sludge |
Cue Ball

| Pokemon | Level | Type | Moves |
| --- | --- | --- | --- |
| Machop | 33 | Fighting | Karate Chop, Low Kick, Leer, Focus Energy |
Biker

| Pokemon | Level | Type | Moves |
| --- | --- | --- | --- |
| Grimer | 26 | Poison | Pound, Disable |
| Grimer | 26 | Poison | Pound, Disable |
| Grimer | 26 | Poison | Pound, Disable |
| Grimer | 26 | Poison | Pound, Disable |