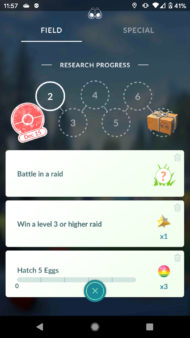 Field Research
Field Research are challenges that can be viewed by clicking the binocular icon at the bottom-right corner of the screen. These field research challenges will be added each time you spin a PokeStop. Up to three challenges can be held at a time, but only one stamp will be added per day after completing a challenge. If you complete two challenges within the same day, do not claim the reward for the second challenge until the next day.
Collect 7 field research stamps to receive 3000 XP, 5000 stardust, and encounter a special Pokemon. The Pokemon changes throughout the year, but is often a rare Pokemon or a Pokemon with a rare move. Make sure you have enough Poke Balls and berries before starting the encounter!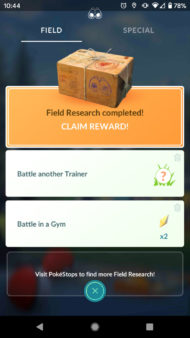 Special field research challenges appear automatically by the game developers, and are related to various special events. Swipe right from the field research challenges to see the special challenges. The special challenges can be completed as soon as possible. Do not wait for the next day to claim a reward!