Call of Duty Modern Warfare's multiplayer and spec ops modes feature a large variety of weapons that can be unlocked by leveling up. Additional weapons have been added through free updates that can be unlocked by completing challenges.
Both multiplayer and spec ops share the same rank progression and unlocks. Create and sign into a Call of Duty or Activision account in the options menu to also enable cross-progression on PC, PlayStation 4, or Xbox One. Newer Call of Duty games will share the same rank progression as well, but with unlocks specific to that game.
Create a loadout for Multiplayer or Spec Ops using one primary weapon, one secondary weapon, one lethal, one tactical, and three perks. These loadouts can also be edited by bringing up the Pause Menu in-game. Primary and secondary weapons can hold up to five attachments each, which can be equipped using the new Gunsmith feature.
The Perks are separated into three different tiers. Further information can be found on the Perks page.
The Gunsmith feature allows players to customize each gun with up to five attachments, camouflage, reticle, charm, and sticker. The camouflage, charm, and sticker are all aesthetic and have zero impact on the weapon. The reticle is the dot or design on optics, and can affect gameplay. Attachments have a large impact on weapon performance, and will show the different in the weapon stats.
Attachments are unlocked by using the gun and increasing that weapon's level. Most weapons can unlock five different attachments along the top half of the gun (Muzzle, Barrel, Laser, Optic, Stock) and four different attachments along the bottom half of the gun (Underbarrel, Magazine, Rear Grip, Perk). There are exceptions to the available attachment slots.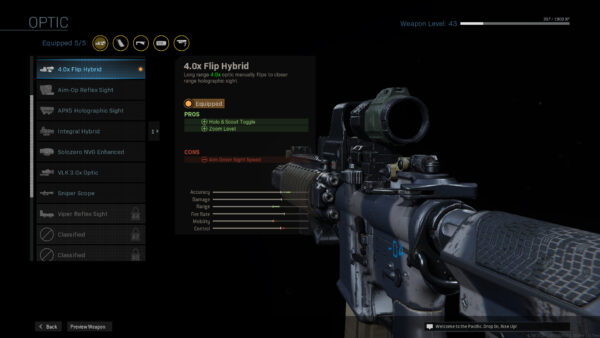 There is no rear grip attachment on the Model 680, FiNN LMG, EBR 14, Crossbow, SKS, Dragunov, or HDR.
There is no muzzle attachment for the AS VAL.
There is no magazine attachment for the P90, Mk2 Carbine, or Kar98k
There is no undebarrel attachment on the bottom half of the Mk2 Carbine.
All handguns have four attachments on the top half, but the Renetti and Sykov have five attachments on the top half because of their Stock attachment slot.
One popular customization in past Call of Duty games that showed player skill was weapon paint. Camouflage will paint the entire weapon skin a specific pattern: spray paint, woodland, digital, dragon, splinter, topo, tiger, stripes, reptile, skulls, and completionist. Each section contains a small list of weapon paints that are unlocked by completing challenges, but first the section must be unlocked by reaching a specific weapon level by using that firearm.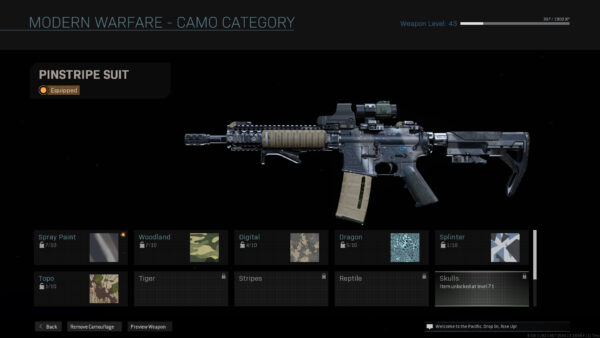 | Camo | Set Unlocked | Each Camo Unlocked By |
| --- | --- | --- |
| Spray Paint | Weapon Level 2 | Kill enemies |
| Woodland | Weapon Level 9 | Kill enemies while crouched |
| Digital | Weapon Level 16 | Get hip fire kills |
| Dragon | Weapon Level 22 | Get point blank kills |
| Splinter | Weapon Level 28 | Kill enemies with headshots |
| Topo | Weapon Level 33 | Get kills while your gun is using all attachments |
| Tiger | Weapon Level 38 | Get double kills |
| Stripes | Weapon Level 44 | Get kills shortly after reloading |
| Reptile | Weapon Level 50 | Get kills while your gun is using no attachment |
| Skulls | Weapon Level 55 | Get kills without dying |
| Completionist | Complete All Camo Challenges | |
Special camos are awarded for the completionists out there. The gold camo is unlocked after completing 10 different weapon camo challenges, the platinum camo will be unlocked after earning gold camo on all weapons in an entire weapon category (e.g. assault rifles), and the Damascus camo is earned after unlocking platinum camo on all weapons in the multiplayer. Recently the Obsidian camo was made available to Modern Warfare. To unlock Obsidian camo, the Gold camo must first be unlocked on that weapon, then a weapon challenge must be completed specific to that weapon category, and in some cases the actual weapon itself.
Blueprints can be created or unlocked for weapons to save a weapon mod – the equipped attachments and custom aesthetics. Purchased Blueprints will allow players to use a weapon or attachments even if the weapon has not been unlocked through rank progression. Using the gun in-game will still increase the weapon level, but new attachments cannot be used until the weapon is unlocked. All currently owned Blueprints can be seen in the Armory section of the Multiplayer menu.
Below is a list of all weapons available in Call of Duty: Modern Warfare's multiplayer and spec ops game modes. Click the name of each weapon to go to a page with further information. The free update DLC weapon pages are currently being worked on.
| Weapon | Weapon Class | Unlock Method | Fire Mode |
| --- | --- | --- | --- |
| Kilo 141 | Assault Rifle | Lv1 | Full Auto / Semi Auto |
| FAL | Assault Rifle | Lv1 | Semi Auto |
| M4A1 | Assault Rifle | Lv6 | Full Auto / Semi Auto |
| FR 5.56 | Assault Rifle | Lv16 | 3 Round Burst / Semi Auto |
| Oden | Assault Rifle | Lv28 | Full Auto / Semi Auto |
| M13 | Assault Rifle | Lv39 | Full Auto / Semi Auto |
| FN Scar 17 | Assault Rifle | Lv47 | Full Auto / Semi Auto |
| AK-47 | Assault Rifle | Lv53 | Full Auto / Semi Auto |
| RAM-7 | Assault Rifle | Get 2 Headshots using Assault Rifles in 25 different matches. | Full Auto / Semi Auto |
| Grau 5.56 | Assault Rifle | Get 5 kills in a minute when using an Assault Rifle 25 times. | Full Auto / Semi Auto |
| CR-56 AMAX | Assault Rifle | Get 3 Gunbutt Kills while using an Assault Rifle in 10 different matches. | Full Auto |
| AN-94 | Assault Rifle | Get 2 hip fire kills while using an Assault Rifle in 7 different matches. | 2 Round Burst / Full Auto |
| AS VAL | Assault Rifle | Get 2 headshots using Assault Rifles in 5 different matches. | Full Auto |
| AUG | Submachine Gun | Lv1 | Full Auto |
| P90 | Submachine Gun | Lv1 | Full Auto / Semi Auto |
| MP5 | Submachine Gun | Lv12 | Full Auto / Semi Auto |
| Uzi | Submachine Gun | Lv34 | Full Auto / Semi Auto |
| PP19 Bizon | Submachine Gun | Lv42 | Full Auto / Semi Auto |
| MP7 | Submachine Gun | Lv54 | Full Auto / Semi Auto |
| Striker 45 | Submachine Gun | Get 2 kills while sliding when using an SMG in 15 different matches. | Full Auto / Semi Auto |
| Fennec | Submachine Gun | Get 5 kills while using an SMG with the Solozero Optics Mini Reflex and Ranger Foregrip in 10 different matches. | Full Auto / Semi Auto |
| ISO | Submachine Gun | Get 5 kills using an SMG with a holo optic in 7 different matches. | Full Auto / Semi Auto |
| CX-9 | Submachine Gun | Get 2 long shot kills while using an SMG in 5 different matches. | Full Auto / Semi Auto |
| Model 680 | Shotgun | Lv1 | Pump Action |
| R9-0 Shotgun | Shotgun | Lv1 | Double Barrel Pump Action |
| 725 | Shotgun | Lv17 | Double Barrel |
| Origin 12 Shotgun | Shotgun | Lv 31 | Semi Auto |
| VLK Rogue | Shotgun | Using a Shotgun with 5 attachments, get 7 kills in 15 different matches. | Pump Action |
| JAK-12 | Shotgun | Get 3 hip fire kills using shotguns in 7 different matches. | Full Auto |
| PKM | Light Machine Gun | Lv1 | Full Auto |
| SA87 | Light Machine Gun | Lv24 | Full Auto / Semi Auto |
| M91 | Light Machine Gun | Lv25 | Full Auto |
| MG34 | Light Machine Gun | Lv49 | Full Auto / Semi Auto |
| Holger-26 | Light Machine Gun | Get 2 Longshot kills while using a Light Machine Gun in 25 different matches. | Full Auto / Semi Auto |
| Bruen Mk9 | Light Machine Gun | Get 3 kills when the enemy is near smoke using a Light Machine Gun in 15 different matches. | Full Auto |
| FiNN LMG | Light Machine Gun | Get 1 melee kill while using an LMG in 7 different matches. | Full Auto |
| RAAL MG | Light Machine Gun | Get 5 kills in 7 different matches while using LMG's equipped with the Scout Optic. | Full Auto / Semi Auto |
| EBR-14 | Marksman Rifle | Lv1 | Semi Auto |
| MK2 Carbine | Marksman Rifle | Lv15 | Lever Action |
| Kar98k | Marksman Rifle | Lv33 | Bolt Action |
| Crossbow | Marksman Rifle | Using a Marksman Rifle with a Reflex Optic, get 5 kills in 25 different matches. | Single Shot |
| SKS | Marksman Rifle | Using a Sniper Rifle or Marksman Rifle, get 2 Longshot Kills that are headshots in 15 different matches. | Semi Auto |
| SP-R 208 | Marksman Rifle | Using a Sniper Rifle or Marksman Rifle, get 2 Longshot Kills that are headshots in 5 different matches. | Bolt Action |
| Dragunov | Sniper Rifle | Lv1 | Semi Auto |
| HDR | Sniper Rifle | Lv11 | Bolt Action |
| AX-50 | Sniper Rifle | Lv37 | Bolt Action |
| Rytec AMR | Sniper Rifle | Get 2 Quick Scope Kills using a Sniper Rifle or Marksman Rifle in 15 different matches. | Semi Auto |
| Riot Shield | Primary Melee | Lv22 | – |
| X16 | Handgun | Lv1 | Semi Auto |
| 1911 | Handgun | Lv1 | Semi Auto |
| .357 | Handgun | Lv21 | Semi Auto |
| M19 | Handgun | Lv37 | Semi Auto |
| .50 GS | Handgun | Lv52 | Semi Auto |
| Renetti | Handgun | Using a pistol, get 2 headshot kills in 15 different matches. | Semi Auto |
| Sykov | Handgun | Get 4 kills while using pistols in five different matches. | Semi Auto |
| PILA | Launcher | Lv1 | Free Fire w/ Lock On |
| Strela-P | Launcher | Lv17 | Free Fire |
| JOKR | Launcher | Lv35 | Lock On |
| RPG-7 | Launcher | Lv44 | Free Fire |
| Combat Knife | Secondary Melee | Lv22 | – |
| Kali Sticks | Secondary Melee | Using the knife, get 3 kills while sliding in 15 different matches. | – |
| Dual Kodachis | Secondary Melee | Using the knife, get 3 kills while behind the enemy in 15 different matches. | – |