The deluxe WWF Winged Eagle Championship has an upgraded leather strap, but the plates are the same as the regular version. See the replica in great detail here.
The Figures Toy Company was able to reproduce these classic championship belts with the original WWF logo in the mid 2000s to mid 2010s. Three versions were manufactured, with this deluxe version featuring an upgraded leather strap.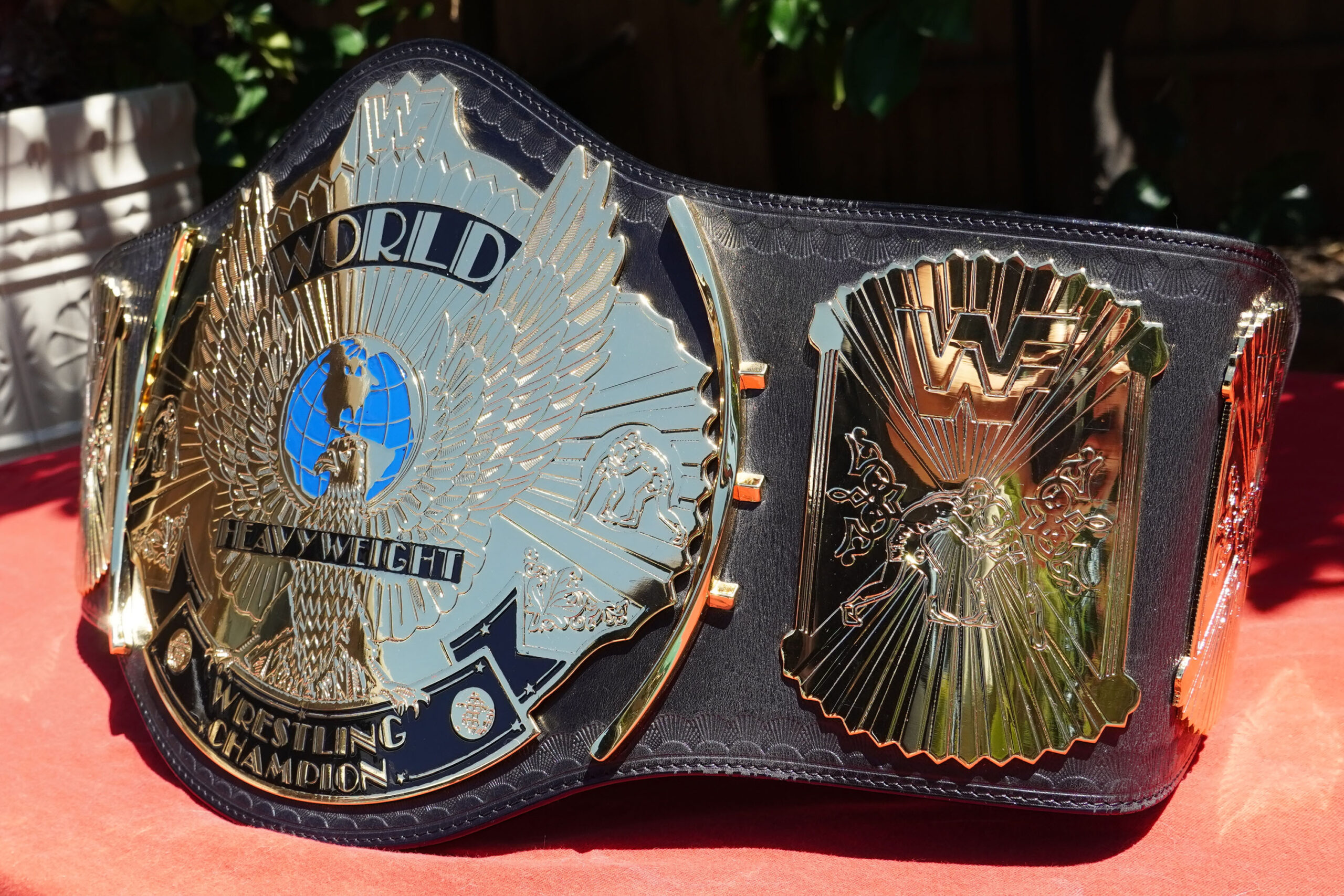 Click here to see the normal WWF Winged Eagle Replica Review.
All six plates are made of metal and are 2mm thick. There is the main plate, two first side plates that are identical, two second side plates that are nearly identical but mirrored for the border, and the WWF Champion plate near the female snaps. The etching on the plates is highly detailed, but since the plates are so thin the etching is not very deep. All plates are a light-gold color with a mirror finish.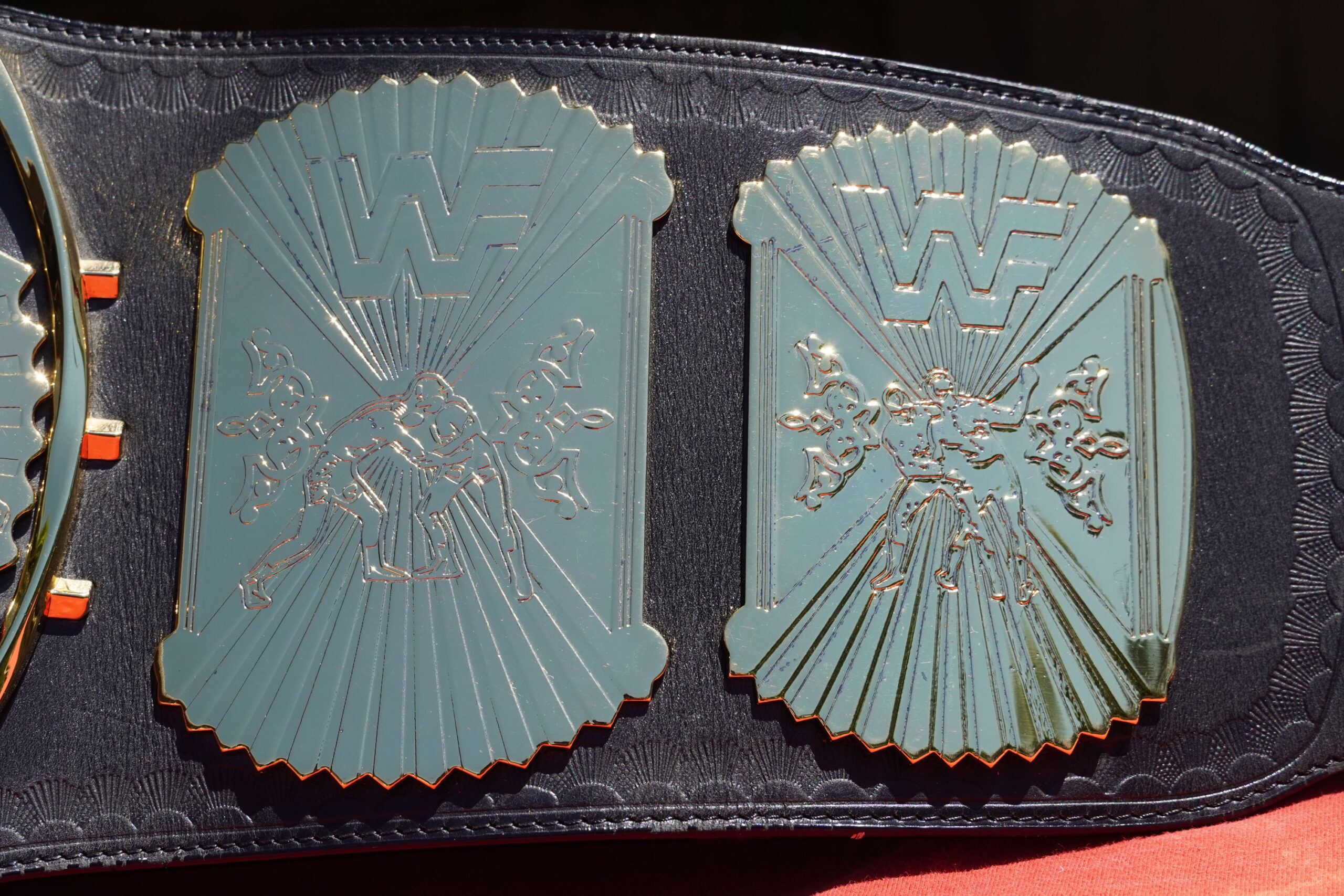 Click here to see the ultra deluxe WWF Winged Eagle Replica Review with detailed information.
Two twisted bars are to the left and right of the center plate. They are attached to the strap with three screws. The screws affixing all plates are exposed on the back of the strap. Finally, a gold tip is screwed to the end of the strap near the female snaps.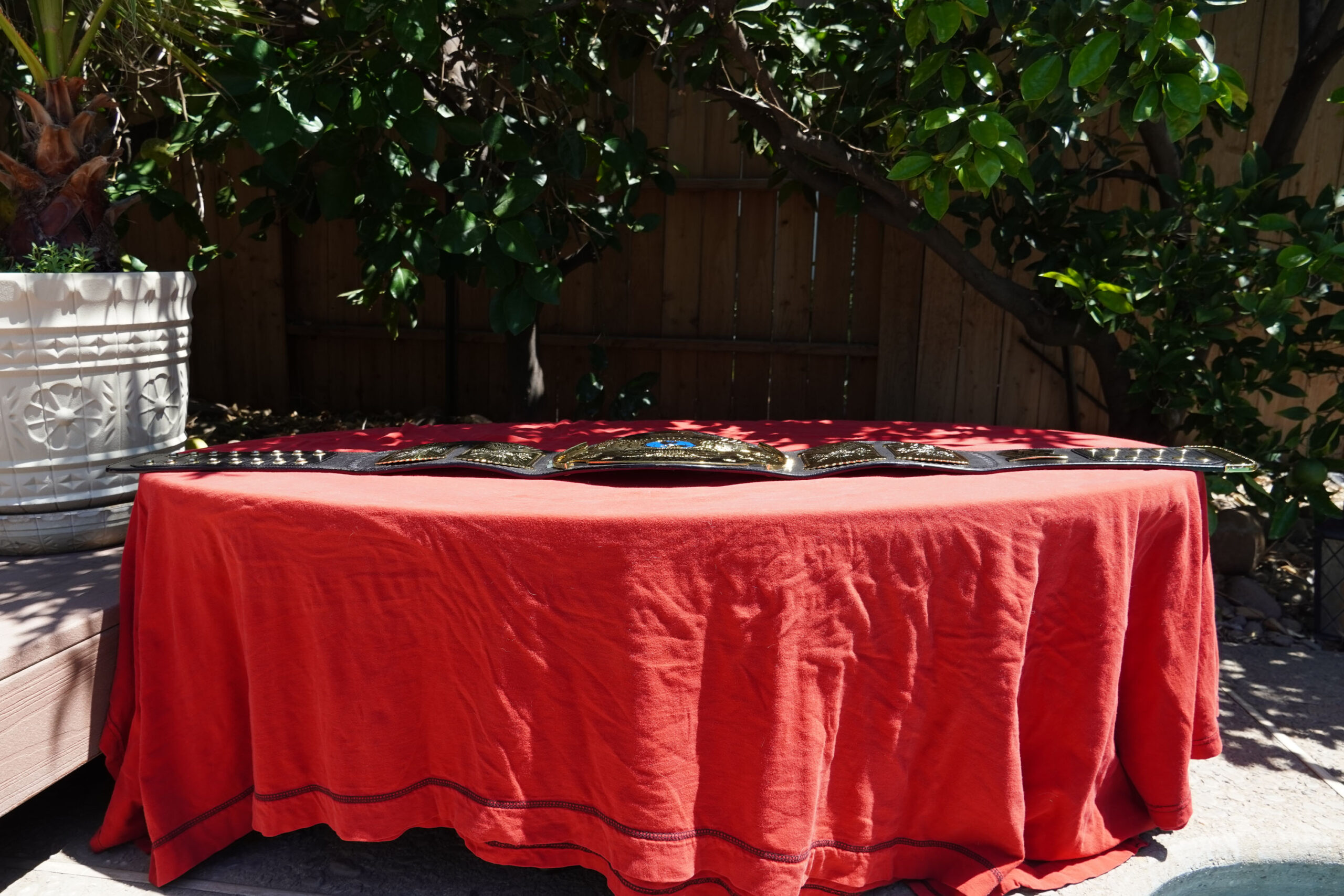 The strap is a thick, black leather with seashell tooling around the five plates. The Figures Toy Co and licensing information is imprinted on a patch sewn on to the back of the strap. In fact, there is thin stitching around the border of the entire strap.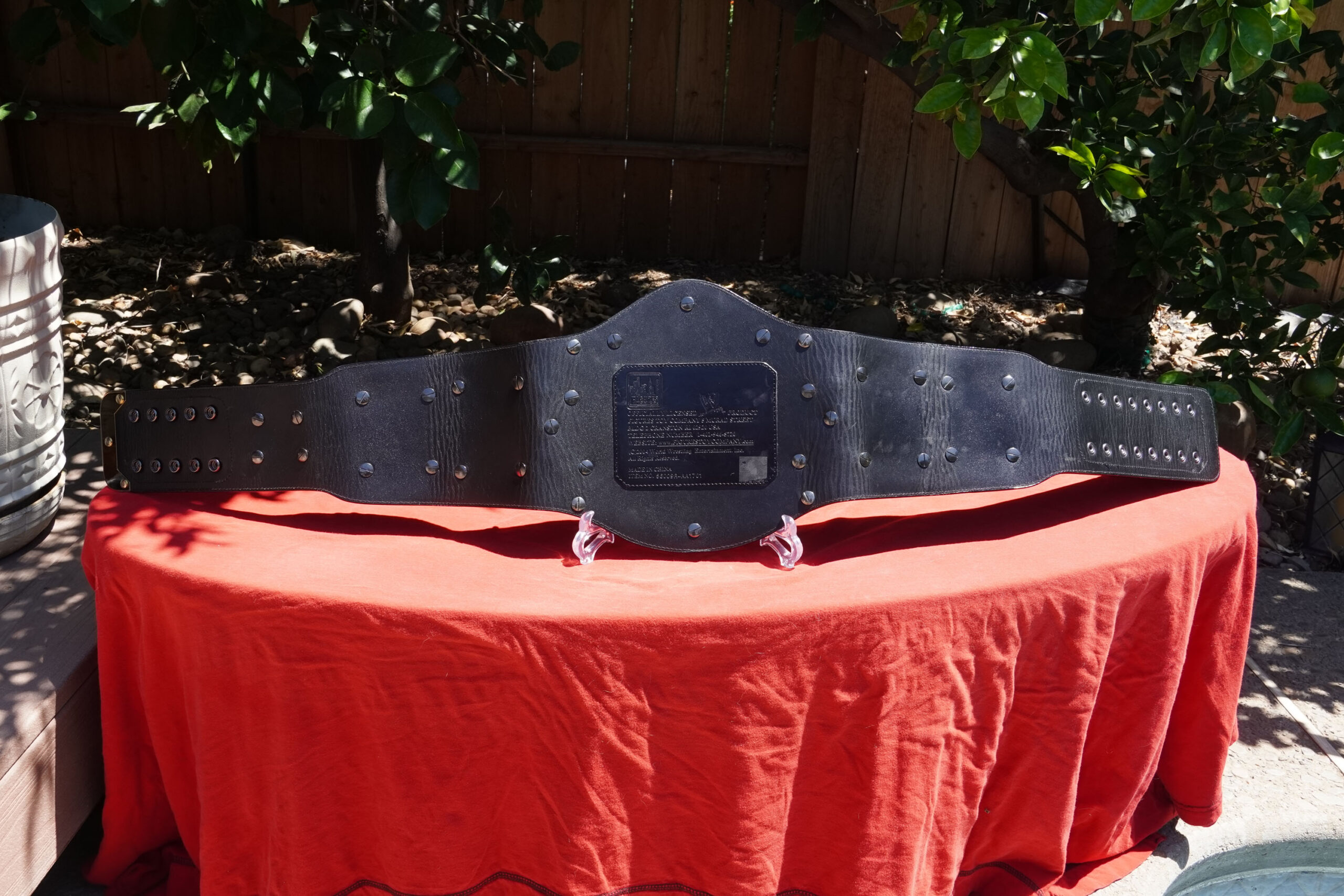 The real leather strap is the highlight of the deluxe WWF Championship replica, in addition to a certificate of authenticity (which I do not have) and a soft, fuzzy bag. The rest of the replica is the same as the original version. It has some weight, but is still light enough due to the 2mm plates.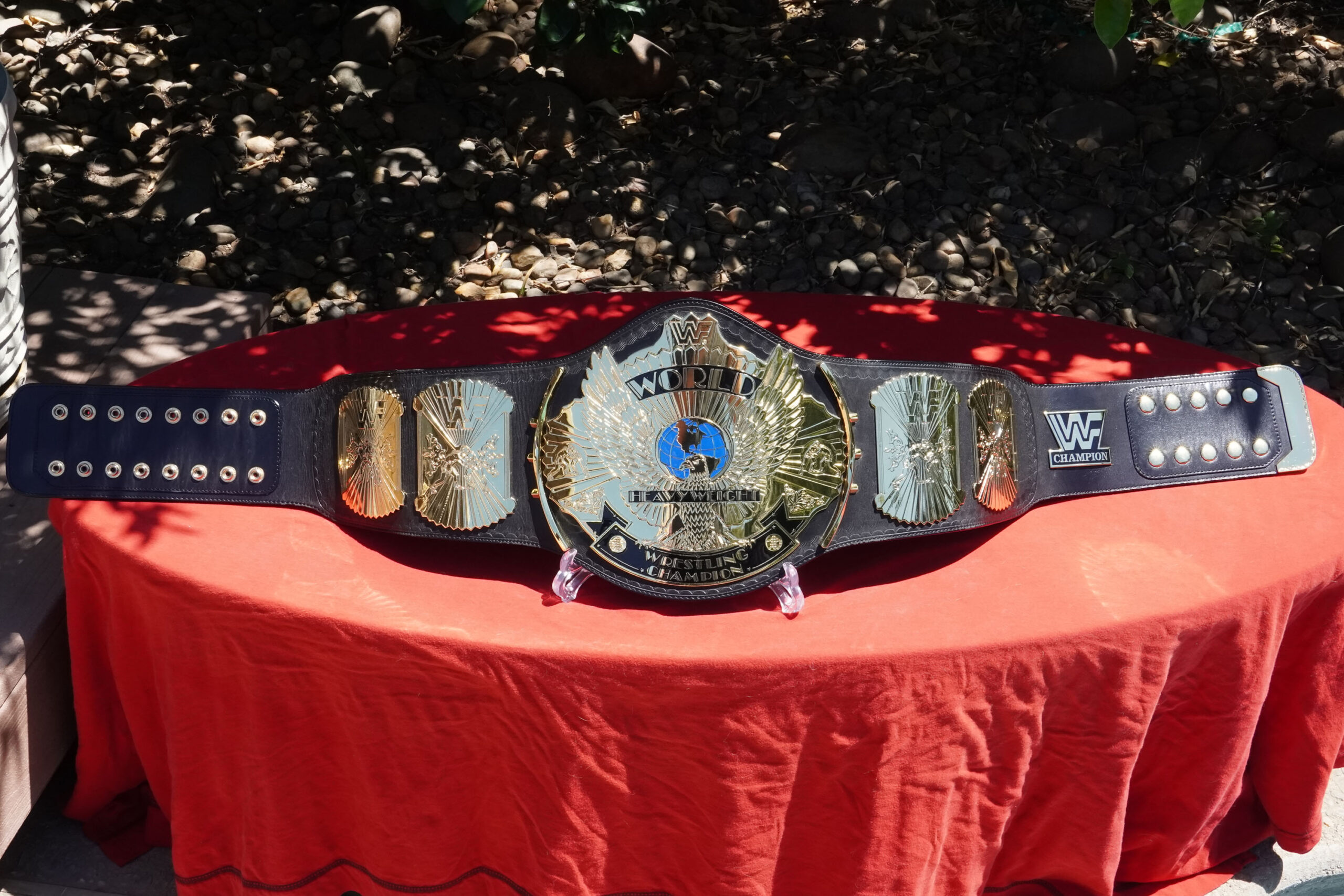 The deluxe WWF Winged Eagle replica is a great middle-0ground between the regular and the ultra deluxe, and still holds a lot of value today. Though some collectors would rather have a professionally re-leathered strap, those cost quite a bit more, and I prefer the licensing patch on the back of this strap. Check out the other replica reviews and tell me which is your favorite.