AMD went for Nvidia's throat with the release of the new R7 and R9 Series. Is the R9 290X the Titan killer some claimed it to be?
One month ago AMD held a GPU Tech Day Event, which I covered in a previous blog. They announced a number of new GPUs, but their flagship card remained a mystery outside its name: The R9 290X. On October 23rd, AMD finally released the specs for their top-of-the-line GPU. Some specs are obvious, and some may surprise you.
The R9 290X is built on the Graphics Core Next (GCN) 28 NM Architecture, just like the Radeon HD 7000 series, PlayStation 4, Xbox One, and Wii U, but with a few tweaks and improvements. This card is for the enthusiast PC gamers. It's built for ultra resolution gaming, and can even run at 4k Resolutions! You can also use AMD's Eyefinity Technology to run on six monitors at once with the right display adapters. I'm sure you are all waiting for the tech specs, so lets get down to it.
Form Factor: Dual Slot GPU. 10.9″ x 4.3″ x 1.4″
Stream Processors: 2,816
Engine Clock: Up to 1 GHz
Compute Performance: 5.6 TFLOPS
VRAM: 4GB GDDR5
Memory Bus: 512-bit
Memory Speed: 5.0 Gbps
Outputs: HDMI, DisplayPort, 2x DVI-I
Power Connectors: 1x 6-pin and 1x 8-pin
API: DirectX 11.2, OpenGL 4.3, Mantle
Includes BIOS Switch
This graphics card uses PCI-E 3.0 like many recent GPUs, but the R9 290X can actually use the GPU display pipelines over PCI-E for CrossFire support without the need of an external connector. Up to four compatible GPUs can be linked together without a CrossFire Bridge with no penalty in performance.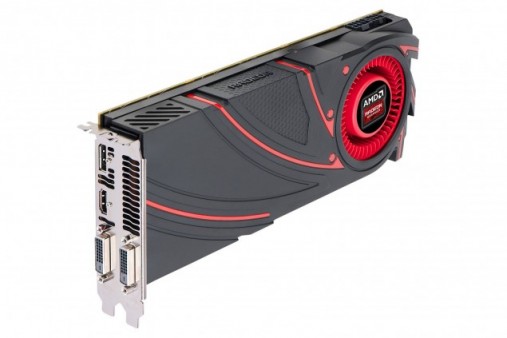 The R9 290X also uses the recently announced AMD TrueAudio and Mantle Technology. Did you miss those new features? Here's a quick recap:
AMD TrueAudio is a fully programmable audio engine for developers to play with, similar to programmable shaders in graphics. It will allow players to hear more real time voices and channels in-game. It's designed to work great with both 7.1 channel surround sound systems and 2.0 audio channels for those with headphones or simple stereo speakers.
Mantle is a new developer dependent API similar to DirectX and OpenGL, but it's meant to optimize games running on AMD hardware. The purpose is to have a better connection between games and the CPU/GPU hardware without the big middleman that DirectX and OpenGL is. It's also meant to assist developers with porting between PC, Xbox One, PS4, and Wii U.

When it comes to the actual performance of this beastly card, the benchmarks may surprise you. At 1080p, the R9 290X is pretty much on par with the GTX 780 and GTX Titan. However, at higher resolutions, the R9 290X surpasses both the GTX 780 and GTX Titan in several games! Don't believe me? See a full range of benchmarks and Tom's Hardware.
The R9 290X is available in select stores now for around $549 — prices may vary. For the performance it delivers, the price is amazing! Hopefully this should reduce the current price of Nvidia's GPUs, which is why competition is always important; that and innovation. This GPU being picked up quickly by hardcore PC enthusiasts, so place you order before its completely sold out!