AMD's big event was broadcasted to the world on the 25th. If you missed it, check out this blog!
What's up techies, I'm back to bring you another PC/Tech blog. I was absolutely stunned at the fact that IGN didn't post one article about this giant tech event AMD held in Hawaii. It was live streamed on YouTube and everything! So, I took it upon myself to write a blog here and on IGN. In case you missed it, I'm here to give you a quick summary. If summaries aren't your thing, you can always watch the entire three hour event at THIS LINK.
As most people know, the AMD GPU14 Tech Day Event was all about the new series of graphics processors from AMD. Unfortunately, this was more of a large announcement instead of a full showcase or release event. In fact, there wasn't even an exact release date given! Still, the show had some interesting things to point out.
One of the cooler points they noted was the barriers AMD has broken over the years with their GPUs, specifically the teraFLOP barriers they have passed:
In 2008, AMD was the first to cross the 1 TFLOP barrier with the Radeon 4000 series.
In 2009, AMD was the first to cross the 2 TFLOP barrier with the AMD Radeon 5000 series.
In 2011, AMD was the first to cross the 3 TFLOP barrier with the Radeon 7000 series.
In 2012, AMD was the first to cross the 4 TFLOP barrier with the Radeon 7970 Ghz Edition
What are they bringing to the table in 2013? A GPU that will cross the 5 TFLOP barrier!
AMD Radeon R7 and R9 Series
AMD announced a set of five GPUs to appeal to a number of PC gamers with various builds and wallet sizes. The next line from AMD Radeon Graphics are called the R7 and R9 Series. The R7 Series includes GPUs for those who don't wish to spend too much on PC hardware, and the R9 Series includes GPUs for the hardcore gamers. The information for each GPU only highlighted the amount of memory it had, the price point, and the score it received in 3DMark Firestrike. If you wish to compare, Nvidia's Geforce GTX Titan and GTX 780 have scores of 10,000-15,000.
AMD Radeon R7 250
GDDR: 1GB
SEP: <$89
3DMark Firestrike: >2000
AMD Radeon R7 260X
GDDR: 2GB
SEP: $139
3DMark Firestrike: >3700
AMD Radeon R9 270X
GDDR: 2GB
SEP: $199
3DMark Firestrike: >5500
AMD Radeon R9 280X
GDDR: 3GB
SEP: $299
3DMark Firestrike: >6800
AMD Radeon R9 290X
GDDR: 4 GB
SEP: $?
3DMark Firestrike: ?
As you can see AMD's next top of the line GPU, the R9 290X, didn't have any information other than the amount of GDDR. According to the chart they were showing off, it should have a score above 8000 on 3DMark Firestrike. There are also a number of rumors going around that this GPU will cost $599, have a 512-bit memory bus, and possibly beat Nvidia's GTX Titan in performance.
When it comes to the release date, many believe these GPUs will be available much sooner than later. A special pre-order bundle will be available starting on October 3rd for the AMD Radeon R9 290X. This special Battlefield 4 Edition will include the game at no extra charge along with the R9 290X GPU. Seeing as the game will release on October 29th, it should be safe to assume the GPU will release sometime before then.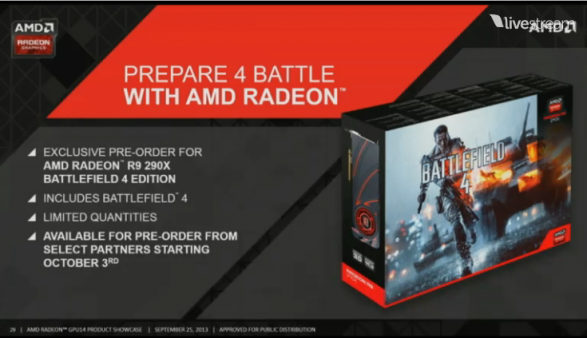 Speaking of the R9 290X, the event went into further detail for this specific GPU, seeing as it will be their ace in the hole. What else did they have to say about it? Well, it's best to put it in a few bullet points:
The R9 290X will use the GCN (Graphics Core Next) Architecture
It is enhanced to support DirectX 11.2
It has more than 6 Billion Transistors
It has over 300 GB/sec Memory Bandwidth
It can computer over 5 TFLOPS
It can use more than 4 Billion Triangles/sec
This new GPU will also support Ultra HD 4K Monitors and multi-monitor displays. Most of the time, setting up your GPU on high resolution monitors must be done manually. However, AMD's Catalyst Drivers will perform automatic configuration on select popular displays. The Panasonic Viera will be one brand of display to support this standard.
AMD TrueAudio Technology
The GPU14 Tech Day Event didn't focus solely on graphics. AMD has been working hard on a new tech called "AMD TrueAudio." This is a fully programmable audio engine for developers to play with, similar to programmable shaders in graphics. It will allow players to hear more real time voices and channels in-game. It works great with both 7.1 channel surround sound systems and 2.0 audio channels for those with headphones or simple stereo speakers! AMD TrueAudio Technology will be available on the R7 260X, R9 290, and the R9 290X.
Mantle
Another technology that was showcased was something called Mantle. Mantle is a new low level programming interface for PCs. It serves two main purposes:
Optimizing games to run on AMD Hardware
Assisting game developers when porting games to several platforms (PC, Xbox One, PS4)
AMD Gaming Evolved App
The final thing that was mentioned at the AMD Tech Event was the new AMD Gaming Evolved App powered by Raptr. This app can be downloaded now at Raptr.com/AMD, and has three basic functions:
The app supports 28 select games for auto-optimization based on your current PC rig, with more games coming soon.

You will be rewarded just for playing games with this app, just like when using Raptr to play console games.
You can broadcast live video via Twitch, watch streams, take screenshots, and share them on Raptr, Facebook, and Twitter without ever leaving your game.
Several games built on AMD technology were also played throughout the show. These games included Battlefield 4, Thief, Lichdom, and Star Citizen. If you haven't heard of any of them, I suggest checking them out today!