Want to know what's inside the YuruYuri Happy Go Lily Season 2 Premium Edition?
The "Premium Edition" of YuruYuri Happy Go Lily contains the entire second season of YuruYuri, which is twelve episodes on two discs. These discs are inside two very small plastic cases with the episodes listed on the back.
The set says the show is only available in Japanese with non-removable English subtitles, but the subtitles can be removed! All you need to do is press the subtitles button on your remote or go into the subtitles option in the menu of your blu ray player. You can easily remove them or add them by doing this.
The blu ray extras are found on the second disc. They include a clean opening (without credits), a clean closing, clean episode 11 prologue, the short "B-side" previews that appear at the end of each episode, and a video art book featurette. The featurette is eleven and a half minutes long. It's basically a digital art book with images from the physical art book and more.
This set also comes with a large, hardcover 36-page (counting the front and back of the 18 physical pages) art book. This book contains an episode guide, character artwork, rough sketches of characters and settings, and a few special images of the characters together.
The set is packaged together in a large, heavy-duty cardboard case. Everything slips in and out of the top of the case. There are two different cover arts on the front and back side. All the blu ray info is listed along the edge.
And finally, this set also includes a cheap armband with kanji on it. It translates into Student Council. It's the same armband the girls in the student council (like Ayano) wear.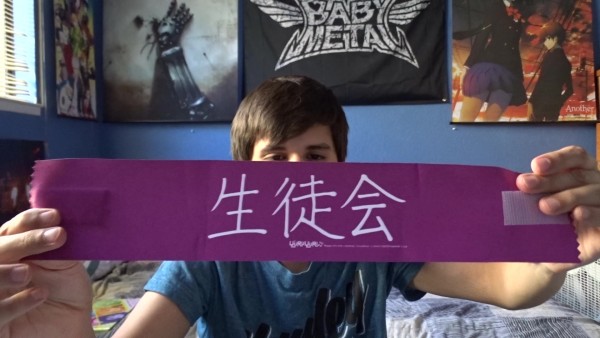 All in all, this is a decent limited edition, and better than the first. The quality of the art book is terrific, and now there's even more art in the special features of the second disc. However, the price still seems a little extreme for such little content. That's all for this Premium Edition, but if you want a review of the anime itself, head over to my YuruYuri Season 2 Review. See more of the Premium Edition by clicking the video at the top of this post.