The attitude era version of the WWF Intercontinental Championship was given this 2mm replica from the Figures Toy Company.
The Intercontinental Championship once had great prestige in the World Wrestling Federation (Entertainment), though its roots are Kayfabe. The title was created after unifying the North American Heavyweight Championship with a non-existent South American Heavyweight Championship in a fictional wrestling tournament taking place in Rio de Janeiro, Brazil. Pat Patterson was the first champion, and showcased the belt on August 25, 1979.
Fast forward to the attitude era in the late 1990s and early 2000s, the Intercontinental Championship was given an oval design after Stone Cold Steve Austin (kayfabe) threw the classic Intercontinental belt in the river after forfeiting it to The Rock, as he had plans to go after the WWF Championship. The oval designed IC originally had a purple strap and the WWF block logo, but was later redesigned again with a black strap and the WWF scratch logo used throughout the attitude era.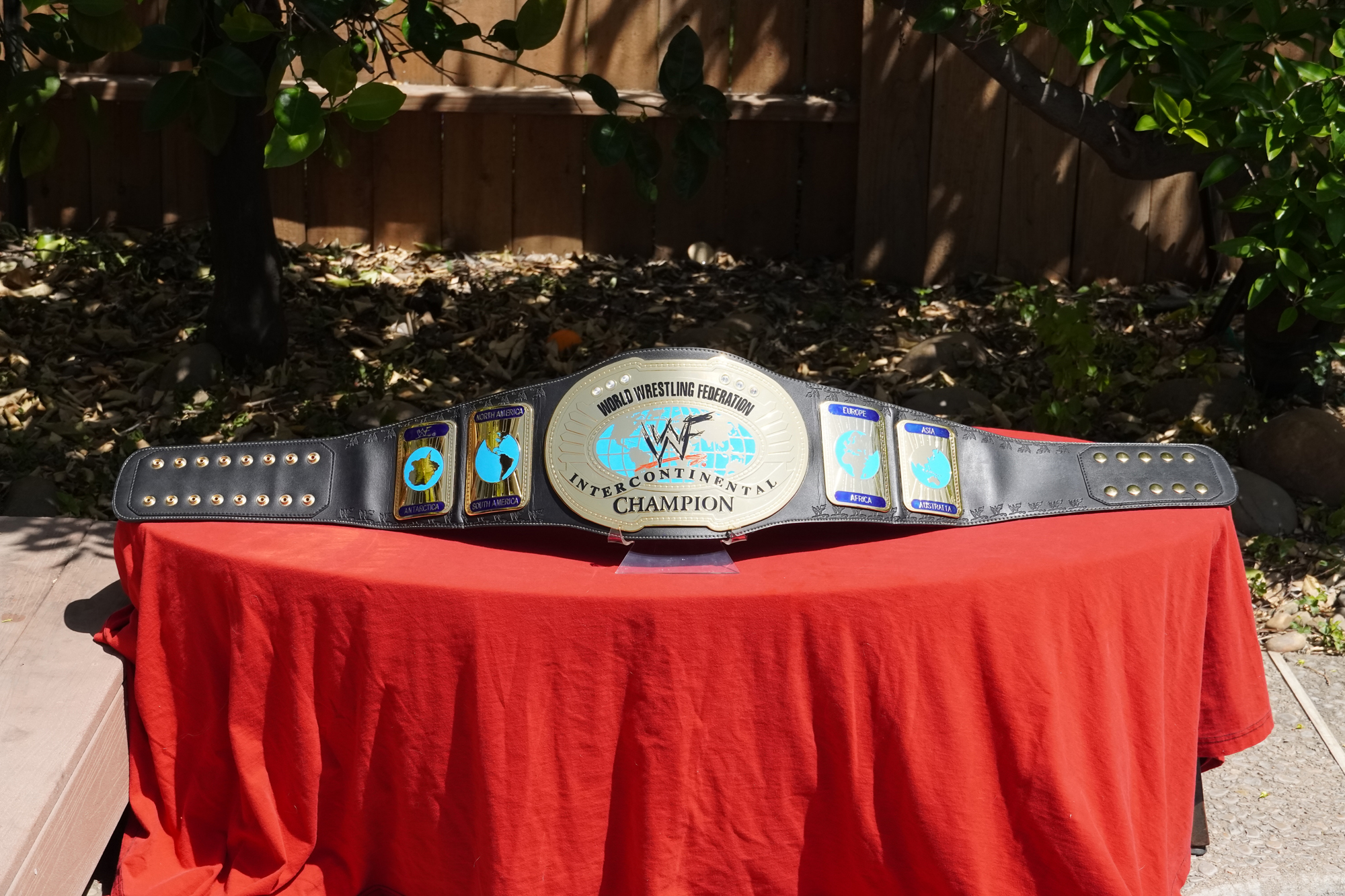 The Figures Toy Company released this attitude era, scratch logo, oval IC replica with 2mm metal plates. Since the plates are so thin, the etching isn't very deep, and the plates can be heated and curved to replicate the real Intercontinental Championship.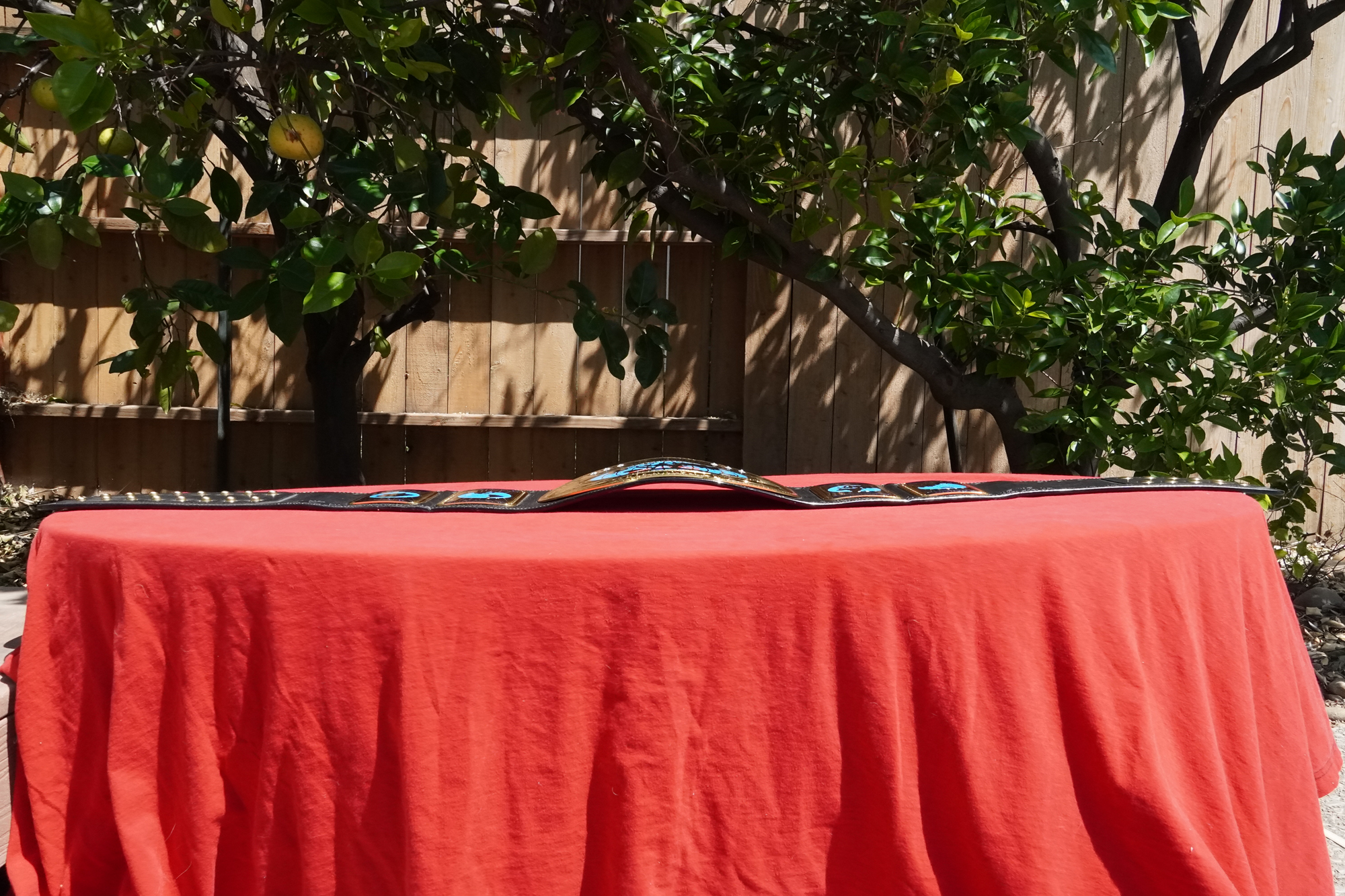 This replica features six faux diamonds on the main plate. They are slightly pointed and are made of plastic.
The main plate of the Intercontinental championship measures 7″x11.5″. The four side plates of the Intercontinental Championship are all unique and feature a different segment of the globe. The first two side plates measure approximately 4.65″x3.25″, and the second two side plates measure approximately 4.25″x3″.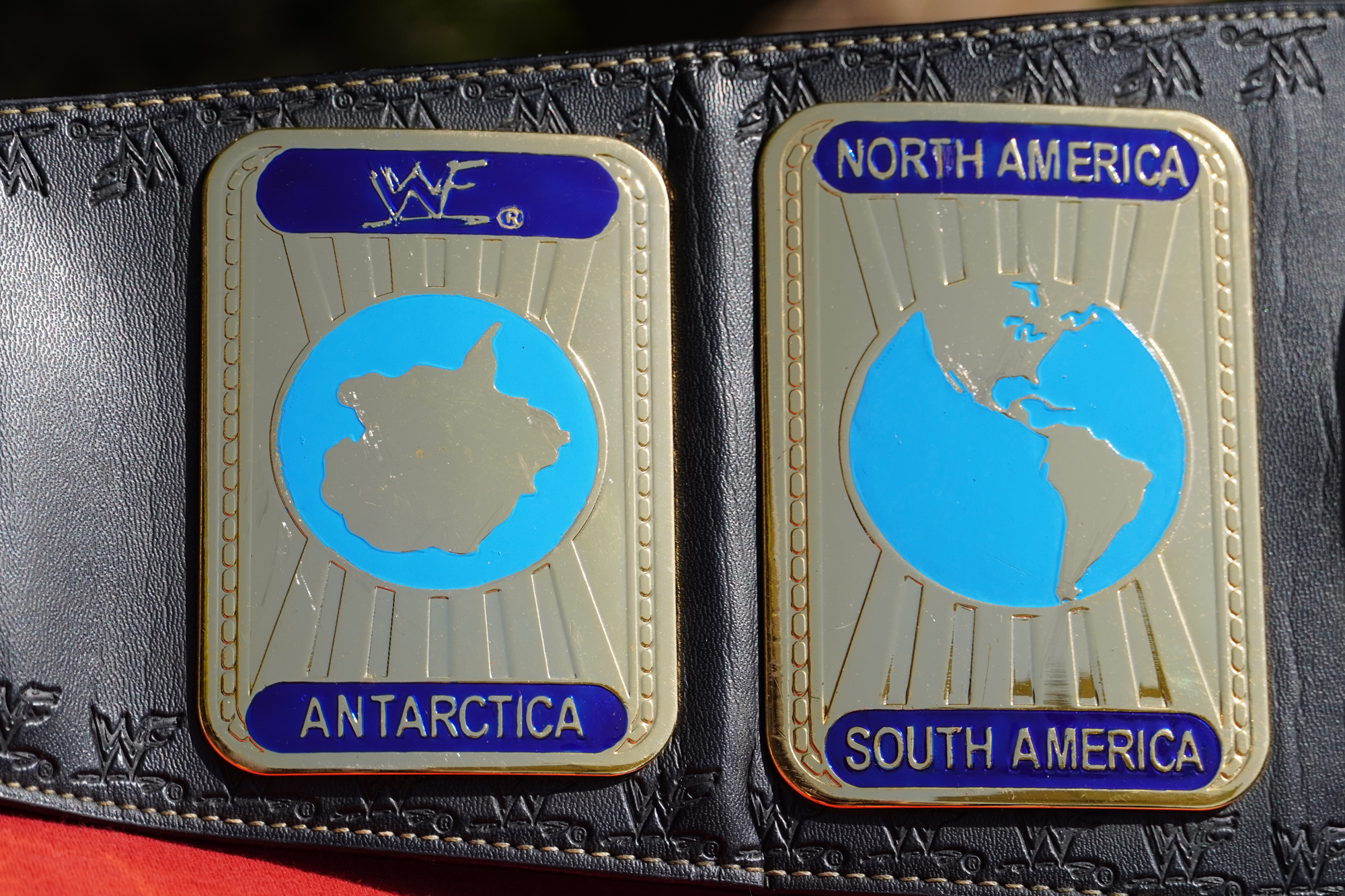 The strap is 52″ long and made of polyurethane. It features WWF logo tooling stamped around the edges of the strap until the two snap boxes. The snap boxes are sewn on beneath 5×2 female snaps and 8×2 male snaps. All the licensing information is printed on the back of the strap.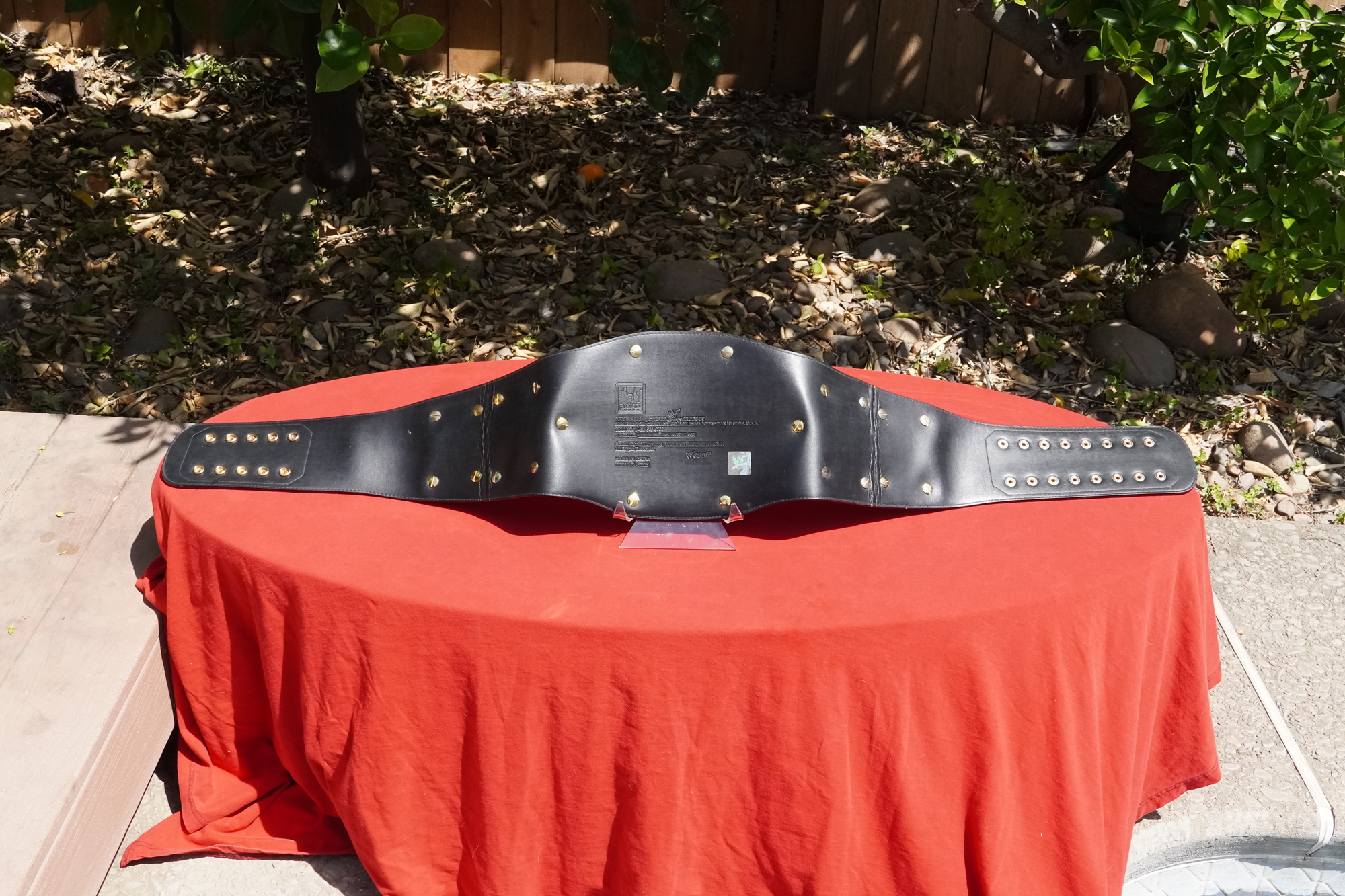 The Intercontinental Championship has been one of my favorite titles from the WWF(E) for decades. I love how each plate has a different design. Though the thin plates are a negative, it is still a great replica to add to your collection, and isn't too hard to find even today.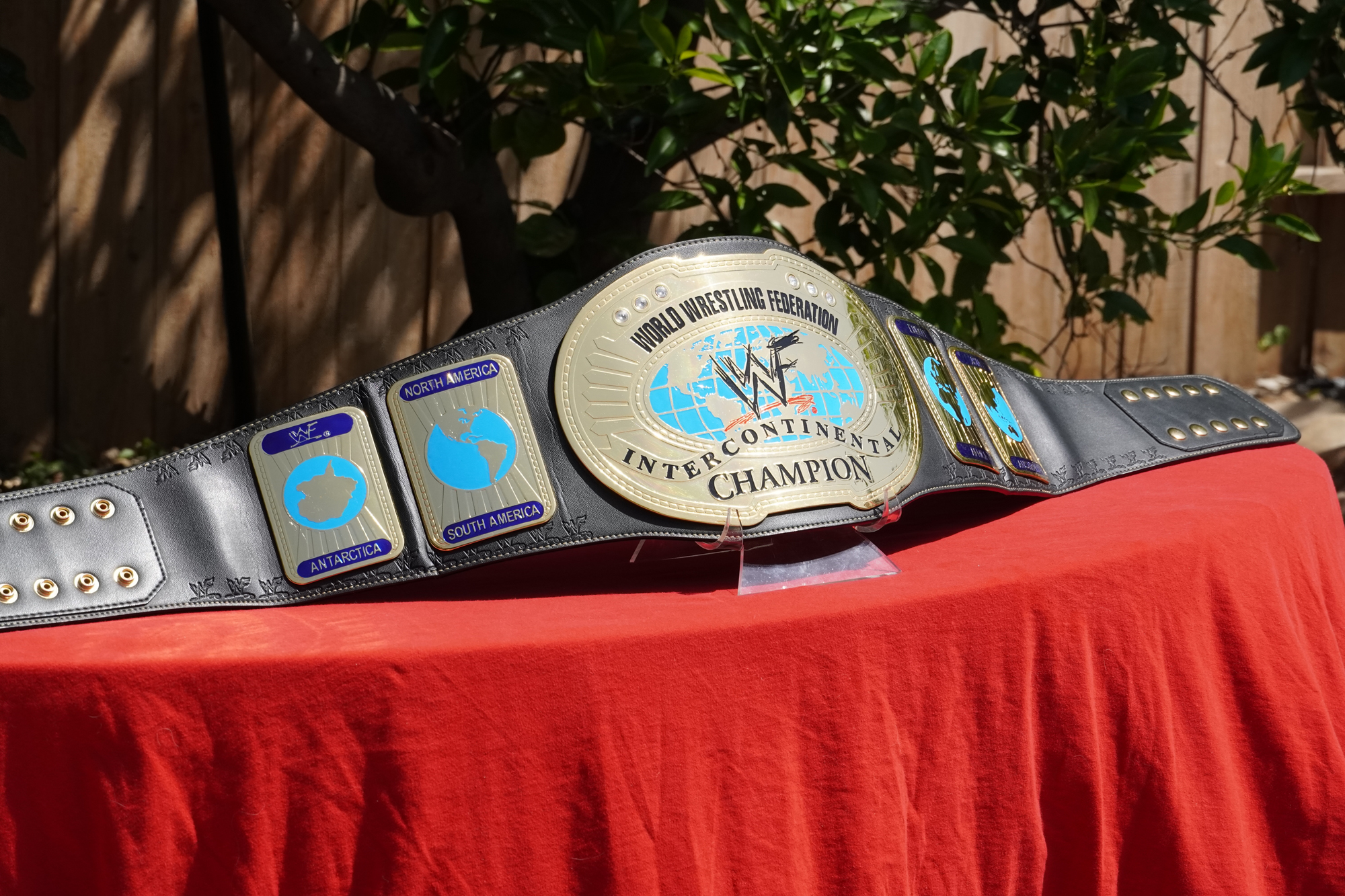 The title was redesigned with the WWE logo on the main plate after the brand switch. Only the main plate was redesigned. The words on the top of the plate were changed from WORLD WRESTLING FEDERATION to WORLD WRESTLING ENTERTAINMENT. The redesign also moved the word CHAMPION to the INTERCONTINENTAL banner above, and added a nameplate where the word CHAMPION once was. The WWE redesign is still available at the WWE Shop with thick plates and deep etching, though the strap has been completely altered.