Fang and Bone is the traveling monster shop in The Legend of Zelda Breath of the Wild. Run by a strange creature named Kilton, his goal is to research monsters all over Hyrule, and in the process he'll sell you some very rare monster items. Kilton can only be found at night between 9pm and 4am, in-game time. His very first location will be the left eye of skull lake in the Northern Akkala region. After the first encounter, he'll begin popping up at each major town around the world, but only at night.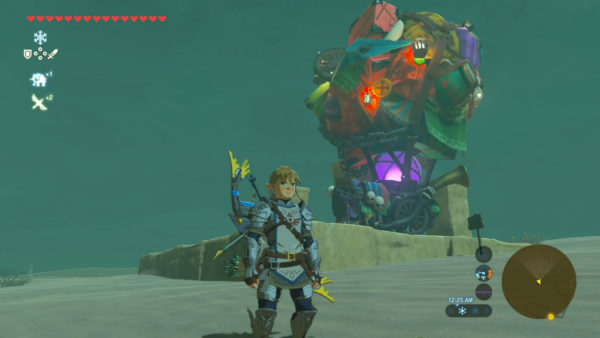 Unlike all other merchants, Kilton does not take Rupees for the items he sells. Instead, you must exchange your monster parts for his own currency called Mon. More items will appear in his inventory over time. It might require finding him in other cities, though I am unsure of the requirement.
Monster Parts Exchange
Trade monster parts with Kilton to receive Mon, a special currency used at Fang and Bone. Use Mon to purchase rare monster items only found at Fang and Bone.
| Material | Mon |
| --- | --- |
| Monster Extract | 2 |
| Dinraal's Scale | 60 |
| Shard of Dinraal's Fang | 110 |
| Shard of Dinraal's Horn | 150 |
| Naydra's Scale | 60 |
| Shard of Naydra's Fang | 110 |
| Shard of Naydra's Horn | 150 |
| Farosh's Scale | 60 |
| Shard of Farosh's Fang | 110 |
| Shard of Farosh's Horn | 150 |
| Bokoblin Horn | 3 |
| Bokoblinn Fang | 5 |
| Bokoblin Guts | 10 |
| Moblin Horn | 2 |
| Moblin Fang | 6 |
| Moblin Guts | 12 |
| Lizalfos Horn | 5 |
| Lizalfos Talon | 8 |
| Lizalfos Tail | 12 |
| Icy Lizalfos Tail | 16 |
| Red Lizalfos Tail | 16 |
| Yellow Lizalfos Tail | 16 |
| Lynel Horn | 20 |
| Lynel Hoof | 30 |
| Lynel Guts | 100 |
| Chuchu Jelly | 3 |
| White Chuchu Jelly | 5 |
| Red Chuchu Jelly | 5 |
| Yellow Chuchu Jelly | 5 |
| Keese Wing | 2 |
| Ice Keese Wing | 6 |
| Fire Keese Wing | 6 |
| Electric Keese Wing | 6 |
| Keese Eyeball | 10 |
| Octorok Tentacle | 5 |
| Octorok Eyeball | 13 |
| Octo Balloon | 1 |
| Molduga Fin | 15 |
| Molduga Guts | 55 |
| Hinox Toenail | 15 |
| Hinox Tooth | 18 |
| Hinox Guts | 40 |
| Ancient Screw | 2 |
| Ancient Spring | 5 |
| Ancient Gear | 10 |
| Ancient Shaft | 20 |
| Ancient Core | 40 |
| Giant Ancient Core | 100 |
For Sale
| Item | Prince | Description |
| --- | --- | --- |
| Monster Extract | 9 Mon | Add to dishes while cooking to increase their potency. |
| Wooden Mop | 19 Mon | A weapon with 5 damage. |
| Spring-Loaded Hammer | 199 Mon | A "weapon" that has a max of 1 damage. It's purpose is to send monsters flying. |
| Bokoblin Mask | 99 Mon | This mask allows Link to blend in with Bokoblin. It has 3 defense. |
| Moblin Mask | 199 Mon | This mask allows Link to blend in with Moblin. It has 3 defense. |
| Lizalfos Mask | 299 Mon | This mask allows Link to blend in with Lizalfos. It has 3 defense. |
| Lynel Mask | 999 Mon | This mask allows Link to blend in with Lynel. It has 3 defense. |
| Monster Bridle | 399 Mon | A bridle for Link's horses to blend in with monsters. |
| Monster Saddle | 299 Mon | A saddle for Link's horses to blend in with monsters. |
| Dark Hood | 1,999 Mon | A black version of Link's original green outfit. His eye are black and hair is white. It has 3 defense. |
| Dark Tunic | 999 Mon | A black version of Link's original green outfit. It has 3 defense. |
| Dark Trousers | 999 Mon | A black version of Link's original green outfit. It has 3 defense. |