The SNES Classic Edition was revealed today. Here are all the details.
Today, Nintendo officially announced the Super Nintendo Entertainment System Classic Edition! There had been rumors about this mini console re-release for a few months, but now we have all the details.
The SNES Classic Edition will be a mini version of the original SNES. Older gamers out there might remember how there was an original and a baby edition of the Super Nintendo back in the 90s.
This mini version of the SNES will fit in your hand, just like the NES classic. It will come with two controllers with the original SNES style, but the length of the cable hasn't been revealed. One of the big problems with the NES Classic Edition was how the included controller's cable was only about three feet long.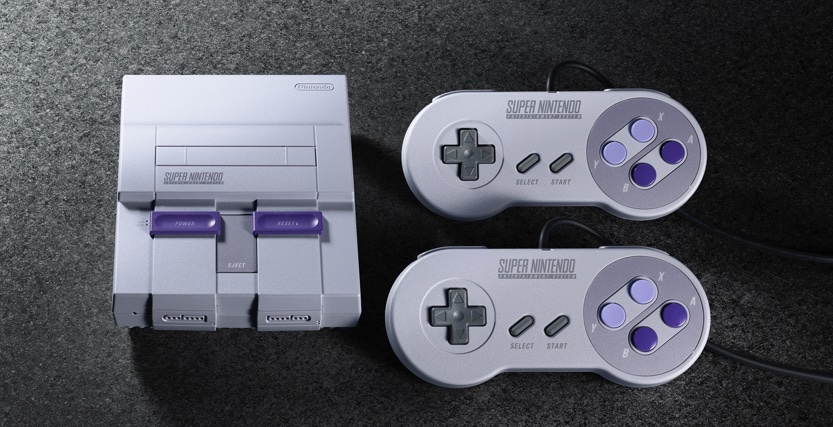 A total of 21 games will be included with the Super Nintendo Classic — one of which has never been released! Star Fox 2, the direct sequel to the original Star Fox on the SNES, was developed and scheduled for a 1995 release. However, with the Nintendo 64 launching a year later, the game was never released until now! The full list of games is in alphabetical order below.
Contra III The Alien Wars
Donkey Kong Country
EarthBound
F-Zero
Final Fantasy III
Kirby Super Star
Kirby's Dream Course
Mega Man X
Secret of Mana
Star Fox
Star Fox 2
Street Fighter II Turbo
Super Castlevania IV
Super Ghouls 'N Ghosts
Super Mario Kart
Super Mario RPG Legend of the Seven Stars
Super Mario World
Super Mario World 2 Yoshi's Island
Super Metroid
Super Punch-Out
The Legend of Zelda A Link to the Past
The Final Fantasy game was released as Final Fantasy III in the west, but in actuality it was Final Fantasy VI. Earthbound was released in Japan as Mother 2. Kirby Super Star has eight mini Kirby games in one including: Spring Breeze, Dyna Blade, Gourmet Race, The Great Cave Offensive, Revenge of Meta Knight, Milky Way Wishes, and The Arena.
Try your hardest to get your hands on the Super Nintendo Entertainment System Classic Edition on September 29, 2017 for $79.99. Hopefully Nintendo will make more consoles than they did with the NES Classic.