I put together a Sasuke Uchiha cosplay, from the first season of Naruto, last minute. Here's how it turned out!
Right before Fanime took place this year, I finally sat down and gave Naruto an honest try. Some of my close friends had been pushing me to check it out, and I've heard of it all these years in the anime community. After watching the first season, I thought it was pretty great though predictable at first.
Since Fanime 2018 was set to be my last convention for some time, I wanted to do a Naruto cosplay to connect with the community. That's always been one of my goals! Almost everyone has seen Naruto, and that opens a line for conversation! Why Sasuke? After watching several episodes, I quickly realized I did not like Naruto's personality. I related a lot more with Sasuke. Later on, I would relate more with Gara, but I didn't get THAT far into his back story until I was already at Fanime.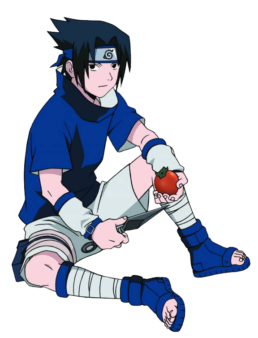 I quickly went to Amazon and ordered a few things with my Amazon Prime membership. Naruto has been huge for over a decade, so it was pretty easy to find all the items.
It wasn't all perfect, however. I had a few problems with the items I bought. I could only find the shoes in black. Sasuke has blue shoes during the first season! The headband wasn't the same shade of blue as the rest of the outfit either. Lastly, I felt as if the collar of the shirt was too big. I know Sasuke's collar is large, but this was just way too huge! Other than that bad, I have to emphasize how great the quality of the plastic kunai was!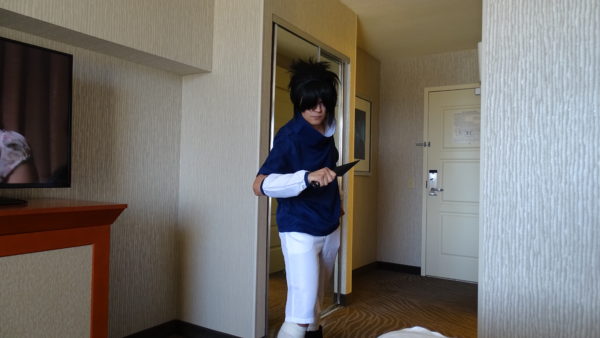 The outcome wasn't so bad for something I grabbed within a few days! The wig wasn't styled when I got it, so I had my cosplay friend Amanda help me. She did an excellent job styling it, and was happy to do so because she was a Sasuke fan. She wasn't around when I actually went out, so I wasn't able to maneuver the headband within the wig. Either way, I was still happy with the results. I quickly noticed a lot of other Sasuke fans as I walked around Fanime 2018 and heard girls whisper, "It's Sasuke!"