For the first time ever I can call myself a PC gamer. Here's my personal story of how I got into PC gaming.
I was recently discussing on the forums how IGN doesn't write nearly enough about PC gaming tech, whether it be articles or reviews. Sure, we might get an article here or there with a quick announcement, but there's not enough info. The majority of the PC articles are just gaming articles like the console articles, and the majority of Tech articles are of phones and TVs. I think we need more reviews and highlights or something! I will say that the Nvidia Shield Review was fantastic, though! Props to Scott Lowe on that.
With all that said, and with a little push from the new IGN community manager, I decided to do a little blogging myself on PC Tech. This blog here is my introduction into PC gaming and tech in general. You'll see I don't have any degrees in PC science or any of that. I'm just a regular Jose like you that's becoming passionate about PC Tech. And don't worry, I won't be one of those PC Elitists.
Humble Beginnings
My family got our very first PC somewhere around 2003. I remember my dad piecing it together himself to save a few bucks. It ran quite well for a PC at that time, although the 56k dial up was really annoying when surfing the web. At that time, I didn't know much about what parts did what, how expensive things were, or any of that. That didn't stop me from using it for massive amounts of time.
My Very Own
A short time later, I got my very own PC to keep in my room. It ran Windows XP (an upgrade from our Windows 98), but that's really all I knew about the tech aspect. I started clicking around the operating system and doing a small amount of digging online. I quickly learned the basics like the CPU, RAM, Power Supply, and the HDD. I was still very unfamiliar with PC gaming and some of the other tech inside. Looking back, it seems like most of the stuff I know was self-taught. As time went on, I used my crappy PC to its fullest potential. I even tried to use it for video editing and playing movies. The 4 minute wrestling montages I created took hours upon hours to render. You want a taste of what I created? Go easy on the selfie. I was a fat little kid.
Time to Grow Up
After several years of using the same old PC, it was obviously time for an upgrade. About three years ago I upgraded to a computer that wouldn't lag on any website, would play HD Videos, and would be able to render videos much more quickly without locking up. It was a computer that would still be fine for simple internet use today, but it's not nearly good enough for recent gaming titles. I saved up and bought a pre-built HP P6130F. Before making the jump, I did a little more digging on what parts did what, and what was the best for my money. I didn't plan on using it for gaming at all, but I was starting to get into creating guides and needed something much better. The specs were:
Windows Vista 64 Bit

AMD Phenom X4 9750 CPU

8GB of RAM
750 GB HDD
Nvidia Geforce 9100 Integrated Graphics
300w PSU
DVD +/-R/RW 16x 12x +/-DL LS 12x RAM SuperMulti SATA drive
This new computer ran Windows Vista 64 Bit. When I bought the computer, Windows 7 was just coming out. A few computers said that there would be free upgrades to Windows 7 when you purchased Vista, but apparently mine wasn't one of those models. I had heard a lot of negative things about Vista, but mainly how it ate up the system's RAM. Lucky for me, this computer came with 8 GB of RAM! My last computer only had about 256 MB of RAM if I could remember right, which was just terrible. The HDD was also a nice upgrade from my 30 GB to 750 GB. The old processor was something like a Pentium III, but this processor was a four core AMD CPU, which was so much better for rendering. When viewing PC parts, I quickly learned about the war between AMD and Intel on CPUs. Since I didn't have the best job back then, I went with AMD. It had a great performance to price ratio.
Even more time went by. Of course, tech quickly became obsolete. I started writing up a large number of guides for IGN, many which included HD Videos that I captured and edited myself. My computer was good enough for video editing, but it still took quite some time for one video to complete. I had much more money than my last jobs, but I usually spent it quickly on more tech for work or fun. I did try playing a game on it around Christmas of last year, but I had to turn things way down. It was The Walking Dead The Game at around medium settings. The resolution was some lower, windowed number. It was time for an upgrade!
Time to Game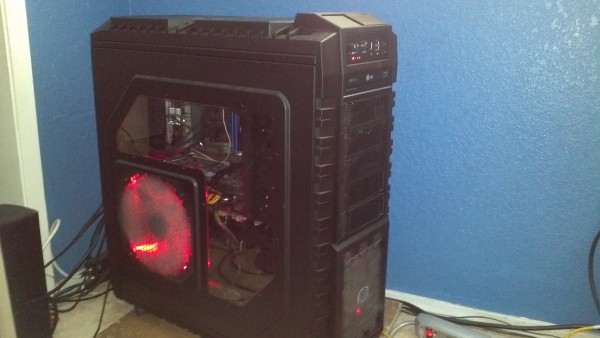 Fast forward to this year. I now own all current generation gaming systems. If a guide needed to be done, I was there to do it, unless it was a PC game. I didn't want to get into PC gaming because tech became obsolete so fast, and it was so expensive as it was! I knew it was time to bite the bullet and upgrade to the upper echelon of PCs. I needed something that could run the best games and edit full 1080p HD videos without any problems. I was still a little green on some of the tech, so I went over to the PC board here on IGN. To be honest, at first I just let them pick some parts without doing the research. They were very friendly and thorough, helping me choose the best parts for specific price ranges. Originally, I only wanted to spend around $1500-$2000 on a PC. I went with the following:
Microsoft Windows 8 64-bit
ASUS M5A99X EVO R2.0 AMD 990X Motherboard
AMD FX-8350 4.0GHz 8 Core CPU
CORSAIR Hydro Series H60 CPU Water Cooler
Kingston HyperX Blu 8GB DDR3 1600 Mhz RAM
ASUS GTX670 4GB GDDR5 RAM GPU
Crucial M4 128GB SSD
Seagate Barracuda 1TB 7200 RPM 64MB HDD
LG Black 12X Blu-ray Combo Drive
COOLER MASTER Silent Pro Gold Series 800W PSU
ATX Mid Tower Case
I went with Windows 8 because it was the latest of the Windows Operating Systems. No way am I going Apple, and I don't know enough about Linux. There were some issues still going on with Windows 8 and select games, one which I ran into on Batman Arkham Asylum, but there was an easy workaround. I later found out that Direct X 11.2 would only be available on Windows 8 and Xbox One.
The CPU was a bit of a debacle. There was the usual Intel or AMD debate going before buying. I decided the FX 8350 was about 100 bucks less than the i7 4770k, yet it had two more cores and .5 Mhz faster speed. People tried to tell me Intel was better for select games and using 3D, but I had no plans to play 3D or those very specific games.
I figured I'd kind of splurge on the blu ray drive instead of plain old DVD. Maybe I'd want to watch a Blu Ray some time on my computer when my PS3 was taking a break. My PS3 was my only other blu ray player after all. I later learned I had to buy a separate piece of software to play blu ray discs. I found a deal online for a blu ray player that was only about 20 bucks or so. It had a bunch of nifty features, thought they neglected to mention the lack of a stay on top of all other windows feature for some reason.
I also thought I'd splurge a bit with the water cooler for my CPU. I know my room can get incredibly hot during the summer, so I wanted to play it safe. The window on my room faces the sun from about 3 PM onward, and I live in central California. The rest of the stuff was standard issue items.
After getting the parts, I did a little more research my self, which was both a stupid and lazy choice on my behalf. If anyone is looking into getting a high-end PC, do a little bit of research before buying! Don't be lazy like me, or you might end up regretting some of the things you purchased. Some of the parts were indeed great for the price, but they weren't good enough for what I had in store. I ended up selling a number of parts on eBay and Craigslist for nearly the same amount I originally bought them for. I would have returned them, but the 30 day refund date passed. I looked further into the tech and upgraded the following parts:
Cooler Master HAF X Full Tower Case
ASUS Sabertooth 990FX Gen 3.0 R2.0
AMD Radeon Memory 16 GB DDR3 2133 Mhz RAM
MSI GTX 780 3GB DDR5 RAM GPU
Samsung 500 GB SSD
Toshiba 3TB 7200 RPM 64 MB HDD
Let's go through that piece by piece and to see what they are and why I upgraded.
The HDD and SSD was upgraded for the simple reason of needing more storage. Since this is a gaming and video editing PC, I know I needed more than 500 GB for the OS, programs, and all the games. I currently have only 128 GB left on that SSD. The HDD is used to hold all my video clips, edits, and digital movies.
The RAM was upgraded to prepare for next gen and to deal with some video editing. Not only was it more RAM, but it was a higher frequency.
The motherboard didn't need to be upgraded, but I figured I'd upgrade to something a bit higher performance with gen 3 PCI-e slots.
Last is the GPU, which was a whole ordeal. I went back and forth on a number of GPUs from both AMD and Nvidia until finally settling on the GTX 780. That topic deserves its own blog or video.
The Future is Here
This is just a taste of what I plain to bring to all of you both here and on IGN. Don't worry, my future blogs won't be nearly as personal or long. The blogs will have more images, possibly videos, and more of a review format. I may put one up tomorrow. Next gen gaming is right around the corner, so if I want to start sometime, I better start soon! DICE released Battlefield 4 PC System Requirements today. It looks like I'll be able to run it at max settings. How about all of you?