Have you heard of this game? Yandere Simulator is a crazy, yet very interesting, video game that's still in its early build.
A short time ago I saw this game called "Yandere Simulator" on YouTube. I found the developer's wordpress site, downloaded the game, and played for about an hour. You can see my gameplay at the top of this post.
The point of this game is to get rid of any girl who may be interested in the boy you love (Senpai), but you must do it secretively while maintaining the image of an innocent school girl. This early build only allows you to kill a few random schoolmates, but the final game should allow you to get girls expelled, spread rumors until they commit suicide, and much more.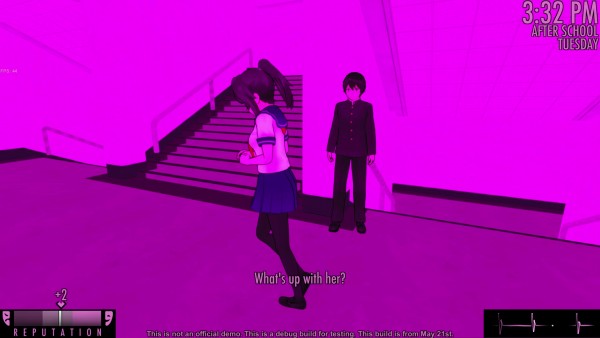 You can see there's already a lot of things planned and set up in this early build, but you're really not able to do much. I still had some fun exploring the small area and slaughtering the others, even cleaning up the evidence so I remained innocent.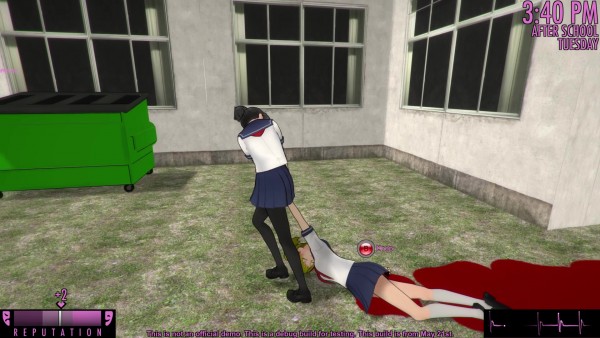 At this time you cannot win the game or kill the girl who will steal Senpai away at the end of the week. You can only play the first week, kill some boys and girls, and clean up the mess. There seems to be a lot of options like taking pictures with your phone (four options display at the top of the screen when you do so), changing your panties to give you different bonuses, increasing your education stats to become better at taking out rivals, and there's even some sort of favor menu.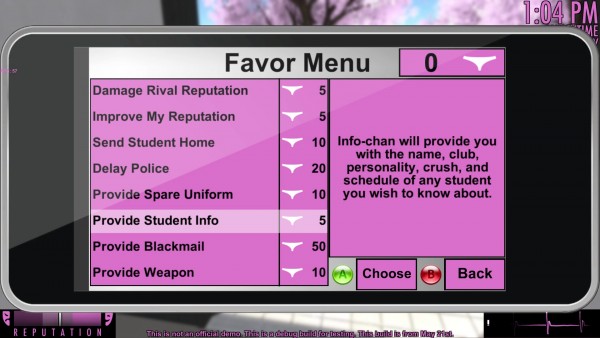 Yandere simulator is free to download in case any of you want to try it out. At this point the game is only about 5% complete, according to the blog. There's so much potential, and I really hope the game gets finished and put on Steam Greenlight, just as their FAQ section says. Definitely check it out and support it as much as possible if you're into this kind of stuff.