The often overlooked European Championship was given a high quality replica from the WWE Shop. See it in great detail here.
Originally created back in February of 1997 by the WWF, the European Championship was awarded to the British Bulldog after winning a tournament over a series of shows in Germany. The British Bulldog defeated Mankind (Mick Foley), Vader, and Owen Hart to become the inaugural European Champion. The title would last five years until it was unified with the Intercontinental Championship in a ladder match between Jeff Hardy and Rob Van Dam on Raw July 22, 2002.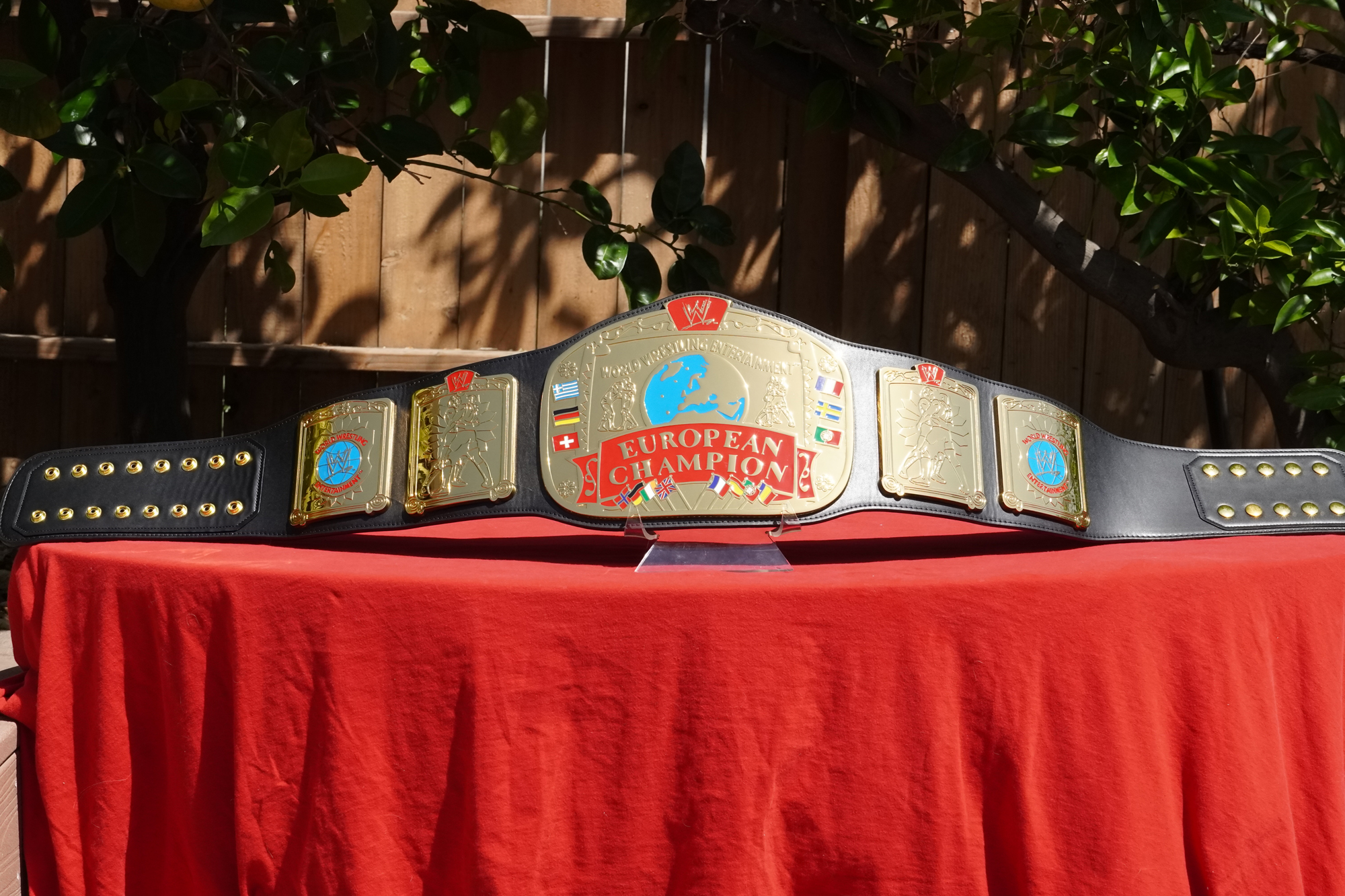 The WWE Shop released this European Championship replica recently with the WWF logos replaced with WWE logos. This version has all gold scratch logos inside a sort-of red, upside-down, curved trapezoid. And the etching that says WORLD WRESTLING ENTERTAINMENT on the main plate is all gold. Other versions have had white logos in black trapezoids.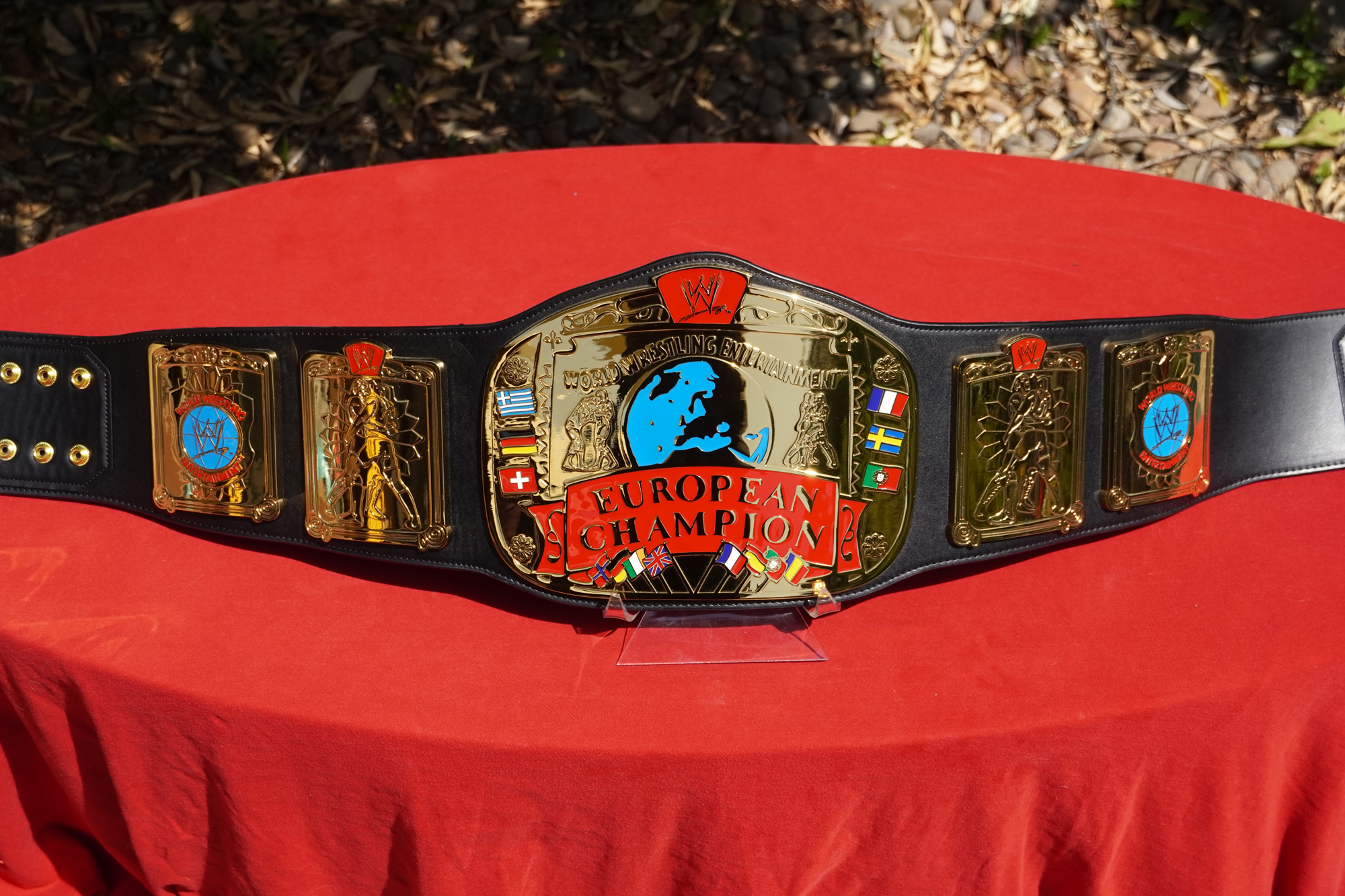 All five plates are made out of a zinc alloy, are 5mm thick, and shine with a gold colored mirror finish. The main plate measures approximately 8″x10.5″, the first side plates are identical to one another and measure approximately 5″x4″, and the second side plates are identical to each other and measure approximately 4.3″x3.75″.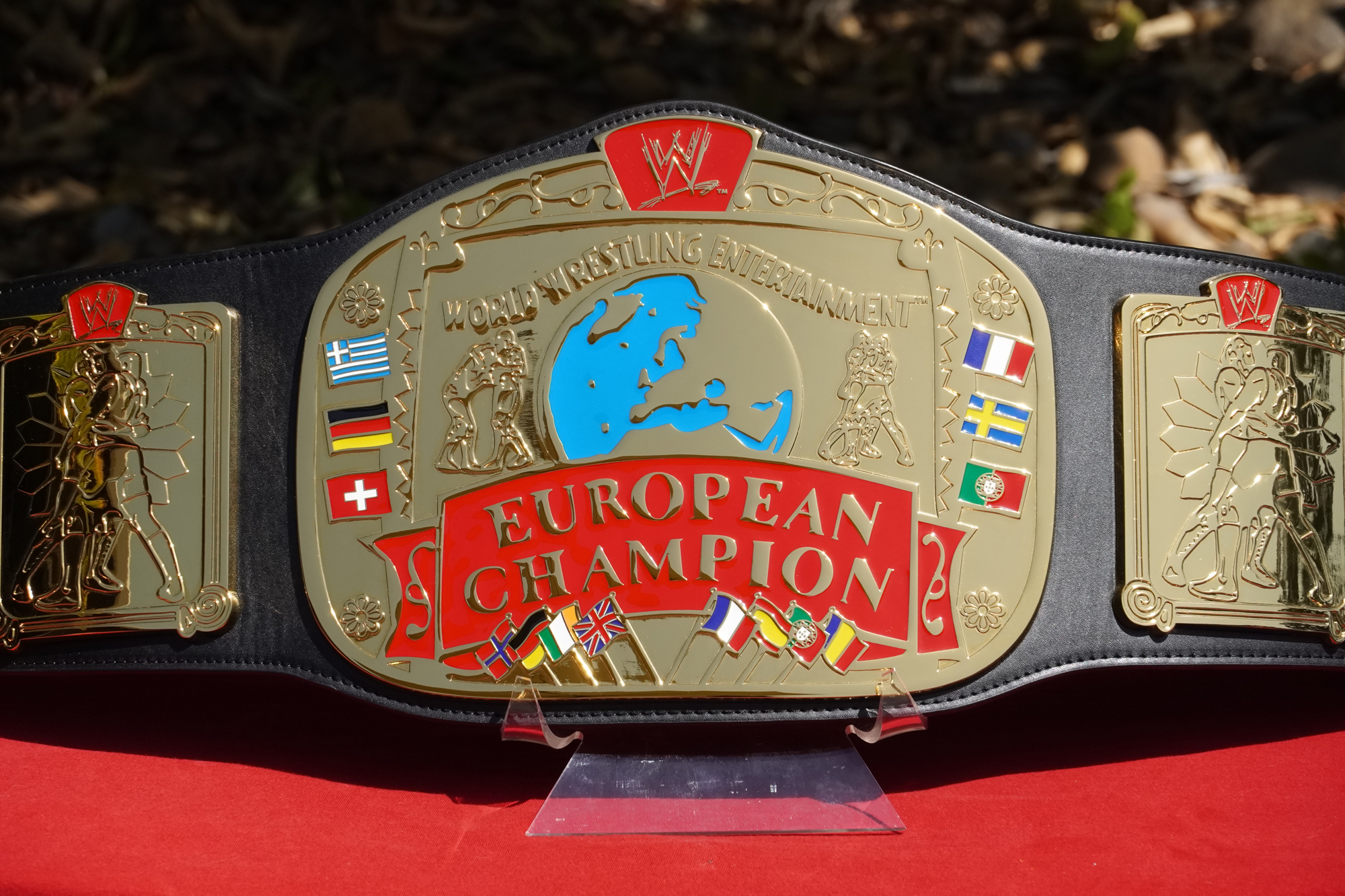 The strap measures approximately 51.13″ x 8.65″ x 0.25″ and is made out of polyurethane. This recent strap from the WWE Shop is very soft but still stiff. When heated or placed in the sun, the strap becomes much more flexible. The two snap boxes at the end are sewn underneath 5×2 female snaps and 8×2 male snaps.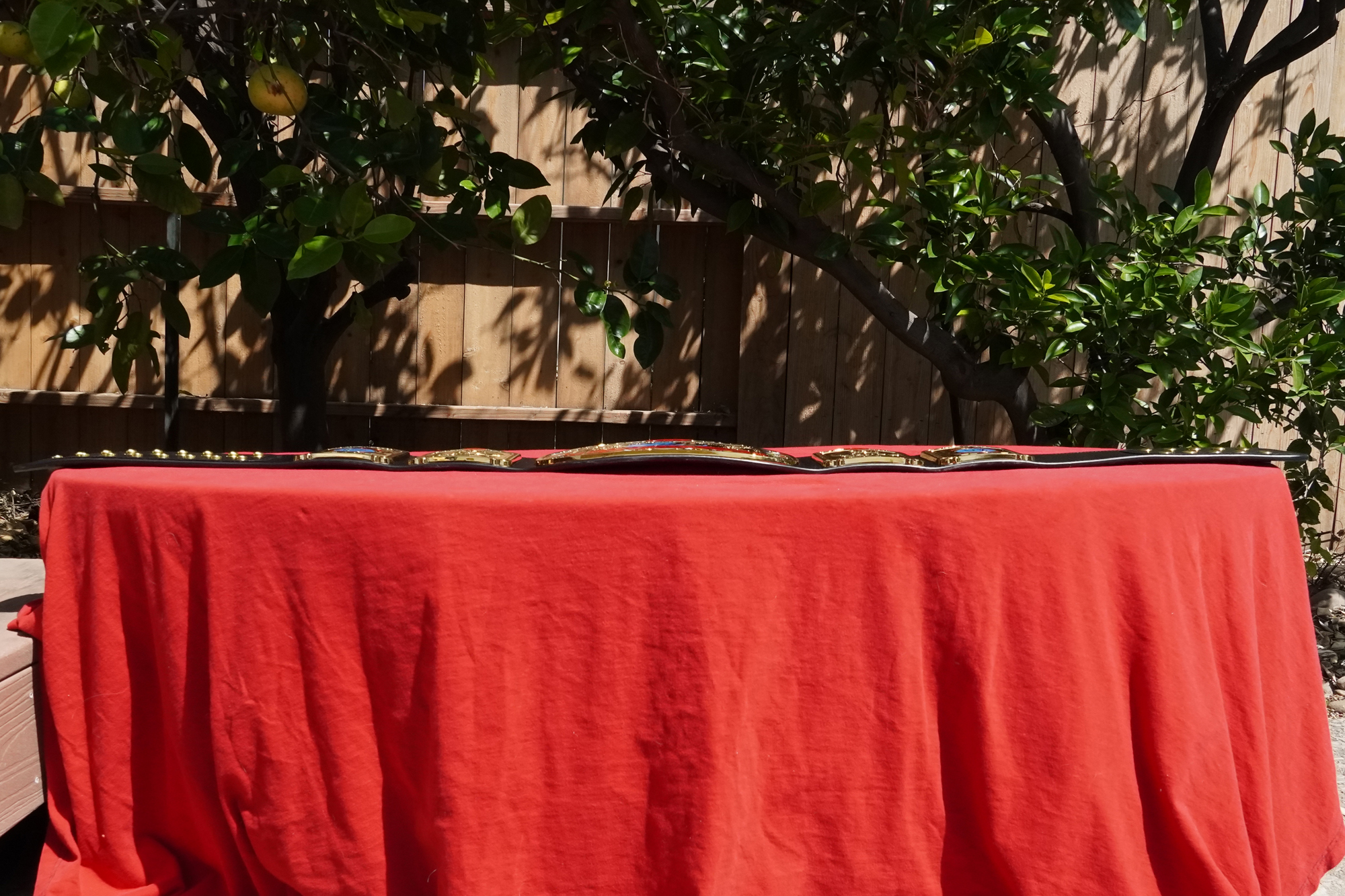 The front of the strap is black, but the back of the strap is entirely green. All black screws that attach the plates to the strap are exposed, and the licensing information is printed on a patch that is sewn on the back of the strap.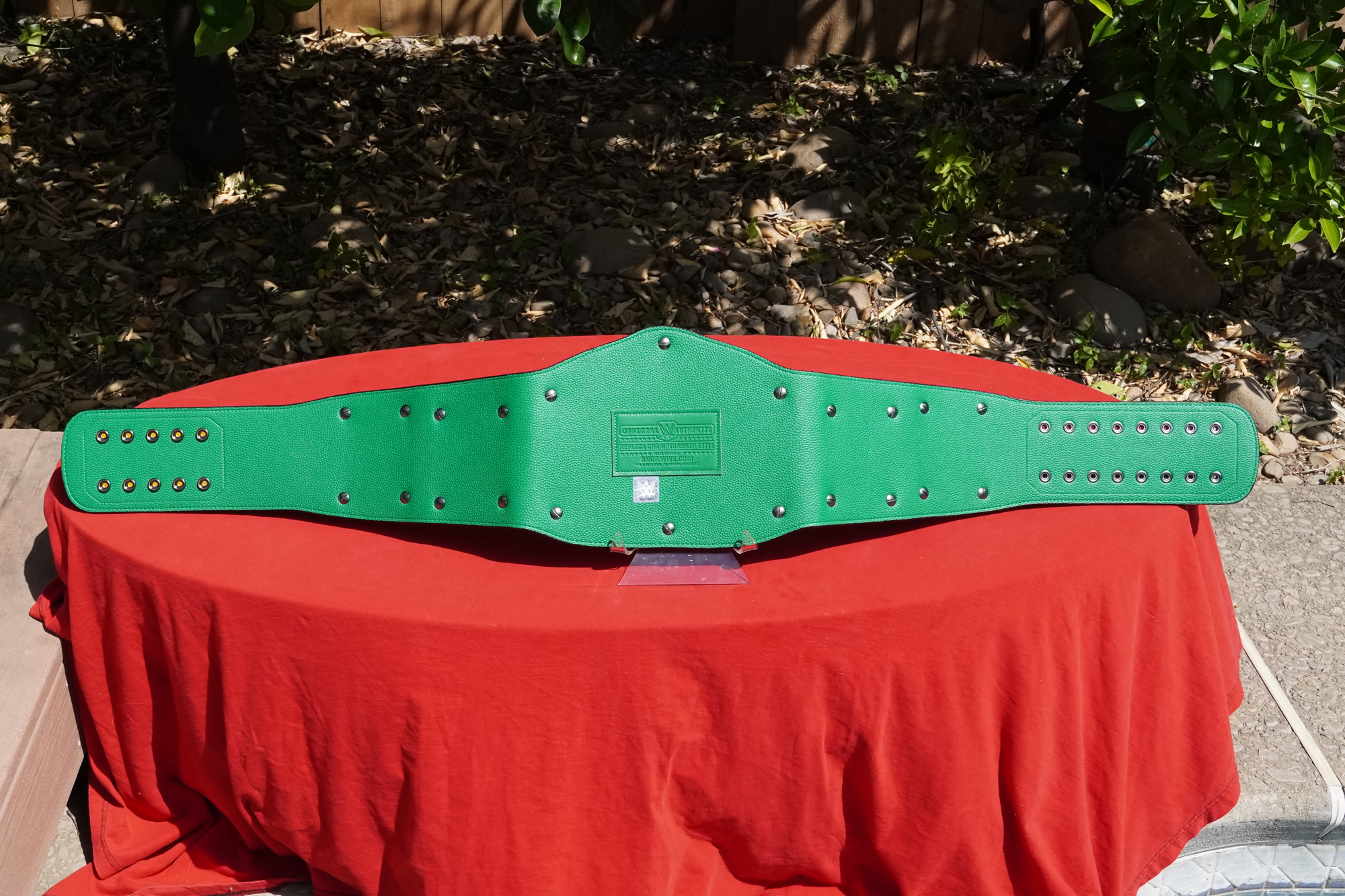 Although the European Championship was often overlooked and kept underneath the Intercontinental Championship's light, this replica from the WWE Shop is of very high quality. Collectors who wish to become EuroContinental Champion might want to grab this WWE Shop European Championship replica.