This version of the WWE Championship 2014 was manufactured by Jakks Pacific and sold at retail stores. See the details here.
Back in 2017, the Jakks Pacific company manufactured this "WWE Championship Collectible Title." It was sold at select retail stores such as Toys R Us and Target. It is based off the WWE Championship that was unveiled in mid-2014 after unifying the WWE Championship with the World Heavyweight Championship in December 2013.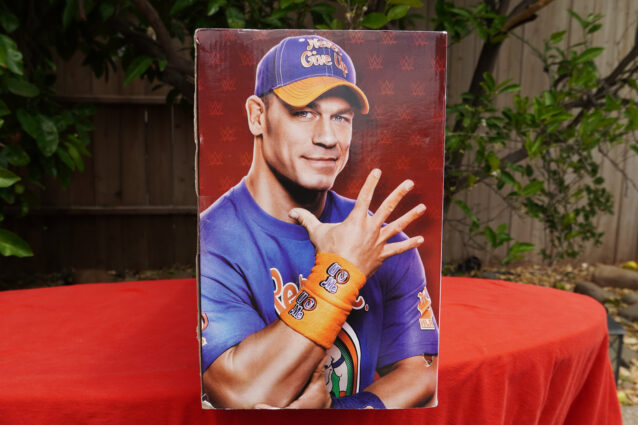 The WWE Shop was selling their own belts at the time, and they used terms such as replica or commemorative belt while Jakks Pacific used none. This belt is similar to the commemorative belt from the WWE Shop.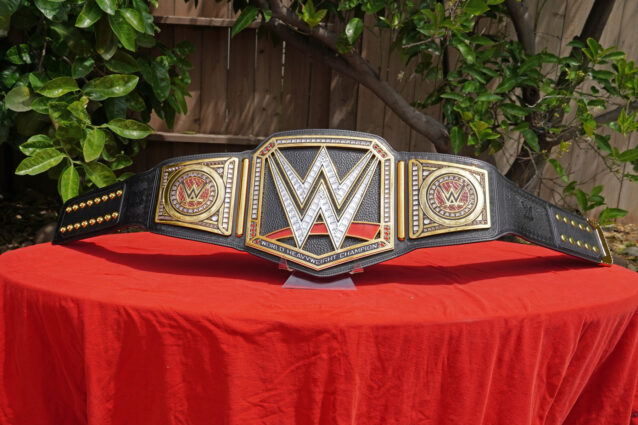 The plates are plastic, the simulated jewels are plastic, and the strap is plastic. Since the plates are plastic, they will flex when pressed. They also sound hollow when knocked on, while the commemorative version sounds more solid. The weight of the Jakks Pacific belt is less than half the weight of a replica, at 2.77 lbs. (1260g).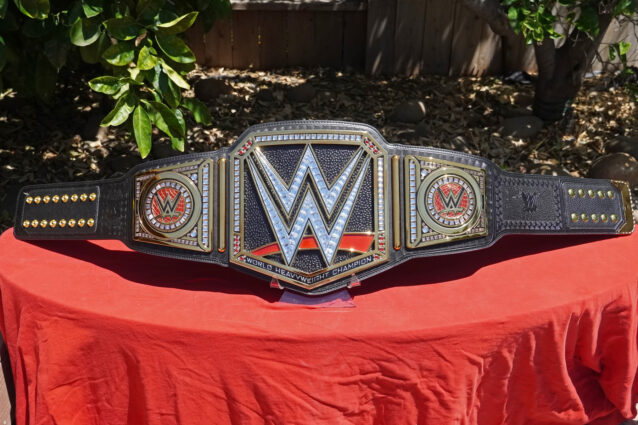 The color of the Jakks Pacific plates is a darker, amber gold. They are attached to the strap with white studs that cannot be removed or replaced. The strap itself feels more like rubber than plastic, and actually looks more like the faux leather on the replica than the commemorative strap. The design pressed into the strap behind the main plate looks completely different from all WWE Shop belts, with marks that are spaced out from each other instead of overlapping.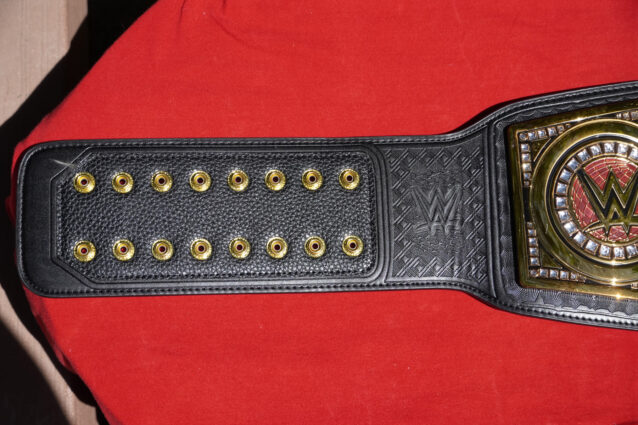 The strap measures 50in long by 11.5in tall when measured at the center. The pentagon-shaped main plate is 10.25in wide by just under 10.25in tall, the two bars between the main plate and side plates are 6in long, and the rectangular side plates are 6in x 5.5in x 5.5in x 4.25in.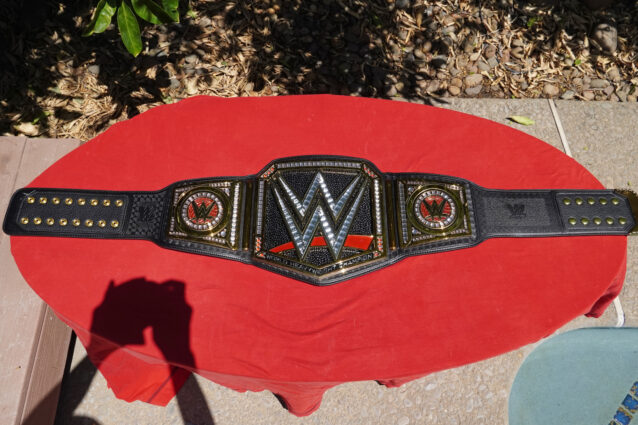 I purchased a Jakks Pacific belt directly out of the box, yet the plates were still scratched. The scratches actually removed the coloring from the plastic plates. The strap is also folded, but will unfold over time and with a little heat from the sun.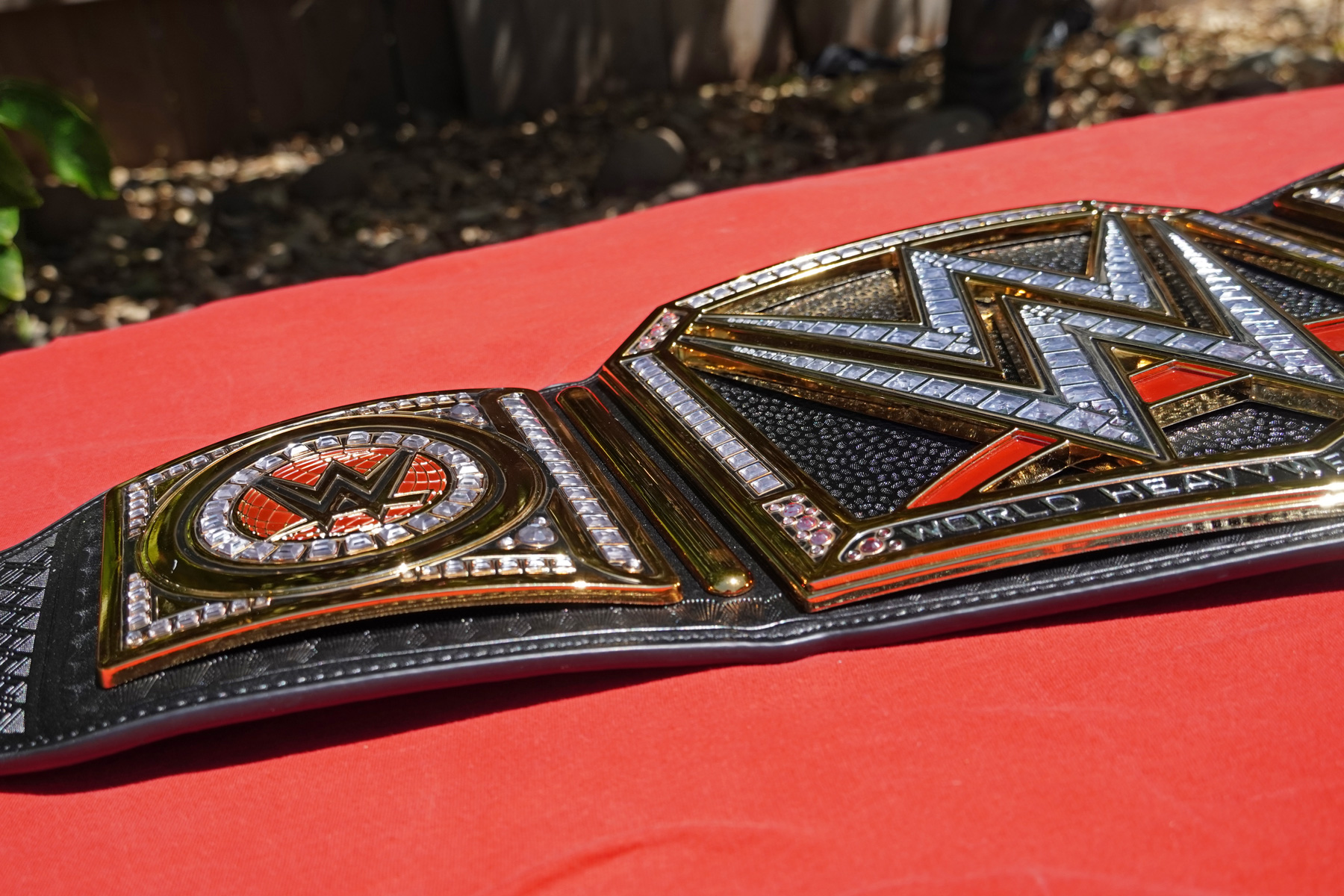 These collectible belts are no longer sold brand new in stores. They can be purchased second-hand, but the commemorative belt from the WWE Shop appears to be better in almost every way.