The WWE Intercontinental Championship was given this beautiful ultra deluxe release with 4mm plates, and was restoned with Swarovski stones.
Known as the attitude era, oval, and scratch logo WWE Intercontinental Championship, this title belt was given a deluxe replica by the Figures Toy company in the early 2000s.
The Intercontinental title was redesigned with the WWE logo on the main plate after the brand switch. Only the main plate was redesigned. The words on the top of the plate were changed from WORLD WRESTLING FEDERATION to WORLD WRESTLING ENTERTAINMENT. The redesign also moved the word CHAMPION to the INTERCONTINENTAL banner above, and added a nameplate where the word CHAMPION once was.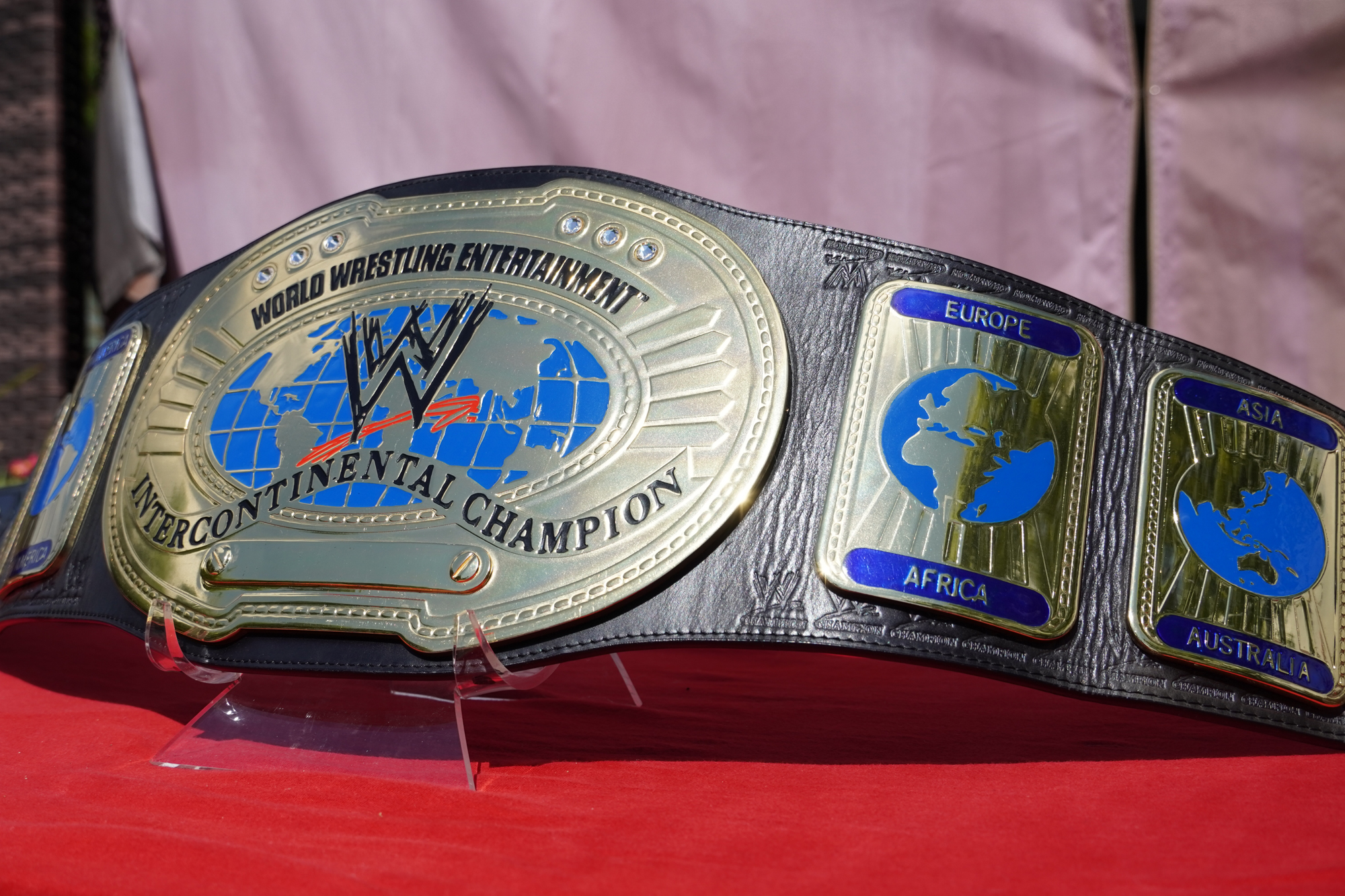 The plates are 4mm thick, twice the thickness of the normal replicas. Although the plates are thicker, the Figures Toy Company didn't make the etching any deeper. It seems the WWE Shop replicas with the thicker plates have deeper etching by comparison. However, the plates on the Ultra Deluxe replicas are incredibly heavy by comparison, and the gold coloring is far more accurate.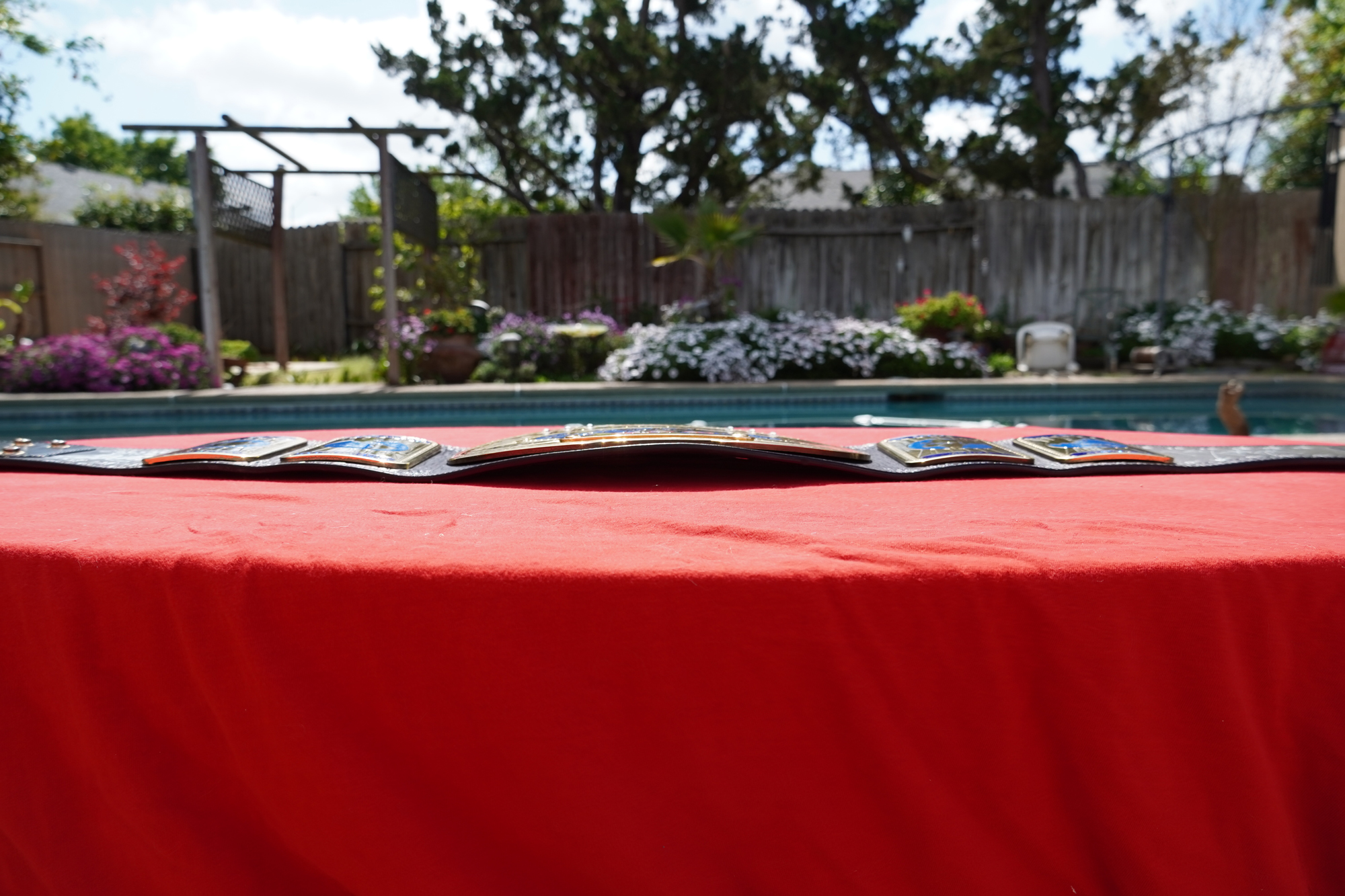 The main plate of the Intercontinental championship measures 7″x11.5″. The four side plates of the Intercontinental Championship are all unique and feature a different segment of the globe. The first two side plates measure approximately 4.65″x3.25″, and the second two side plates measure approximately 4.25″x3″.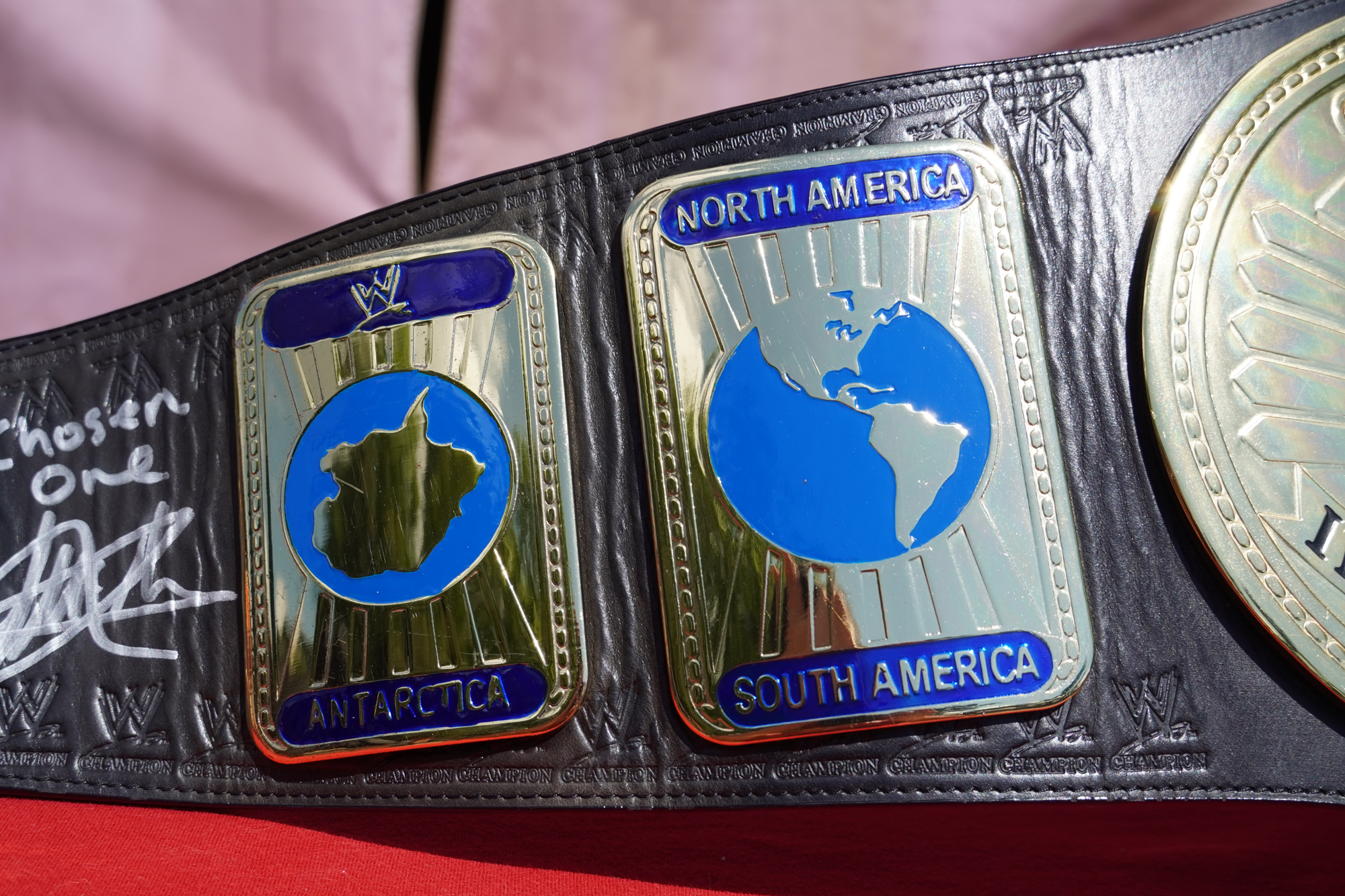 This replica featured six faux diamonds on the main plate. However, when I purchased this particular replica, it has been restoned with Swarovski stones. These sparkle similar to cubic zirconia, but do not have the same iced look.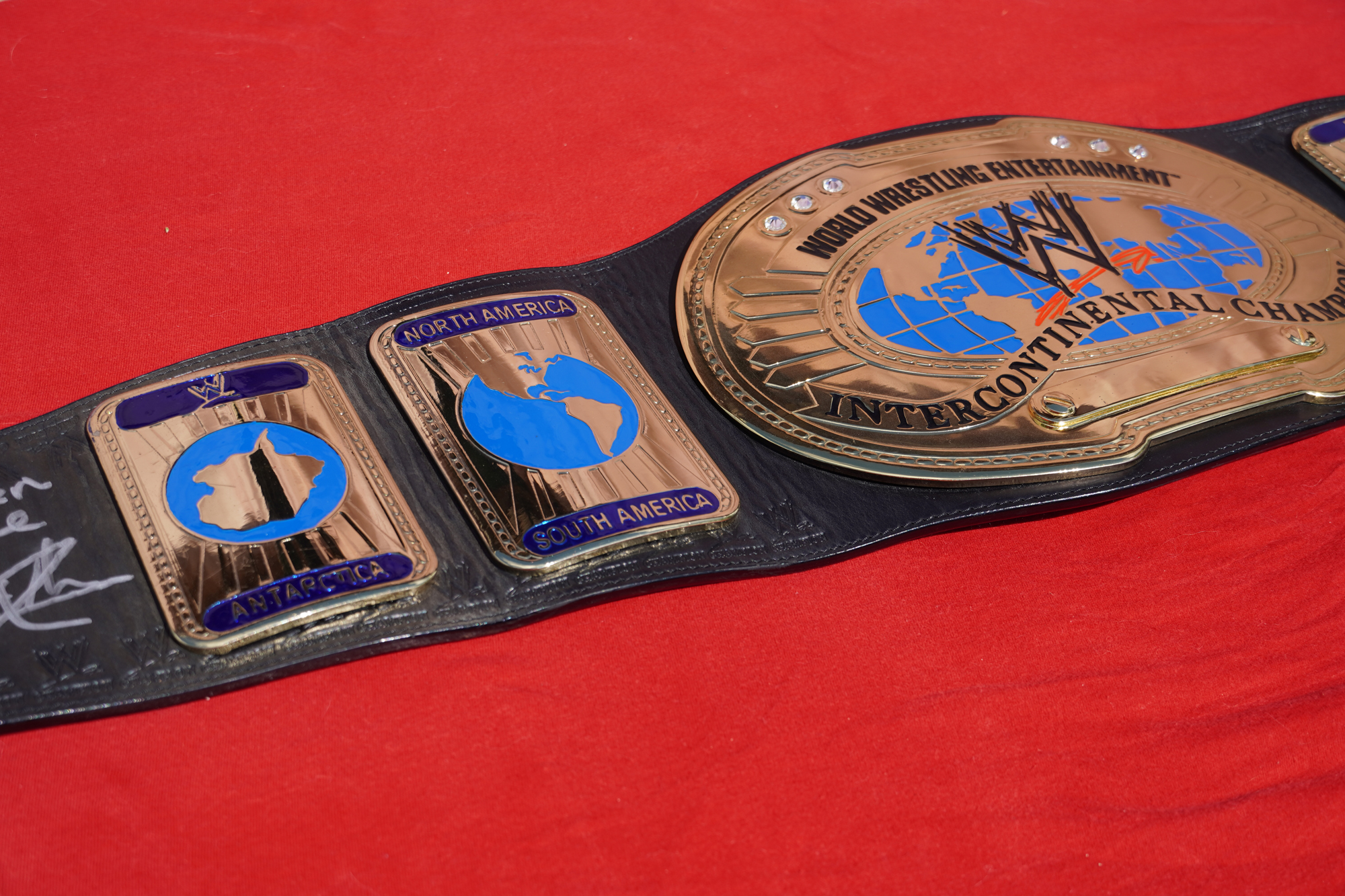 The strap is approximately 51″ long and is made out of leather as opposed to polyurethane on the original replicas. WWF tooling is stamped along the edges of the strap to the two snap boxes on the ends. The snap boxes are sewn on beneath 5×2 female snaps and 8×2 male snaps. All the licensing information is printed on the back of the strap. This particular replica was autographed by Rob Van Dam and Drew McIntyre.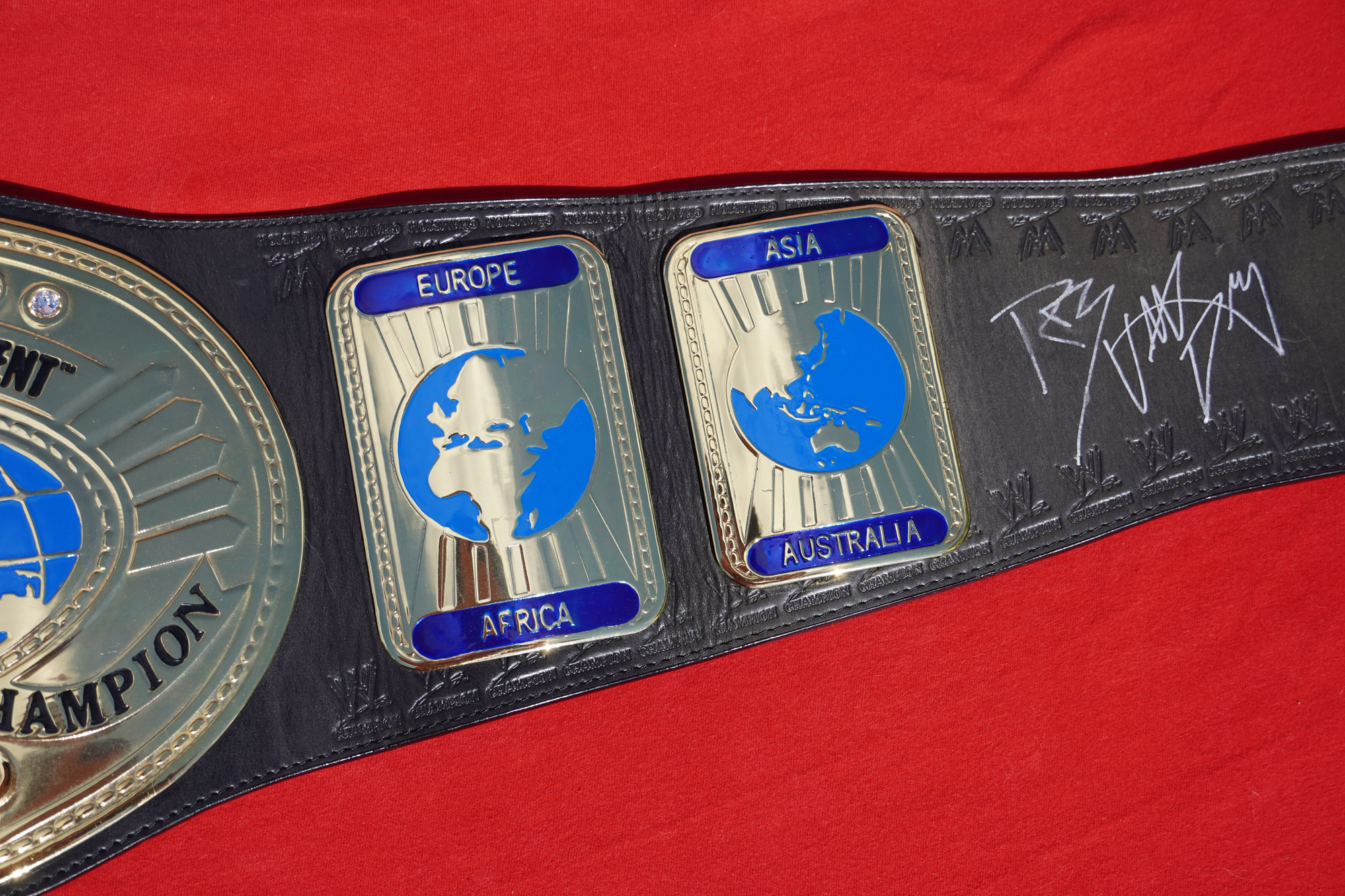 This Ultra Deluxe replica from the Figures Toy Company is an excellent piece for any collector, though it is tough to find. While it is similar to the version the WWE Shop is still selling, this Ultra Deluxe is far heavier, has much accurate gold coloring, and a leather strap with WWE Champion tooling. I would recommend this over the WWE shop version any day.