The Steam Summer Sale begins today and lasts for 11 whole days (June 19 – June 30 2014). Here are some tips to keep your wallet safe.
For those new to the experience, the Steam Summer Sale is when a massive number of games get deep discounts on the Steam Store for nearly two weeks. There are a few sections of sales that will alter after select time periods. Countdown timers are set next to each section to notify you of the time left to buy a game before it reverts to a higher price and a new list of games get reduced in price. All of the current sales can be viewed at SteamPowered.com, which is the same place you can download and install Steam onto your PC. You will need to tie a credit card to your account before you can purchase anything.
Should I Participate?
Some of you may be saying "But I don't have a gaming PC. Why should I take part in the Steam Summer Sale?" Believe it or not, there are a number of older games, and even relatively new indie games, that don't require a lot of power to play. You may not be able to play at max settings or even at a 1080p resolution — yes, you can hook up your Desktop or Laptop to your modern HDTV using VGA or HDMI cables — but you may still be able to run the game at lower settings if your computer isn't too retro. If you're still unsure, head over to System Requirements Lab. Type in a game's name in the box and click the "Can You Run It" button. The program will ask for your permission to run and gather your PC's specs. After the analysis, it will tell you if your computer can run that game at minimum settings!
Sale Sections
Literally thousands of games are now on sale in the Steam Store. You can see all the games and their DLC that are on sale at THIS LINK. A good trick to find something you want in a huge list is to press CTRL and F, then type in the name of the game in the little search box that comes up.
Just because a game is on sale does not necessarily mean you should buy it. Many games may be 25% or 50% off, but even bigger discounts can be found once a game reaches the Daily Deals, Flash Sales, or Community's Choice sections. Let's break down each section one by one.
The Daily Deals are a handful of games that will be highlighted at the top of the Steam Summer Sale page. They will be available for 24 hours before changing to a new set, and offer great prices.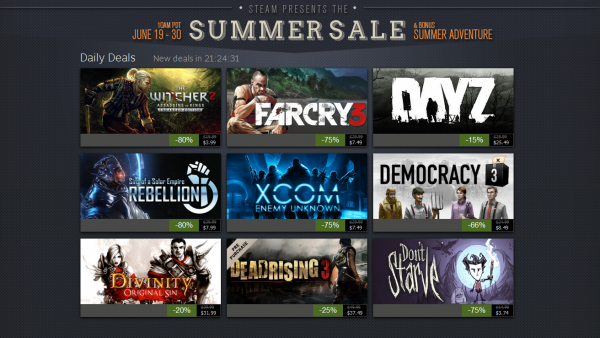 The Flash Sales usually have the best deals of the entire Summer Sale, but they are around for only eight hours at a time. If you see something you like here, buy it right away!

The Community's Choice section allows users to vote between two sets of games that will go on sale next. Click the Community's Choice button to see the two sets of games and their sale prices. These sales change every 8 hours, but you actually get a look at what will come up next, unlike the other two sections.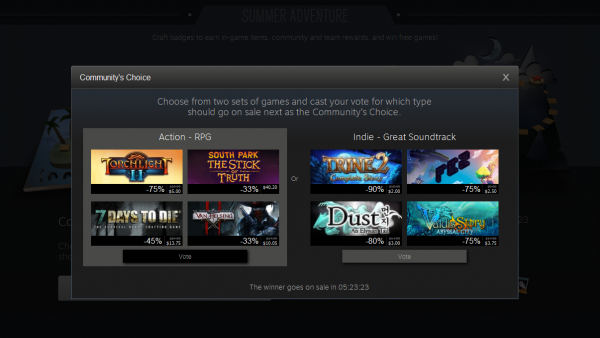 If a game does not fall under one of these sections, it's best to wait before spending your money. Even if a game did show up in one of these sections, there is a good chance it will come back later during the sale for the same price. It's always a good idea to be patient before throwing your money at the screen.
Don't forget to look for Packs that are on sale, too. Right now Far Cry 3 is a Daily Deal for the first day of the Steam Summer Sale, and if you view Far Cry 3's info page, you will see the Far Cry Franchise Pack is also on sale. The Franchise Pack includes Far Cry, Far Cry 2: Fortune's Edition, Far Cry 3, Far Cry 3: Blood Dragon, and Far Cry 3: Deluxe Bundle DLC. If you wish to only buy Far Cry 3, you can pick up the DLC at a discounted price with the game. Always look for DLC and expansion packs that are on sale alongside the full game.
Should I Buy Now or Later?
Of course, we can't be sure if a game will be available later during the sale at a cheaper price, but there are a few other questions you can ask yourself. Do you plan to play the game within the next three or four months? If not, you can always wait for another sale like Steam's Halloween, Thanksgiving, Christmas, or whatever other sale they may be planning in the future. The game may be reduced in price naturally as time goes on, as well.
Alternatively, you can purchase a game as a Steam Gift. Buying a game as a gift does not mean you have to gift it to someone else. If you want, you can send the gift to yourself and hold it in your library forever. Why use a Gift instead of purchasing it regularly? When a game is a gift, you can trade it with other members of the Steam Community for other games. Some try to trade games for Steam Wallet Cash or PayPal money, but that's also an easy way to get scammed. Head over to the Steam Forums to see what people are offering, and view the Recommended Trading Practices before trading.
If you're not sure you'll have the time to play a game, or you're not sure how long a game usually takes to beat, you can always go to How Long To Beat to see if you have the time. Type in the name of a game and you will find the average time it takes to complete the main game and any extras.
A Little Fun
You can browse YouTube for a ton of videos relating to the Steam Summer Sale. Here's just a taste of epic Gabe-ness.