I'm back from another stint at SacAnime Winter 2017. It was probably the best convention I've experienced thus far!
SacAnime Winter 2017 was the fourth convention I've attended. As the name implies, it takes place in Sacramento, California at the Sacramento Convention Center and the nearby Sheraton Hotel. This convention lasts three days from 7am to around 1am the first two nights and 7am to 6pm the last night. I booked three nights at the Sheraton so I could be right near the action.
I originally had plans to meet up with a few friends from past conventions. Unfortunately, things didn't go quite as planned. I had brief meetings with some of my old friends, but it wasn't anything special.
I arrived via train at 12pm during day 1. Unfortunately, I wasn't able to check into my hotel until 3pm, meaning I had to carry around all my luggage for three hours. Additionally, the lines to register at the convention were pretty long compared to day 0. I had to wait in line for at least thirty minutes with all my luggage. The night before I only had five hours of sleep, and I barely had anything to eat that morning.
I was pretty exhausted, and the first day dragged me down. I dressed as Pokemon Trainer Red once again. I made it to the Pokemon gathering where I had a little fun, but there were so many people that I wasn't able to get as many decent pictures as I usually do. There wasn't a lot of Pokemon talk either. Maybe it was just because I was tired and didn't attempt to talk to as many people. Either way, I went back to the hotel early and slept from about 8pm to 10pm, then I couldn't go back to sleep until 3am or so even though I was so worn out.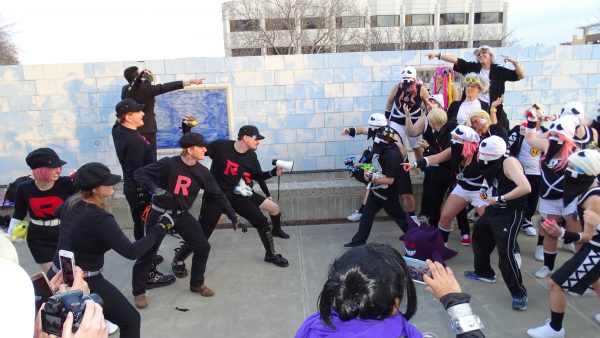 The second day I got enough rest to be fully energized. I dressed in my Roy Mustang costume, but was still really hot because the convention center was blasting the heater and there were so many people packed together that it created more heat. It started raining the second day, but the weather wasn't too bad. The FullMetal Alchemist gathering was diverted from the outside terrace to a corner inside. I stumbled onto it since there wasn't clear information or directions. A number of other cosplayers were late because they couldn't find it. Furthermore, the metal paneling on the wall caused a shine with my camera's flash and really screwed up some of my pictures. Day two was shaping up pretty poorly as well.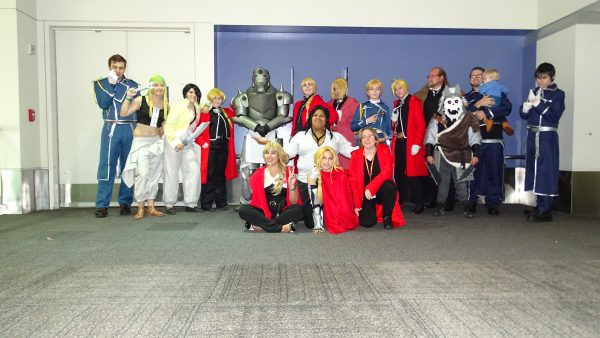 I made it to the cosplay masquerade later that night. There were some great costumes, and the top three winners of the karaoke contest performed one song each. I honestly thought the second place winner should have received first place, but that's just my opinion.
I had plans to go to the rave later on in the night, but I was in a slump. I wandered around with low spirits. Just when I thought this might have been the worst SacAnime ever, I stumbled upon an area of the convention center I had never been to before. In this area was a group of people blasting music and having fun. I decided to sit by and listen to the music for awhile. I didn't talk to them or anything, just listened. A few minutes later, they decided to move their music to another part of the convention center. I knew right then and there that I had to follow them.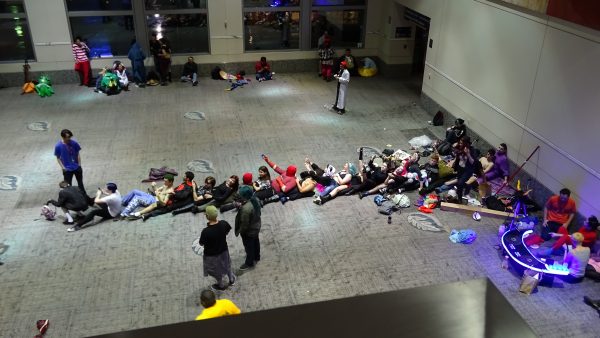 The guys doing the music were obviously having a bad night as well, but they wanted everyone to have the time of their lives. I started talking to one, and then another, and another. They were cool as all hell, and I related to them in so many ways. After having a great time dancing the night away — and staying out till around 1am, which was the latest I've ever been out during a convention — we parted ways and said we'd try to meet up the final day.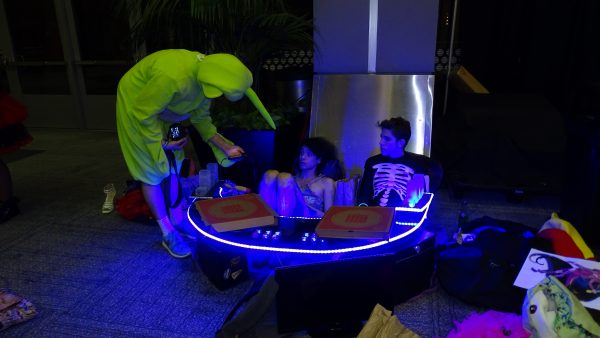 Day three came around and I decided to cosplay as Pokemon Trainer Red again. I did this for a few reason: I was so exhausted the first day that I barely wore the costume, I met up with another Pokemon manga cosplayer who said she'd cosplay as Yellow on the third day, and I only brought two real costumes. I originally planned to buy another costume, but the exhibit area wasn't selling many costumes this time around. Luckily, I ran into the same guys from the night before shortly after arriving. After buying a few things, we all danced for about five hours straight. Some people even decided to go dance out in the rain! The crowd was huge, small, and then huge again. The staff had to keep the crowd within a certain boundary to make sure people could get through.
By 6pm the staff made us all leave. We headed back to the hotel lobby where we chilled for a bit. About an hour later we decided to go up to my room where we talked, played video games, and had even more fun until nearly 3am. It was easily the best time I've had at a convention — possibly in my entire life.
We all had to leave the day after the convention on Monday, January 9th. I had to take the train at 5pm, and they were waiting for their ride. Since I had to check out by 1pm (that was the latest check out time), we decided to hang out in the lobby again. There we played Pokemon themed Monopoly and made plans for the next convention.
I had a major blast and hope everything works out just as well during the next SacAnime at the beginning of September 2017. Below are all the pictures I took during the three days. Videos will be posted on my Otaku YouTube channel as always.