I'm back from a great weekend at SacAnime Summer 2016! Here's my story and pictures.
SacAnime Summer 2016 was held from September 2-4 in Sacramento's Convention Center and the Sheraton Grand Hotel across the street. This was my third SacAnime I've attended, and I had a blast like always.
I was really worried that I wouldn't be able to attend because of my new job. I was able to switch one day with a friend, I had another day off, and I worked late the third day. This gave me half of the first day of SacAnime after traveling there, the full second day, and just the morning of the third day.
I reached the hotel a little after 12:00pm on Friday. Since my room wasn't ready, unless I wanted to upgrade, I got dressed in the bathroom and dragged my luggage around with me. Then I remembered I could have left it at the hotel with the hotel people.
It was great seeing some old friends and new friends. The thing I looked forward to the most on the first day was the Pokemon gathering. It was much bigger than SacAnime Winter 2016 because it was actually added to the schedule this time, and because Pokemon Go brought out all the Pokemon fans again. Like the last two SacAnimes, I cosplayed Red from the Pokemon Manga. This time my Pokeball design on the back was painted in and I brought my official set of badges.
Since I was alone this time I decided to travel sort of light. I only brought one costume with all my clothes, food, and camera gear. I didn't want to wear my Kirito or Eren costumes because Kirito was way too hot for summer and Eren had way too much to lug around. Instead, I bought a brand new costume the first day. I got a state alchemist costume at the convention along with a state alchemist watch. I decided to cosplay Roy Mustang from FullMetal Alchemist, which is one of the characters I've been wanting to cosplay for some time. I tried really hard to find gloves to match the costume, but nobody seemed to have them in the entire exhibit area. I asked the SacAnime Facebook group if anyone had an extra pair of white gloves, and was able to get a pair within a few minutes from someone else staying in the same hotel. I was super lucky and grateful!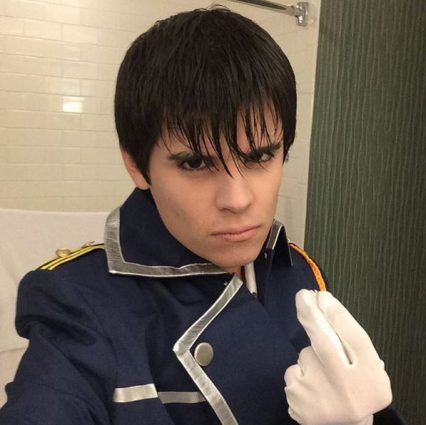 Other than the FMA costume, I bought three SacAnime T-shirts. They were only $10 each, and there were three designs this time around instead of just one.
The second day I attended the FullMetal Alchemist gathering, along with a few others. The video game character gathering, Love Live, Persona, and Overwatch. One of my friends asked me to record her friends dancing after the Love Live gathering. While I was there in the Roy Mustang costume, someone asked if I was there because of the tiny mini skirts. I thought she was being a jerk, but then I remembered the costume I wore. About five minutes later I brought it back up and said I barely got it.
I completely forgot about the Cosplay Masquerade until it was too late. I attended the AMV contest for a bit, though. I'm thinking about entering next time since I have quite a bit of experience with video editing. I did want to go to the dance / rave, but there was a massive line for some reason. The convention center wasn't even that full at the time.
I only had about an hour to kill on the third day before I had to catch my train. As always, I was super bummed that I had to leave. Of course, the time I spent was still exceptional. Something I will hold in my memories forever.
Below is a gallery of all the pictures I took. Surprisingly, nobody asked to take a picture of me this time around. Oh well! I'm currently working on the vlogs next. Subscribe to my YouTube channel to see them when they upload!