The original ROH Championship had a very simplistic design, and the Figures Toy Company was able to replicate it perfectly. See in great detail here!
Ring of Honor was an independent wrestling promotion that showcased some of the best talent for almost two decades. Professional wrestlers such as CM Punk, Brian Danielson, AJ Styles, Samoa Joe, Kevin Steen, and Cody Rhodes have all held the ROH World Championship at some time or another. At this time the company is shut down to reevaluate things, but all wrestling fans are hoping they will continue.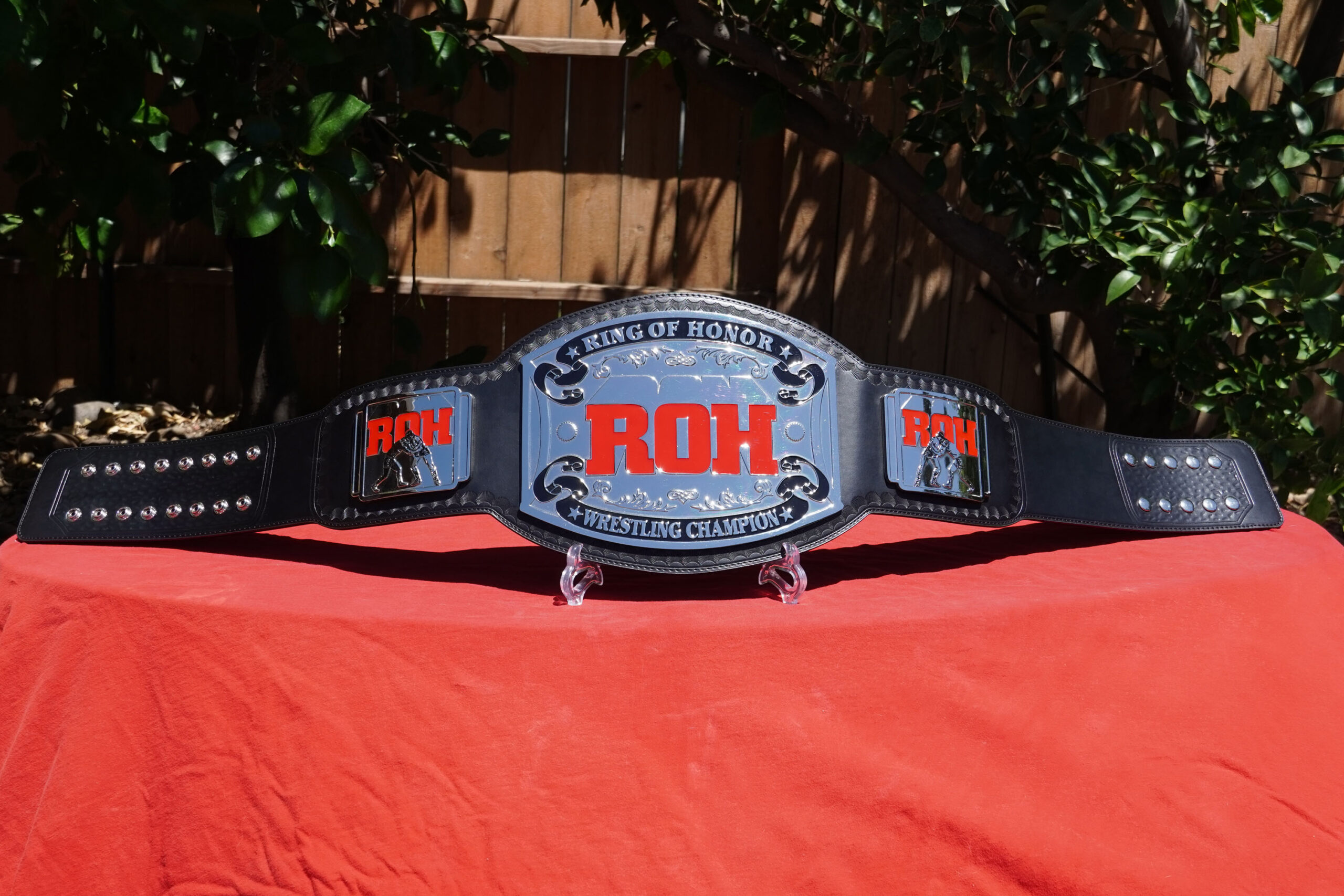 The ROH Championship was first introduced in 2002. The simple design featured three plates on a black strap. The replica produced by the figures toy company is 4mm thick with deep etching and plates that shine with a mirror finish.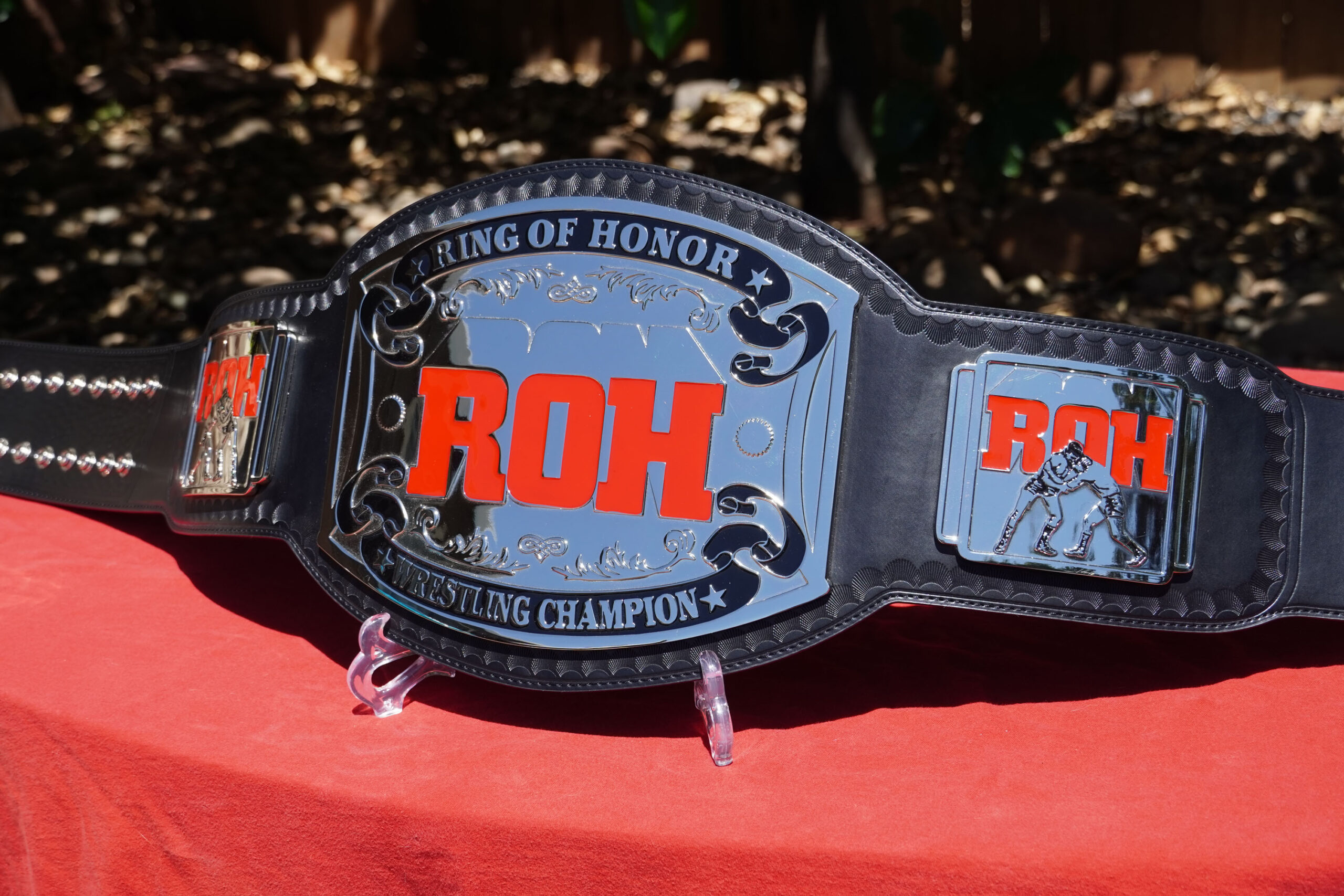 All three silver plates feature the red ROH logo. There's also some black paint on the ribbons at the top and bottom of the main plate, and black paint on the wrestlers on the side plates to highlight their features. The main plate measures approximately 8 inches tall by 10.25 inches wide. The side plates measure approximately 3.5 inches tall by 4.35 inches wide.
The black strap is made out of polyurethane to keep the replica stiff for displaying. It measures 49 inches from end to end, and approximately 9.3 inches tall at the center. The belt appears to have a slight gloss on it. The slightest scratch or bit of pressure gets left indented in the faux leather, forever! This strap features seashell tooling around the three plates.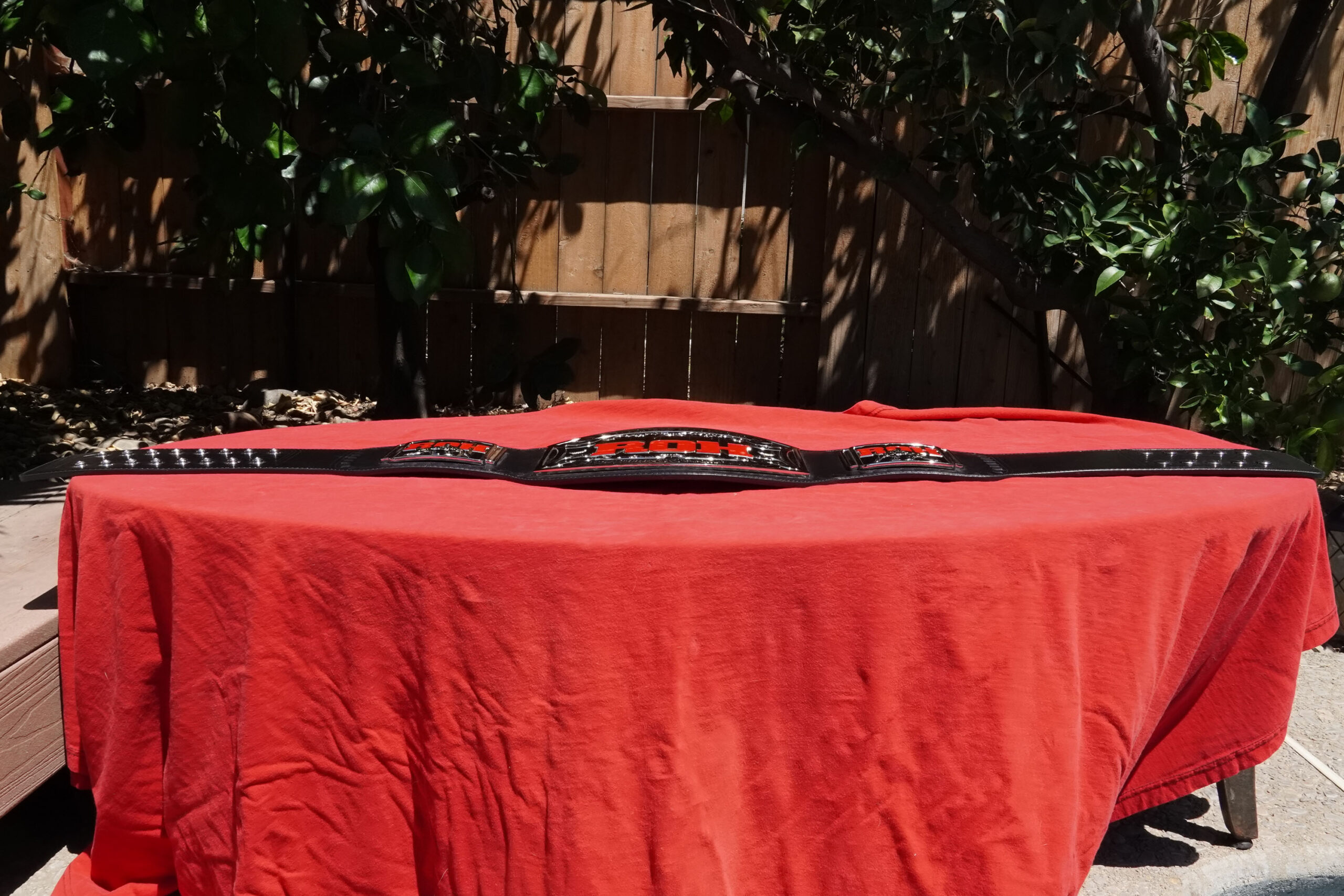 At the ends of the belt are the snap boxes. These snap boxes have a tooled design on the snap boxes that give it a stone-like texture. The snaps within the snap boxes are all silver to match the three plates, with 5×2 female snaps and 8×2 male snaps.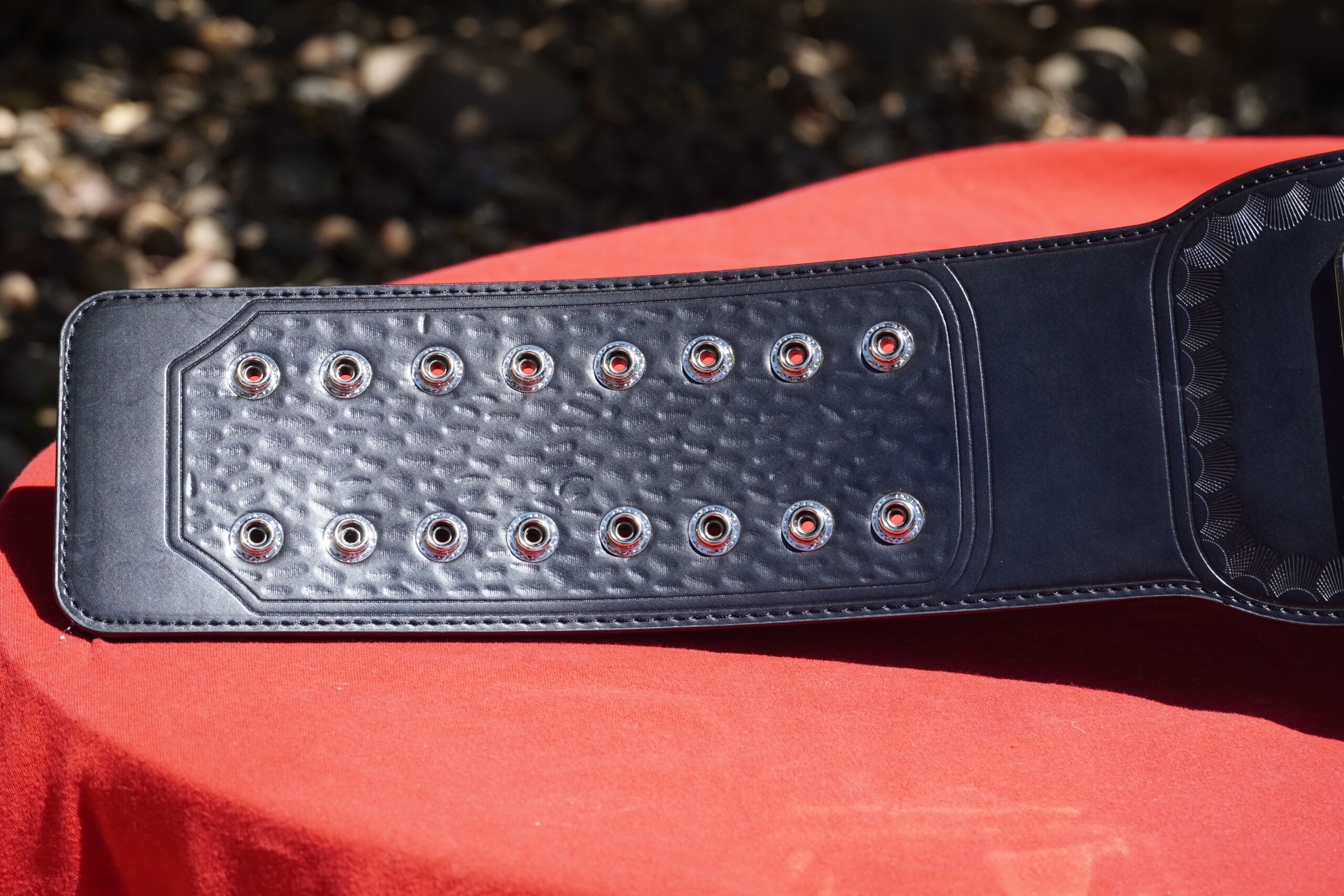 The officially licensed product patch is sewn onto the back of the strap, as often found with products from figs inc. Both the Figures Toy Company and ROH Wrestling logos are imprinted on this patch.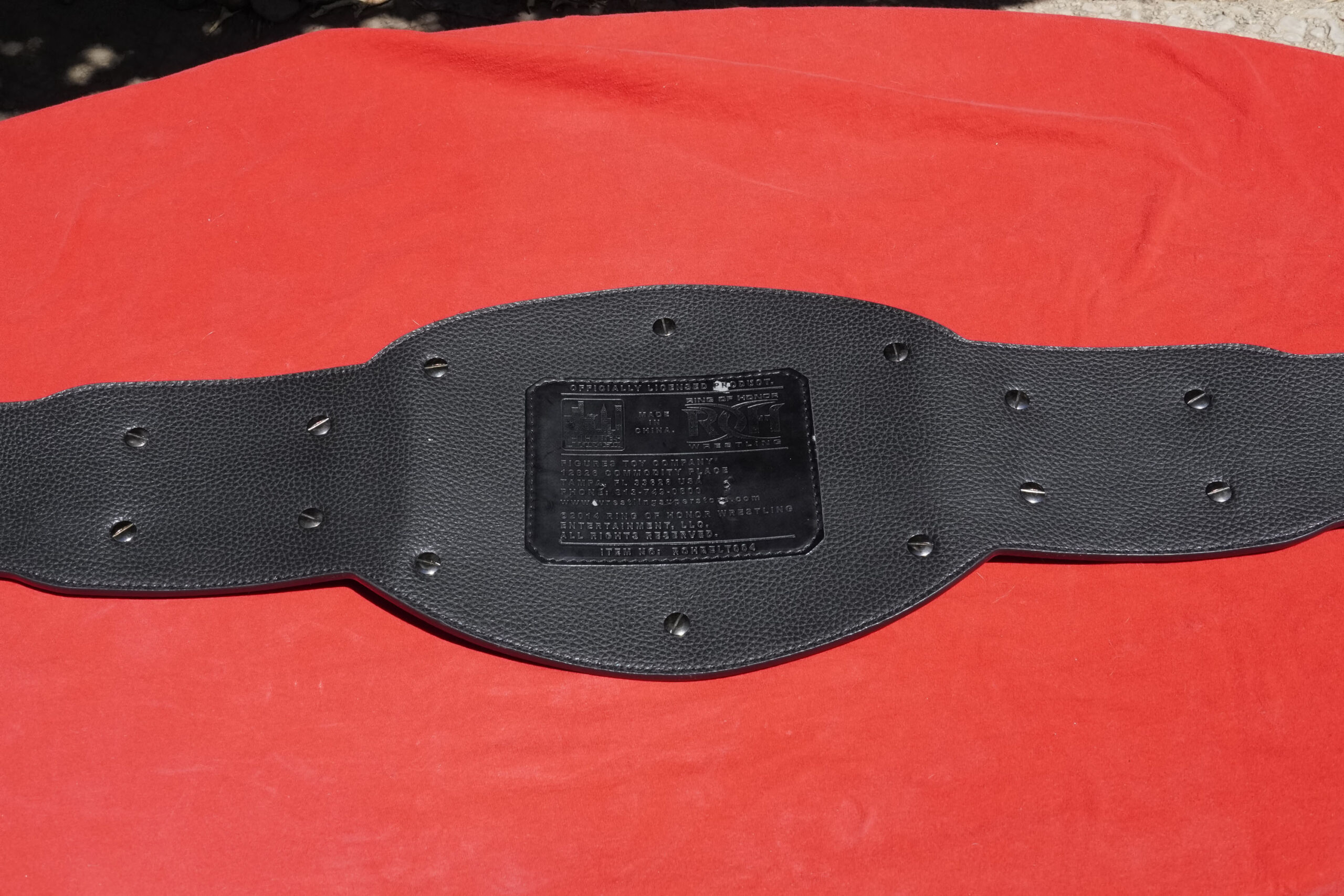 See my video review of the ROH World Championship by the Figures Toy Company below.
All in all, this ROH Championship replica has terrific plates that look just like the real thing, which shouldn't have been difficult to reproduce given the design. The downside is the strap that will pick up any tiny scratch or dent and highlight it within its glossy finish. Either be very careful with the strap or get it re-leathered, but still pick up this excellent replica of the original ROH Championship!