The Pokemon Trainer Red Champion Ver Nendoroid is a limited edition figure for the 20th Anniversary of Pokemon.
This figure was only available in the west from the official Pokemon Center website. It sold out incredibly quickly for $99.99 because anyone could buy an unlimited amount of these rare items. A number of people bought a ton and have been reselling them for outrageous prices on eBay and Amazon. I was able to get my hands on one from eBay for a little under twice the price.
Trainer Red is the Pokemon Fire Red, Leaf Green, and Pokemon Origins version of the character, not the original Red from Pokemon Red, Blue, Green, and Yellow. The figure has swappable hands, arms, faces, a removable backpack, a removable Great Ball, and a removable Ultra Ball. The balls can be attached to one of the hands to make it look like he's holding it with his palm upward. There's also a pointing hand and a hand inside his pocket.
This package also comes with a Venasaur, Charizard, and Blastoise. All three Pokemon have their own effect pieces that come in the package. There are three fire effects for Charizard, two grass effects for Venasaur, and two water effects that attach to the cannons of Blastoise.
Charizard's wings are detached in the box. They pop in nicely and move around on a joint. His neck moves quite a bit, as well, and his arms and legs move a small amount.
Blastoise doesn't have any removable parts on his body. His head, arms, legs, tail, and cannons move a tiny bit, but not too much.
Venasaur's plant is detached in the box and pops on very easily. His head, and arms can move a tiny bit.
Red's face can be swapped by taking off the front of his cap first. The shoulders, arms, and hands are all swappable, as well. The legs move but cannot be removed from the body. There's also a spare neck joint in the package.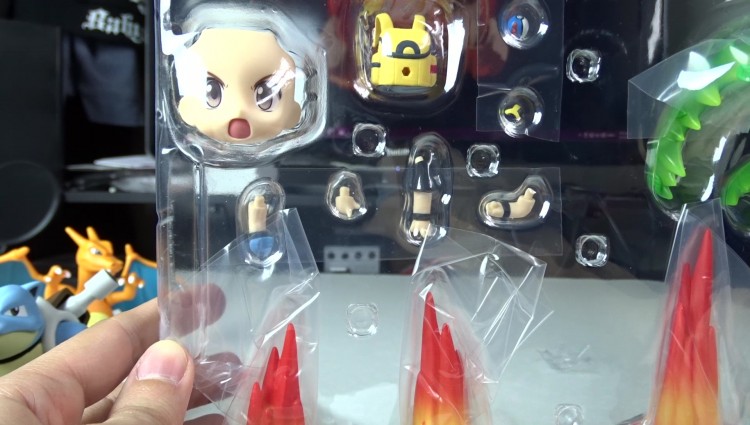 The backpack attaches to the backpack straps, which fits between the indent on the back of the figure. The backpack and straps don't lock in well, so you have to be careful when putting these together. There is another indent on the backpack that attaches to an arm and base. The figure cannot stand on its own like the images, and requires a clear brace that attaches to a clear base.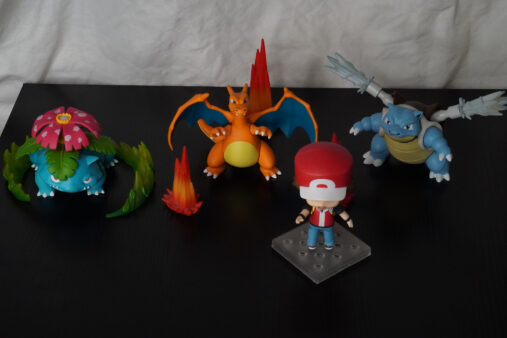 Each figure is hand painted, so there may be small differences between each one. That's all there is to this set. You can see a thorough unboxing video at the top of this page. I make sure to give every piece some time and discussion before putting things together. Make sure to subscribe, as well!