I bought this Pokemon Trainer Green / Trainer Blue figure to match my Trainer Red figure. Is it worth the money?
While browsing AmiAmi.com I found this Trainer Green figure that looked as if it could fit perfectly with my Trainer Red figure I bought months back. AmiAmi listed this product as Gary Oak, the box says Trainer Green, and the west always calls the character Trainer Blue. I'm going to stick with the description on the box.
This figure is Pokemon Trainer Green by MediComToy as part of the Perfect Posing Products series. That last bit is important because it did not match my Trainer Red figure at all. My Trainer Red was from Kotobukiya as part of the ARTFX J series. Let that be an important note to figure buyers out there!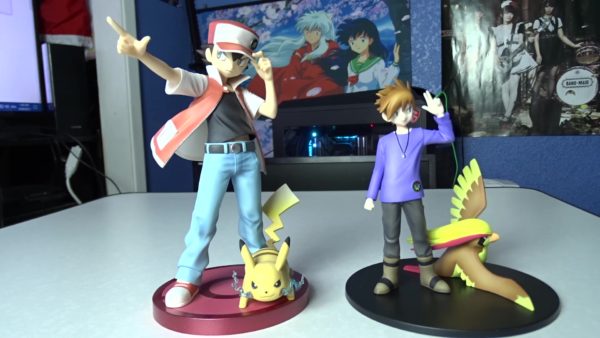 With that said, this package comes in three pieces. Trainer Green is a solid piece, Pidgeot is a solide piece, and the black base holds them together. The pieces connect with plastic pegs from the base to holes on the figures. To tilt Pidgeot into an action pose, the sculpture gave Pidgeot a single foot. I would rather they give him an invisible brace to float in the air than anything, or choose a different Pokemon!
As mentioned earlier, the figures are completely solid pieces. Although the characters' styles aren't exactly intricate, the manufacturer still didn't do that well with their paint job. The Pidgeot had paint bubbles, and Green's purple shirt melded into his neck. This seemed more like a Chinese knock off figure or a toy for kids rather than a serious collectible figure.
If I saw this at a convention, I wouldn't pay more than $30, and that's what I'm recommending to anyone who comes across this in the future. I couldn't find the listing on AmiAmi, and I can't find any listing of this product on Amazon to share.