Pokemon The Movies 1-3 Blu-ray Collection has finally arrived! What comes with this package?
For the 20th Anniversary of Pokemon, the company released the first three movies in a single blu-ray collection. The movies that are included in this collection are Pokemon The First Movie: Mewtwo Strikes Back, Pokemon The Movie 2000: The Power of One, and Pokemon 3 The Movie: Entei – Spell of the Unknown.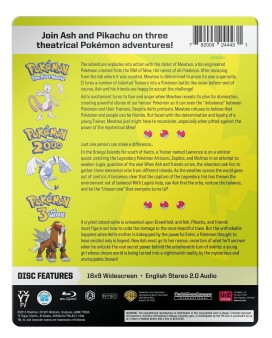 The video is set at 1920 x 1080p with a 16:9 aspect ratio, but it seems like there are very small black bars at the top and bottom of the screen, as if it does not use all 1920 vertical pixels. The audio is English 2 channel DTS-HD Master Audio at 48 kHz.
I really would have preferred if these blu rays had anamorphic (theatrical) widescreen instead of the normal 16:9 widescreen. It would have been great if there were multiple channels and even Japanese audio like Amazon lists, but that is not the case. There is only English audio on two channels. Furthermore, subtitles aren't included in any form, not even for the hearing impaired.
The quality of the video isn't anything special. Similar to the other Pokemon movie collection, it seems like they took the DVD or VHS versions and upscaled them to 1080p. The images at the blu-ray menus are far clearer than the movies themselves. Speaking of the menus, the only options available at the menus are play and scenes. That's right, there are no other special features whatsoever. Even the VHS copies had Pikachu shorts. All you get with this set are the three movies on blu ray.
At this time in the USA, the collection is a "Limited Edition" version which comes packaged in a SteelBook case and includes three separate blu rays. I pre-ordered it for $35, but it has already gone up to $40 on the day of release. If you're a super Pokemon fan, I guess you could get it. If not, I would recommend waiting until the price goes down considerably, just like with the other Pokemon movie collection. There isn't anything special with this package other than the SteelBook.
You can get Pokemon The Movies 1-3 Blu-ray Collection using the Amazon link below. Use my link and I'll get a small kickback. It won't cost you anything extra, but it will help keep my site running.