Pokemon Let's Go Pikachu and Let's Go Eevee features Mega Evolution like recent games in the RPG series. Through mega evolution, specific Pokemon can transform to a stronger form of itself. This type of evolution only occurs in battle after obtaining a Key Stone and a specific Mega Stone. With both items available, the mega evolution button will appear in the attack menu if the Pokemon can mega evolve.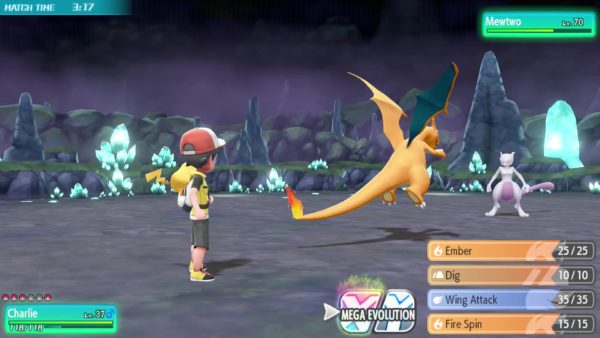 All Pokemon that choose to mega evolve will transform during that turn, but only one Pokemon per Trainer can mega evolve per battle. A Pokemon's type might change, and their stats will certainly change, after mega evolution occurs. After the battle is over or if the Pokemon faint, they will revert to their original form.
List of Mega-Evolved Pokemon
The table below lists the Pokemon in Let's Go Pikachu and Let's Go Eevee that can mega evolve, their original type, followed by their new type, and where the item can be obtained. Most are purchased from a man on Indigo Plateau after becoming the Pokemon League Champion.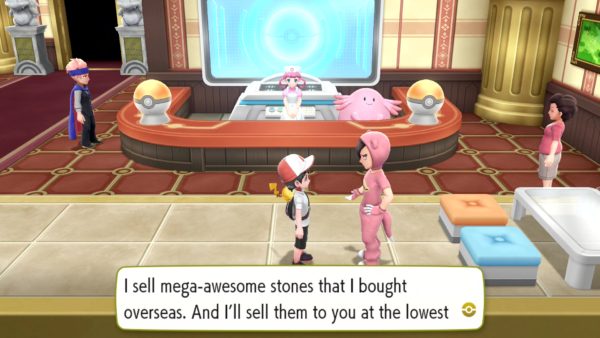 | Pokemon | Original Type | Mega Type | Stone Location |
| --- | --- | --- | --- |
| Mega Venusaur | Grass/Poison | Grass/Poison | Receive from Professor Oak in Pallet Town after earning seven gym badges. |
| Mega Charizard X | Fire/Flying | Fire/Dragon | Receive from Professor Oak in Pallet Town after earning seven gym badges. |
| Mega Charizard Y | Fire/Flying | Fire/Flying | Receive from Professor Oak in Pallet Town after earning seven gym badges. |
| Mega Blastoise | Water | Water | Receive from Professor Oak in Pallet Town after earning seven gym badges. |
| Mega Mewtwo X | Psychic | Psychic/Fighting | Receive from Green in Cerulean Cave after capturing Mewtwo. |
| Mega Mewtwo Y | Psychic | Psychic | Receive from Green in Cerulean Cave after capturing Mewtwo. |
| Mega Beedrill | Bug/Poison | Bug/Poison | Buy from man in Slowpoke outfit at the Pokemon League for P 30,000 after becoming Champion. |
| Mega Pidgeot | Normal/Flying | Normal/Flying | Buy from man in Slowpoke outfit at the Pokemon League for P 30,000 after becoming Champion. |
| Mega Alakazam | Psychic | Psychic | Buy from man in Slowpoke outfit at the Pokemon League for P 30,000 after becoming Champion. |
| Mega Slowbro | Water/Psychic | Water/Psychic | Buy from man in Slowpoke outfit at the Pokemon League for P 30,000 after becoming Champion. |
| Mega Gengar | Ghost/Poison | Ghost/Poison | Buy from man in Slowpoke outfit at the Pokemon League for P 30,000 after becoming Champion. |
| Mega Kangaskhan | Normal | Normal | Buy from man in Slowpoke outfit at the Pokemon League for P 30,000 after becoming Champion. |
| Mega Pinsir | Bug | Bug/Flying | Buy from man in Slowpoke outfit at the Pokemon League for P 30,000 after becoming Champion. |
| Mega Gyarados | Water/Flying | Water/Dark | Buy from man in Slowpoke outfit at the Pokemon League for P 30,000 after becoming Champion. |
| Mega Aerodactyl | Rock/Flying | Rock/Flying | Buy from man in Slowpoke outfit at the Pokemon League for P 30,000 after becoming Champion. |