A collection of four movies, here's what's in the Pokemon Collector's Set Blu Ray. Comparisons with the DVDs included!
This "Collector's Set" comes with four Pokemon movies on a single Blu Ray disc. The movies are Pokemon Heroes The Movie, Pokemon 4Ever, Pokemon Jirachi Wish Masker, and Pokemon Destiny Deoxys The Movie.
These four movies are in full high definition 1080p at a 16×9 (1.78:1) aspect ratio. This is definitely much better than the 4:3 aspect ratio of the Pokemon Movie DVDs, but I would still like to see a Blu Ray release with the full theater anamorphic wide screen. The quality of the video isn't a huge upgrade from the original. In fact, sometimes the video looks darker than usual.
The audio varies from movie to movie. Pokemon Heroes and Pokemon Destiny Deoxys feature English 2.0 Stereo, while Pokemon 4Ever and Pokemon Jirahi Wish Maker feature English 5.1 DTS.
For this review I brought out my old Pokemon DVDs to compare to this blu ray sets. All the Pokemon Movie DVDs include a ton of special features, or at least a Pikachu short. They also included closed captions for the hearing impaired for all the DVDs, and Pokemon Heroes DVD includes a french audio track.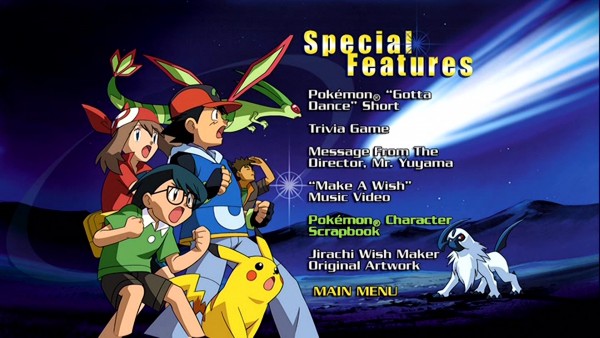 The Pokemon Collector's Set Blu Ray includes none of this, which is a travesty. I have no idea how the dropped the ball so hard on this. All you see is a selection menu when you start up the Blu Ray disc, and then the chapters, play, and return to the selection menu options after selecting one of the four movies. There isn't even a subtitles option in the blu ray menus or after pressing the subtitles button on your remote.
And that's everything that comes with the Pokemon Collector's Set Blu Ray. It's great that these movies are now available in HD and with a 16:9 aspect ratio, but a anaormophic wide screen version would be preferred, and the lack of special features is unacceptable. If you'd like to buy a copy, click the Amazon link below. Use my link and I'll get a small kickback that won't cost you anything extra. The money is used to help power my website and YouTube channels.