Are you interested in buying Persona 3 the Movie 1 Limited Edition? Here's what you get.
The Limited Edition set for Persona 3 The Movie #1 Spring of Birth comes with a few collectible goodies. If you want a review of the movie itself, see my Persona 3 The Movie 1 Review. The Blu Ray that comes with this set has 1920 x 1080 video, Japanese DTS Digital Surround 2.0, Japanese DTS Japanese HD Master Audio 5.1, and English subtitles.
This set includes the movie on Blu Ray (or DVD) and a 14 track audio CD. They are set in a plastic case with the movie's artwork on one side. Most of the songs are just background tracks, but one is the main theme to this movie. They are:
Daily Life
Unquiet
Magician
Protean
Regret
Persona Summoners
友達だから (Tomodachi Dakara / Because We're Friends)
Infinity Possible
Guess the Incident
Sense of Isolation
all of the full moon
Pure One Heart
For Life
More Than One Heart
The set also includes a small 44 page booklet inside of the cardboard case. The booklet has character artwork, setting artwork, rough sketches, soundtrack info, free talk (only in Japanese), a teaser for the next movie, and more.
The large, blue card that comes with the set holds ten random stickers in a small package. These stickers have the same artwork found at the back of the booklet.
Lastly, the set comes with four "cards" of sorts that are as big as the booklet and box. These have different images of characters with the Persona Movie logo on them.
The thing I hate the most about this set, and many other blu ray sets, is how the movie information that is usually on the back of the box is on a separate paper. This paper is not attached in any way what so ever to the box set.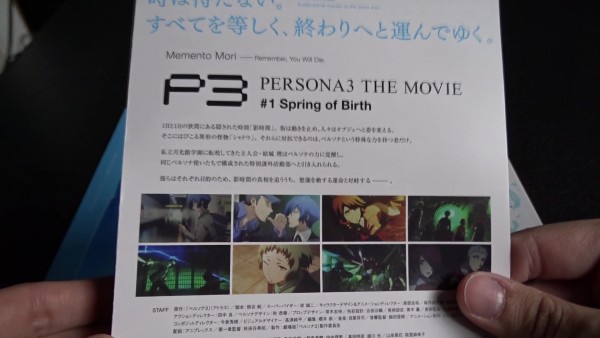 And that's everything that comes with the Persona 3 The Movie 1 Spring of Birth Limited Edition Blu Ray set. It is an okay set for the price. Many anime blu rays are the same price or more and include nothing but a few episodes of the show. If you want to see more, click the video at the top of the page.