You can finally get your hands on this incredible Graphics Processor, but is it really for you?
The Ultimate graphics card from Nvidia has finally arrived for the most hardcore gamers out there. Nvidia's Geforce GTX Titan Z wields the power of two fully unlocked GK110 GPUs on a single card, it boasts a whopping 12 GB of 7 Gbps GDDR5 memory (6 GB per GPU), and includes a number of Geforce technologies such as 3D Vision, 3D Vision Surround, Adaptive VSync, CUDA, FCAT, G-SYNC, GPU Boost 2.0, HBAO+, PhysX, SLI, and TXAA. Lets break down the specs a bit more and compare it to two other top GTX 700 Series GPUs:
[table width="750″ align="center" colwidth="25|25|25|25″ colalign="left|left|left|left"]
Spec|780 Ti|Titan Black|Titan Z
Cuda Cores
|2880|2880|5760 (2880 per GPU)
Base Clock
|875 Mhz|889 Mhz|705 Mhz
Boost Clock
|928 Mhz|980 Mhz|876 Mhz
Texture Fill Rate
|210 GTexels/s|213 GTexels/s|338 GTexels/s
Memory Clock
|7.0 Gbps|7.0 Gbps|7.0 Gbps
Memory Size
|3 GB GDDR5|6 GB GDDR5|12 GB GDDR5 (6 GB per GPU)
Memory Bus Width
|384-bit|384-bit|768-bit (384-bit per GPU)
Memory Bandwidth
|336 GB/s|336 GB/s|672 GB/s
Supports
|DirectX 11, OpenGL 4.4, OpenCL|DirectX 11.2, OpenGL 4.4, OpenCL|DirectX 12 (feature level 11_0), OpenGL 4.4, OpenCL
PCI Express Version
|3|3|3
Form Factor
|Dual Slot|Dual Slot|Triple Slot
Display Connectors
|One Dual Link DVI-I, One Dual Link DVI-D, One HDMI, One DisplayPort|One Dual Link DVI-I, One Dual Link DVI-D, One HDMI, One DisplayPort|One Dual Link DVI-I, One Dual Link DVI-D, One HDMI, One DisplayPort
Needed Power
|250 watts|250 watts|375 watts
PSU Connectors
|One 8-pin and One 6-pin|One 8-pin and One 6-pin|Two 8-pin
MSRP
|$699|$1099|$2999
[/table]
As you can see in the image below, this massive card uses a single fan in the middle of the 10.5 x 4.376 inch triple slot graphics card. The fan takes in air and blows it over the aluminum heat fins that are placed over both GPUs to the left and right sides.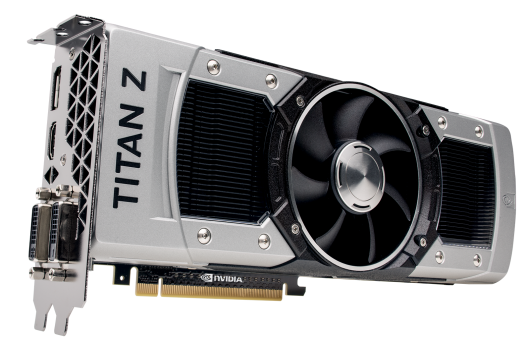 Now for the million dollar question: Is the Titan Z worth buying? In all honesty this beast isn't worth it unless you're using it to develop your own video games, are running insanely high resolution multiple monitors, or you have a massive amount of money to spend on extreme builds. The price alone may be enough to answer the question in the first place.
Not long ago when the original Titan released, there were discussions about whether or not that graphics card was worth buying. At the time, the Titan was the only 700 series GTX card available. Three months later a few more 700 series GPUs released, the Titan was quickly looked at as an overpriced GPU when compared to others like the GTX 780. Compare the GTX Titan Z with the GTX 780 Ti and Titan Black and you will see they have the exact same specs in many areas, with the exception of the Memory Size and a very slight change to the Base Clock and Texture Fill Rate. It seems as if you're paying for the VRAM more than anything.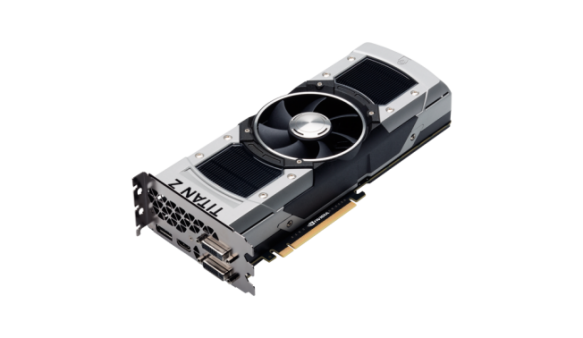 The next question you may ask is "Why would I buy a graphics card for $3000 when it's so similar to two graphics cards with a combined price of $2200?" The best answer would be that the Titan Z is best suited for builds where space is an issue. It's better to have one triple slot card instead of two dual slot cards. Another viewpoint is the amount of power you will be using in your rig. You will use much less power running a single GTX Titan Z than two Titan Blacks. However, according to a few benchmarks at this time, two Titan Blacks in SLI will outperform a single Titan Z by a small margin and save you $800. If you're going to make the plunge and buy these enthusiast GPUs, it's best to weigh the pros and cons first.