Nintendo Direct's video just ended. If you missed it, here are the details.
The link to the full video can also be found HERE.
If you want a quick rundown, look below. A few new features have been confirmed for the Wii U. Most of the stuff was already known or rumored, but now we have concrete evidence!
I think what most people got all excited over was the Wii U's Pro Controller. It takes the shape of the Xbox 360's controller, but it places the right thumbstick above the four buttons on the right side. The controller will most likely be sold separately. The Wii's controller, nunchuck, and balance board will all work on the Wii U.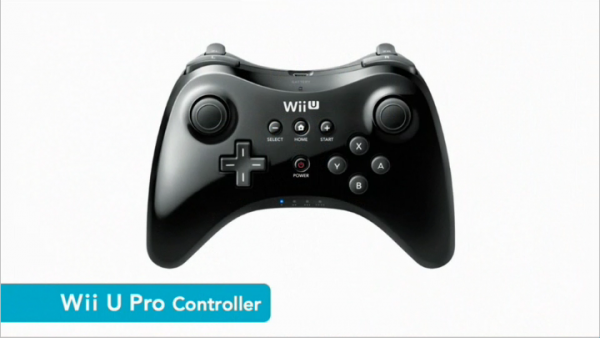 What of the other controller with the little screen we've all seen? That seems to be officially called the Wii U Gamepad. It has been slightly redesigned from the original prototype. The control sticks are a bit further out (yes, actual thumbsticks instead of circle pads), and they are clickable. When I say clickable, I of course mean they are buttons like Playstation's R3 and L3. There is a small NFC Reader/Writer on the gamepad which can be used for certain items and cards. Motion and Gyro Sensors have also been confirmed for the gamepad. The gamepad can also be used when the Wii U is not turned on for casual games and more.  A less thrilling use of the gamepad was it's ability to be used as a universal remote. The camera built into the gamepad can be used to video conference when the Wii U is on. I wonder how great the quality of the camera and video conference will be.
The more interesting  info is the new Miiverse. You can access the Miiverse every time you turn on the Wii U, or at any time during a game without terminating the game. It's part of a Nintendo Network like PSN and XBL. It will show your Mii, all Miis on your Wii U (yes, multiple accounts are now confirmed on the Wii U), your friend's Miis, and Miis around the world. This Miiverse will be available on the Wii U, 3DS, PC, and mobile devices. Along with the Miis, an activity feed will be present which will allow you to talk to people on your friends list and around the world. You can share text messages and hand drawn doodles.
Don't miss out on Nintendo's other conferences at later dates. You can see it on Facebook's Wii U page, or on Nintendo's Japanese website.
Nintendo All-Access Presentation @ E3 2012 on June 5 at 9PM PT
Software Showcase on June 6 at 6PM PT