Merry Christmas and Happy Holidays to everyone out there!
I still celebrate Christmas although I'm not religious. I celebrate the secular part with Santa and junk. This year wasn't all that great for many reasons I don't want to go into because I don't want to dampen everyone else's spirits. This year I helped two of my sisters buy me two presents, and then I bought myself some stuff because I'm getting old and nobody buys me anything.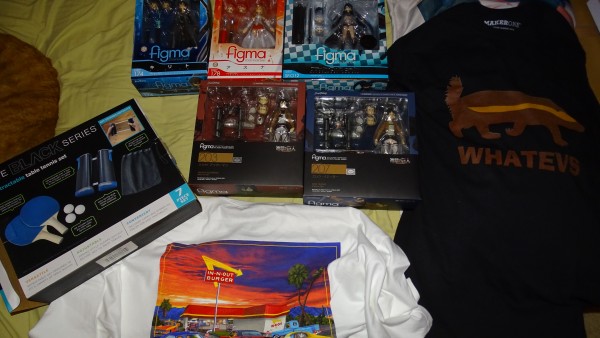 I bought myself three Figma (the pose-able anime figures) from Sword Art Online and Black Rock Shooter. Two sisters got my two Attack on Titan Figma, another sister got me that awesome T-shirt that says "Whatevs," and my parents got me that In-N-Out T-shirt and a ping pong set to play with the family.
My parents also got me a trip to Sacramento in a week. I'll be going to the SacAnime convention for four days! It's the most expensive Christmas gift I have ever received! I hope to take more pictures and videos than SacAnime Summer. I'll be cosplaying as well. If anyone else is going, make sure you say hello. But if I'm not wearing my glasses, you have to be about two or three feet away for me to see you clearly. Ha ha.
That's all I wanted to say for this Christmas blog. You can always leave a comment telling me what you got. Have a Happy Holiday!