You see this in almost every Anime and Japanese series out there. Here's why you should buy a Kotatsu table!
About two years ago I decided to finally buy my own Kotatsu table. Many otaku will recognize these from anime, manga, and pretty much all Japanese media out there. I'm here to tell you that you should absolutely buy one for your home!
Here's a quick Kotatsu table review for the uninitiated: A Kotatsu table is a small table with a removable top. It's for those who enjoy sitting on the floor all the time. There are tables of different sizes, but the one I purchased only has a 30cm gap from the floor to the bottom of the table. Unfortunately, they're not for people of any size. You have to be a small to medium size to fit comfortably.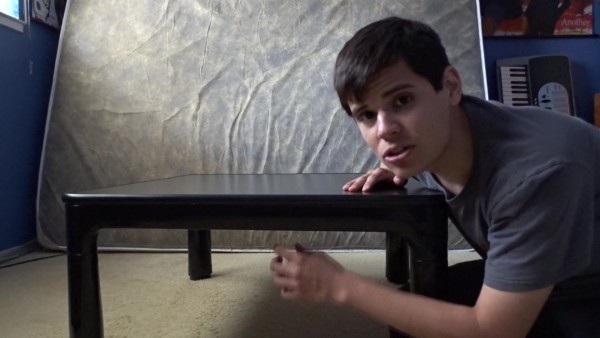 Why does this table have a removable top? This allows you to place a thick blanket (sometimes called a futon) between the table legs and the table top. It is perfect for those cold months out of the year, and my cats absolutely love sleeping beneath the table when the futon is draped over the legs.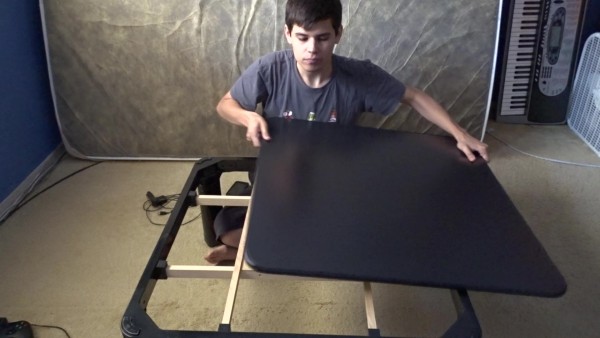 The table top is a composite wood with a plastic lining, and the table legs are plastic with a wood frame in the middle. It's not incredibly sturdy, so I don't recommend sitting on it, but it'll work fine for a number of school books and computer monitors.
The table top is held on by a small plastic nub. The plastic lining of the table top will grab onto this nub, preventing the top from slipping off. Of course, when the futon is over the table legs, the table top won't be able to grip onto the little nub. The weight of the table top should keep it steady, but it can still slip off.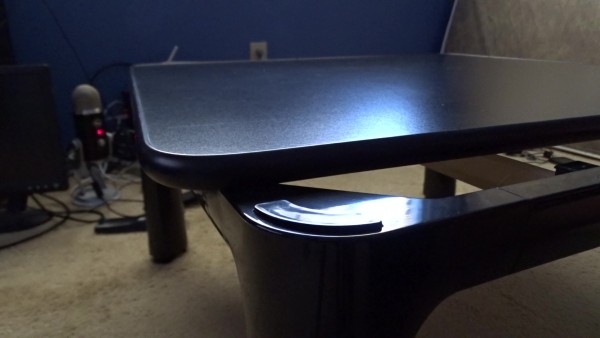 Some Kotatsu tables come with electric heaters that screw onto the wooden frame underneath the table. These heaters can be dangerous, especially because of the voltage differences between Japan and many other countries. I wouldn't recommend buying one unless you have a fire extinguisher handy and you live in a very cold climate. The table and futon are warm enough by themselves.
These tables come in a variety of forms. Some, like mine, have foldable legs to keep the frame really small when you want to put the table away. Others have solid legs that cannot be folded. Tables may or may not come with a futon or heater, so always make sure you read the listings! Lastly, the tables come in a variety of sizes and shapes. My own table is 75cm x 75cm and did not include a futon or heater.
I highly recommend buying a Kotatsu table if you enjoy sitting on the floor and need a small table to organize your things. My table is highly useful when doing homework or normal work and I need a surface to write on. My room is nowhere near big enough for a desk. The removable table top and futon make things extra cozy when it's the cold time of the year. If it's hot out, you can use the table just fine without a futon. I also highly recommend getting a version with foldable legs. If you need to move the table to make more room, the foldable legs are perfect for storing the table behind a door or along a wall. This is definitely not just for otaku or fans of Japanese culture. I think this table is useful for just about anyone.
If you'd like to buy a table of your own, you can grab one off Amazon from the links below. Use my links and I'll get a small cut from the purchase. It won't cost you anything extra, but it will help keep my site running! If you already own a Kotatsu table, leave a comment below telling me how you like it. How long have you had one and how often do you use it? You can also leave a comment if you have anymore questions.