A thorough Sena Kashiwazaki figure review from the anime and manga Haganai. This is a High Priestess figure from the Megahouse company.
This figure is of Sena Kashiwazaki – or Kashiwazaki Sena if you want the family name to be first like in Japan. This character is from the anime and manga Boku Wa (Ha) Tomodachi Ga Sukunai, which translates into I Don't Have Many Friends. This anime and manga also goes by the shorter name "Haganai." This is a 1/7th scale, pre-painted figure from the Megahouse company, and is called a High Priestess figure. I didn't see the sculptor's name on the box, but it could be there in Japanese.
For those who love to keep their figures in the box, you may want to know how this box has one large window on the front, a large window on one side, several small circular windows on one side, and a small circular window on the top.
This figure is made out of PVC, and can be disassembled at the hair, neck, waist, and right wrist. In fact, her face and hand can be switched out with a second part that comes in the box. Sena's face can be smiling or smiling and winking, and her hand can be open or holding a PSP.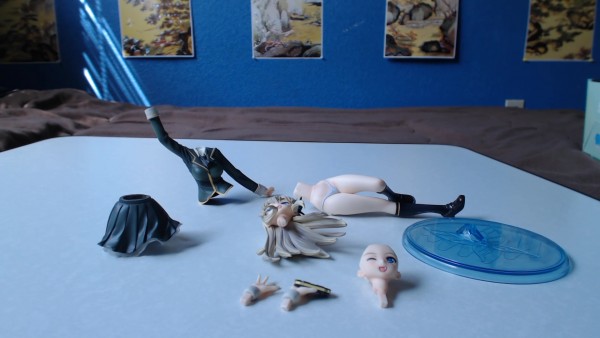 The bottom of her foot has two holes, and the base has two pegs to keep it lightly attached. The base is a clear, blue plastic with a butterfly design. Without the base, the figure stands at around 205 mm tall to her head, and about 245 mm to the top of her raised hand.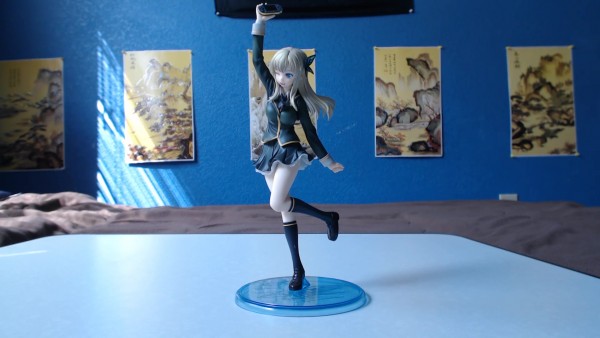 This figure is sculpted and painted really well. You can see light flesh tones here and there, and the wrinkles on her clothes look fabulous. It's also pretty cool how some parts are interchangeable. If you would like to buy this figure, you can grab one from Amazon at the link below.