Kotobukiya does it again with this magnificent scale figure of the moe gothic lolita Kobato Hasegawa kneeling on a chair.
Kobato Hasegawa is the little sister of the main character Kodaka Hasegawa from the rom-com harem series Haganai. She is obsessed with an anime of a thousand year old vampire, who she cosplays every day. The series received two anime seasons, where the second season was called Haganai NEXT.
Kotobukiya released this scale figure of Kobato Hasegawa kneeling on a fancy chair in 2013. The seat of the chair has real crushed red velvet, and is actually very detailed, as is the whole figure of Kobato.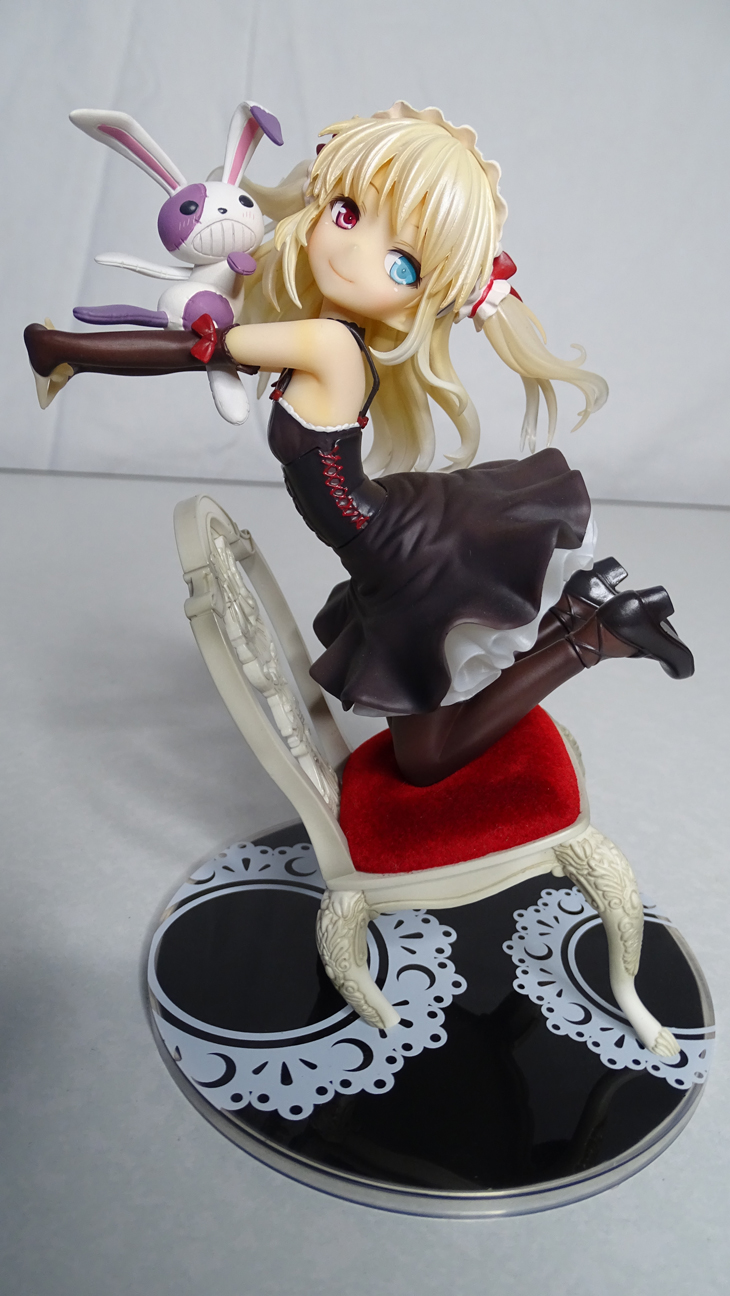 This entire Kobato Hasegawa figure measures approximately 16cm. Without the chair and base, the figure measures approximately 12cm from knees to head. This figure has nearly translucent blonde hair, which will allow the light to shrine through it. Kobato is smiling with light marks painted on her cheeks, almost giving it a shine or glow. Her hands are extended out where her favorite stuffed rabbit is sitting. The detail in her dress, her ribbons, and her hair is fantastic, and the paint is meticulously applied to every tiny piece with no errors.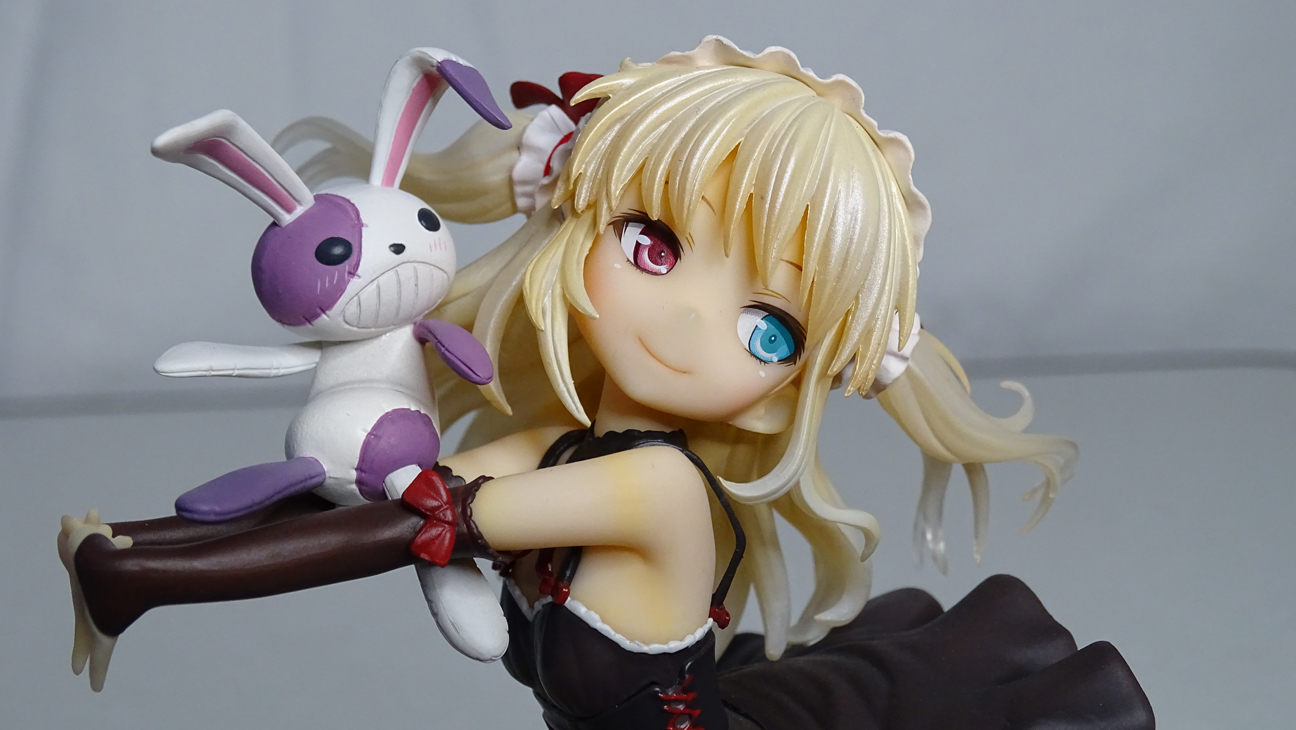 The chair is apart of the base, and the figure attaches to the seat by tiny metal pegs extending out the chair's seat and into holes in the figure's knees. The head of the figure comes off at the neck, and the stuffed rabbit attaches to Kobato's arms by a small metal peg coming out of the figure's arm and into a hole in the rabbit's backside.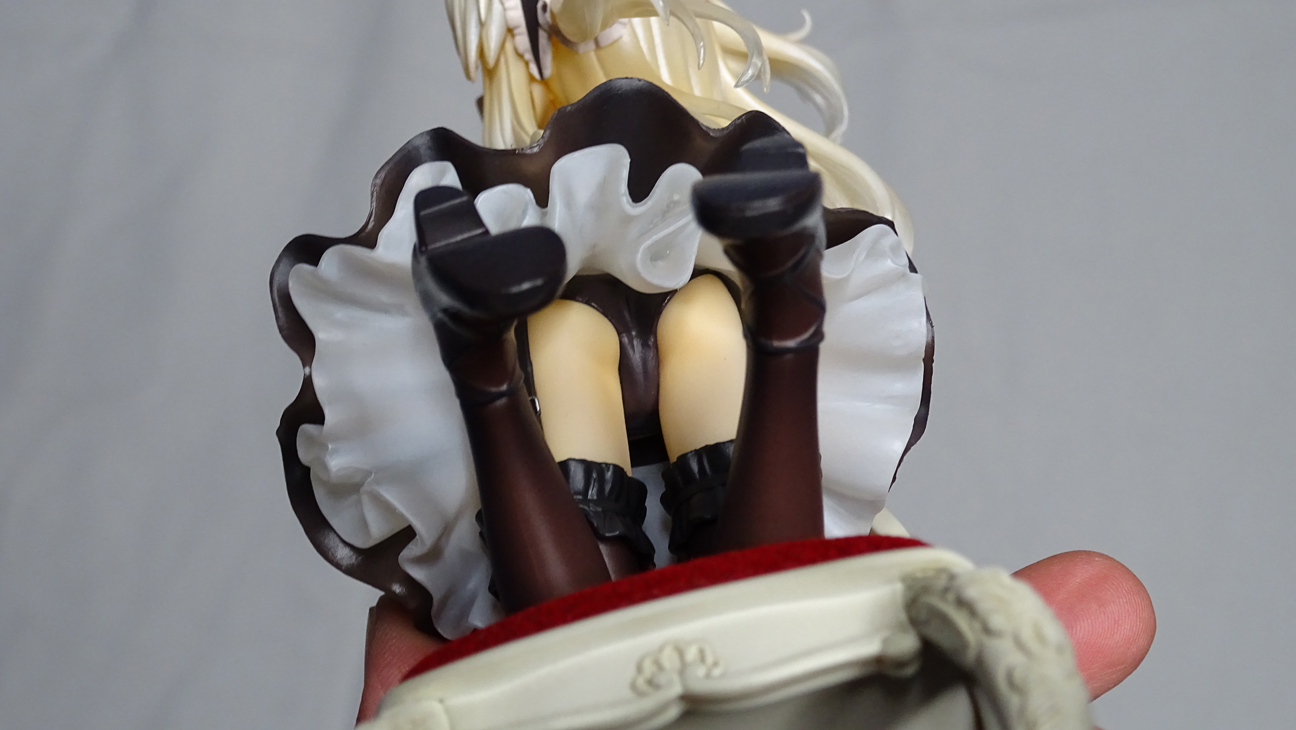 See my video review of the Kobato Hasegawa scale figure from Kotobukiya below.
All in all, this is a magnificent scale figure of Kobato Hasegawa from the series Haganai NEXT. It was little surprise to me given the fact that it was manufactured by Kotobukiya, as they always have excellent figures. The sculpting is detailed and the painting is precise. The crushed red velvet chair is also detailed, but will attract dust and hair if the figure is not behind glass. I recommend adding this scale figure to your collection if you are a fan of the Haganai series or a fan of gothic lolita figures. You can buy this figure from Amazon using my affiliate link below. Use my link and I'll get a tiny fraction, but it won't cost you anything extra! This will help keep my website running.