A thorough Kobato Hasegawa figure review from the anime and manga Haganai. This figure is from Sega.
This figure is of Kobato Hasegawa – or Hasegawa Kobato if you want the family name to be first like in Japan. This character is from the anime and manga Boku Wa (Ha) Tomodachi Ga Sukunai, which translates into I Don't Have Many Friends. This anime and manga also goes by the shorter name "Haganai." This is a pre-painted figure from Sega. I didn't see the sculptor's name on the box, but it could be there in Japanese.
For those who love to keep their figures in the box, you may want to know how this box only has one large window on the front. There are no other windows anywhere on the box, so there's not much light to display the figure.
This figure attaches to a circular, white stand by three pegs on the bottom of her two feet. Without the base, the figure stands at 162 mm tall. The base itself is about 98 mm in diameter, and the figure is a tiny bit smaller.
The figure seems to be made out of one solid piece of PVC. There aren't any visible seams where they may have connected two parts of the figure, but it could be underneath the dress. Unlike many other figures, this figure cannot be disassembled at all. Not even the stuffed rabbit can be removed.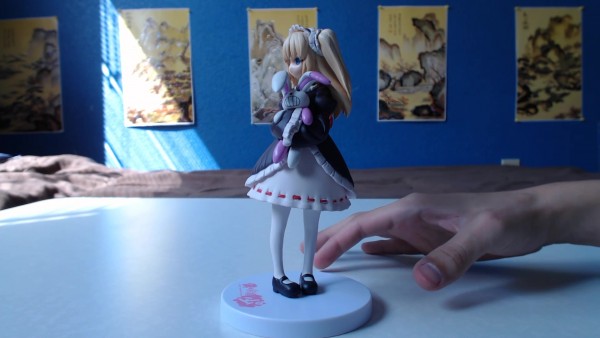 The dress and the neck have a little give to them. In fact, the white part of the dress doesn't even seem attached at all. It's almost as if the white part of the dress is only held on by two separate parts of the body that attach at the waist underneath the brown part of the dress.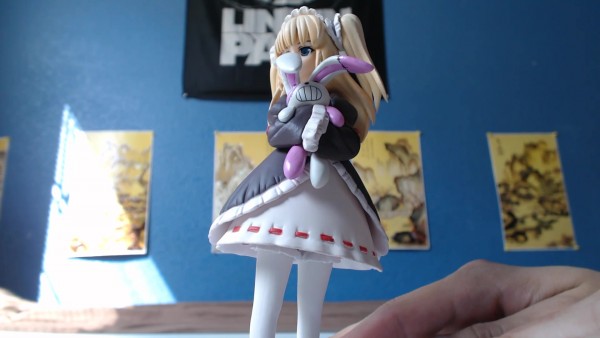 The sculpting and painting of this figure is pretty average. The painting is sub-par around her legs, shoes, and bottom of her dress, however. If you would like to buy this figure, you can grab one from Amazon at the link below.