A deep look into the Haganai and Hagani Next Blu Ray and DVDs, including comparisons with the TV and Japanese versions.
Haganai, also known as "I Don't Have Many Friends," is a two season anime comedy with a tiny bit of romance thrown in. I usually don't review two different seasons or blu rays at once, but both seasons came out so close together in the USA that I figured I'd do a two in one review. There are quite a bit of similarities between the two, as well.
Both sets released in Blu-Ray and DVD combo packs in the USA. The cases came packaged in a thick paper or thin cardboard type sleeve, and the Blu Rays and DVDs are all bundled in the same plastic case. Each season includes two DVDs and two Blu Ray discs that are separated by two plastic disc holders in the center.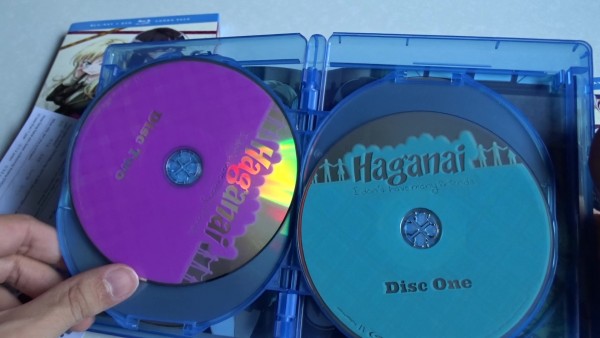 There was a limited edition release of these sets that packaged the Blu Ray discs and DVDs into two separate plastic cases, but other than the separate cases with new art work, there was nothing else to warrant the bigger price tag. That art work on these cases (shown below) wasn't anything spectacular anyway.
The first season of Haganai comes with twelve episodes and one OVA on two Blu Ray discs or two DVDs. The second season only has twelve episodes. Surprisingly, the DVDs and Blu Rays for both seasons are multi-region! The DVDs are region 1, 2, and 4; the Blu Rays are region 1 and 2. Both have a 16×9 aspect ratio for the video, but obviously the DVDs are standard definition while the Blu Rays are 1080p high definition. Both discs also feature dual audio. The DVDs have English 5.1 Dolby Surround Sound and Japanese Stereo. The Blu Rays have Dolby TrueHD English 5.1 and Dolby TrueHD Japanese 2.0. As you would expect, both types of discs have English subtitles.
The extras are a bit scarce, but something is better than nothing. Both seasons come with clean openings and closings (textless songs), trailers, TV spots, and Blu Ray and DVD spots. Additionally, both come with commentary on select episodes by the English cast. The second season comes with an extra special titled "Black Dragon: The Cries of the Damned." This is a four minute and fifty-seven second extended version of the scene when everyone was on the Black Dragon roller coaster. It goes to a still of each character while the Japanese voice actors give an extended performance of their cries.
The best part of the Blu Ray and DVD releases is that they are almost completely uncensored. The TV versions had to add a little bit of censorship for TV rules and regulations, but the home media releases unleashed most of the ecchi, as seen below (I still had to censor it because my web host doesn't allow such things).

I say most of it was uncensored because one scene in one episode on season two was still altered for the English release. This is even noted on the case: "Episode 2 contains select footage from the Japanese broadcast version." Some suspect this was changed because the sexual image that was shown has a character that looked a bit underage in some people's eyes. This was when Sena was playing an erotic visual novel and a still image from her laptop was shown on screen.
Another change between the TV and home media releases was a little scene that played after the opening on each episode. It would often cut to a woman or a young girl wearing several t-shirts that showed a scene from the anime — sort of like a flip book style, but they would change shirts between each shot instead of flipping pages in a book. The women would then recreate the very short scene. Of course, the older woman (or women) would often be in a more sexual pose. None of the actresses faces were ever shown.
One last change between the Japanese and English Blu Ray releases was the removal of all the end cards (Also known as Eyecatches). Once the episode ended, a really cool image would appear on screen. Often times it would have a manga art style. These were removed in the English versions for some reason unknown to me. I created galleries for those who don't have the Japanese versions: Haganai Eyecatches & Haganai NEXT Eyecatches.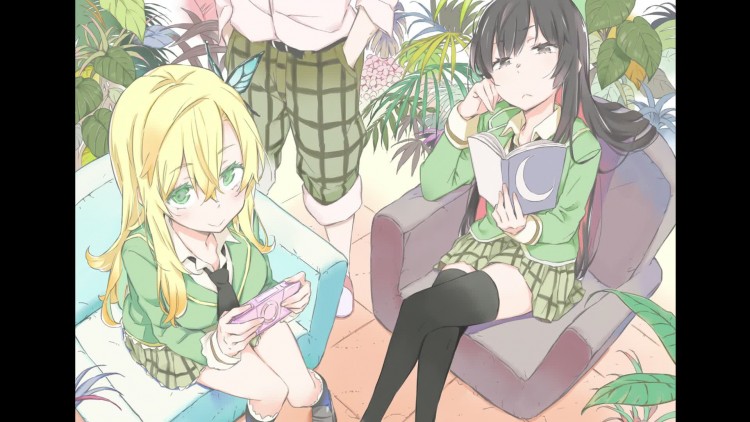 And that's everything that comes with these two Haganai blu ray sets. Quite a bit of differences, but still a great anime. If you'd like to buy a copy, click the Amazon link below. Use my link and I'll get a small kickback that won't cost you anything extra. It will only help power my website and YouTube channels.