Gal Gun Double Peace Mr Happiness Edition comes with all kinds of goodies for the Otaku who are bound to play this gem.
Gal*Gun Double Peace is now available on PS4 and PS Vita. You can buy a normal edition at any store online, or you can grab the special "Mr Happiness Edition" from the Rice Digital store.
Rice Digital is a UK store, but they do ship internationally and have versions of the game for other regions. While the PS4 is region free, the Mr Happiness Edition comes with a special code for free DLC content which can only be redeemed within select regions.
I bought this special collector's edition so I could unbox it for everyone, and because I wanted all the items that came with it. The Mr Happiness Edition comes in a large cardboard box measuring 17.5 inches tall, 12 inches wide, and a little over 1.5 inches deep.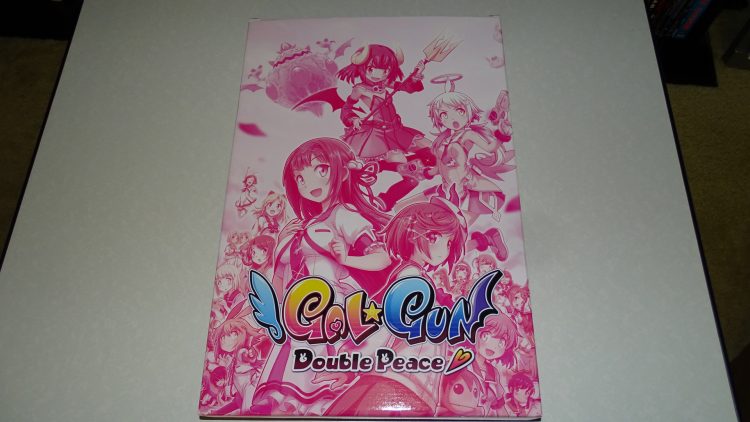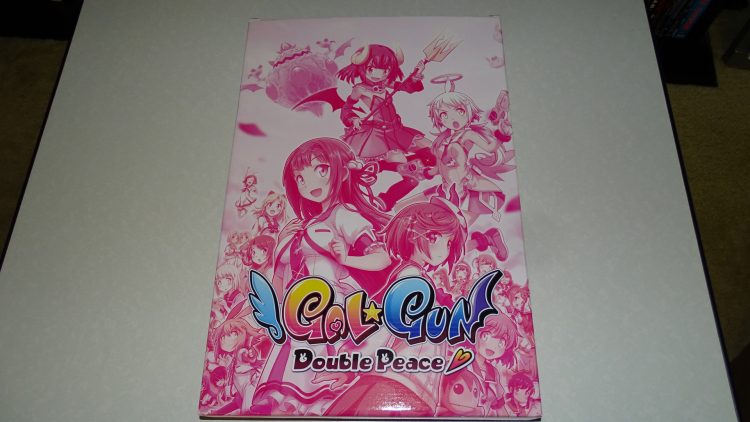 As you would expect, the video game is within the box, as is a special costume DLC code. Again, you must get the game from the same region your PSN account is in or the code won't work. Along with the game is a two disc soundtrack with various tracks from within the game.
Additionally, there is a paperback art book with many shots from the game, concept art, story boards, and character designs. These items are often standard for special editions games, and I absolutely love them.
One of the non-standard items is an awesome wall scroll of two main characters from Gal*Gun Double Peace. Unfortunately, there are no tips on the bottom of the scroll to keep it from sliding off the plastic roll. It can be hung from a white string at the top, which is about the thickness of a shoe string. The wall scroll is 24 inches tall and 16.5 inches wide.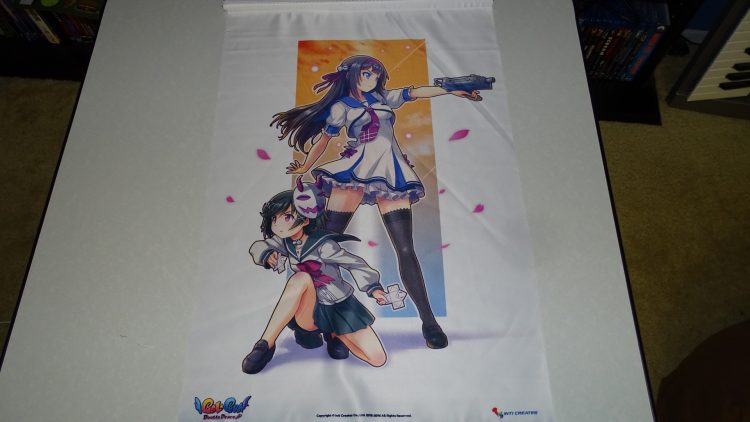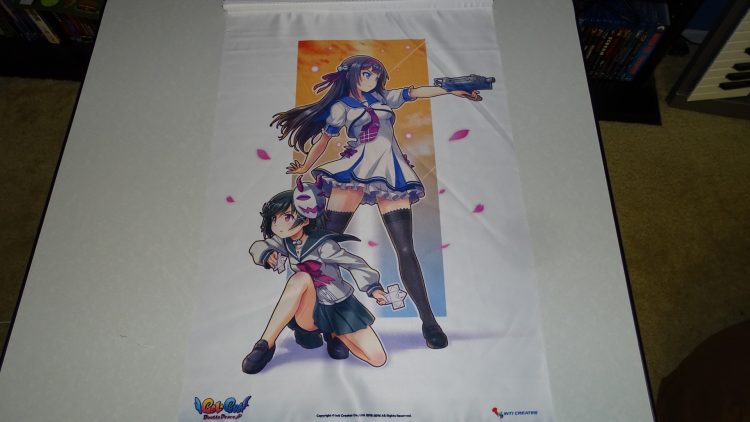 And the final unusual item has gained a lot of buzz around the internet recently. Included in the Mr. Happiness Edition is a pair of blue and white striped panties, commonly called "Shimapan." They are actually very small, measuring only 10 inches from the left side of the waist to the right. These may be the reason the special edition can only be purchased from one store. There were rumors suggesting the shimapan could only be included in the west if they were called a "screen cleaner." I would recommend AGAINST using these as a screen cleaner, as they're not micro fiber cloth and would probably be abrasive against any screen or lenses.
And that's all there is to the Gal*Gun Double Peace Mr. Happiness Edition unboxing. Hopefully this helped you decide if you want to blow all your money on this baby. If you want to see some gameplay, subscribe to my YouTube channel, as I'll be releasing some gameplay videos very soon.