We're getting into February now, which of course means Valentine's Day (or Single Awareness Day) is just around the corner.
Some of the guys and girls around IGN wanted to talk about love in video games. I loved the idea, no pun intended, and felt it was the perfect chance to start a conversation about how interesting and magical games can really be for those that appreciate them.
Most of the time when common people think video games, they think about popular shooters like Call of Duty. It can be tough to name a game these days that doesn't have any amount of violence in it (not including puzzle games), but if you're willing to look just a bit, you'll find there are games out there that have a lot of love to share.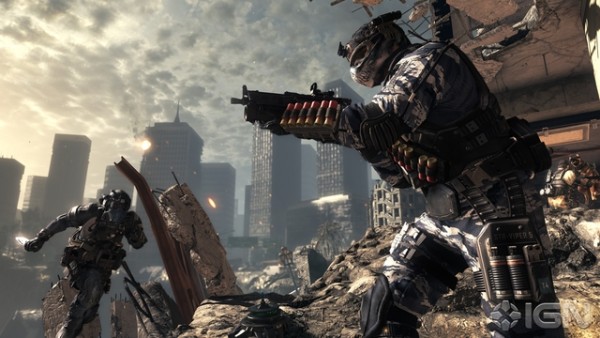 Love, relationships, and even marriage are becoming a bit more common in Role Playing Games (RPGs) from both the east and the west. They have been around for awhile now in some form or another, but they really came into the spotlight during the Mass Effect and Dragon Age days when the developers decided to allow gay relationships into their games. It just goes to show you that love is blind to race, religion, creed, and even gender! Titles that feature these types of relationships and marriages include The Elder Scrolls V: Skyrim, Fire Emblem, and Shin Megami Tensei: Persona.
It seems there are two types of relationships available in video games. There are the more traditional games that include set love interests and storylines, such as Final Fantasy X, and there are titles that allow you to choose and form bonds with one of many characters available in that universe, such as Mass Effect or Skyrim. However, it seems Mass Effect and Skyrim have relationships available as more of a gimmick. In Skyrim, all you need to do is complete a short quest for someone and ask them to get married. After that, you can move in together and adopt kids if you have the right DLC. Not very interesting if you ask me. In Mass Effect, you have more dialogue options to choose from, but it seems more lustful than loving. Hell, there are even sex scenes available in that game. On top of that, there aren't very many characters to choose from.
If you want to play a game that shows true loving relationships with characters, I'd recommend one of my favorite games of all time: Persona 4. This game came out years back on the PlayStation 2, but it was recently re-related on the PS Vita with a few upgrades. This game allows you to choose one of many girls (sorry, no men available)  to date and romance in and out of school life. The whole game is set up in a day to day style, giving you the chance to see that person every day of the week and spend time with them at the movies, a local restaurant, and even special events throughout the year. You can even have a special Christmas and Valentine's date with your loved one, but just make sure you have only one girlfriend or things can get messy. Unlike many other games that feature love, Persona 4 Golden allows you to form a true bond with another character through various dialogue choices and events. Of course, these relationships have other benefits in another section of the game.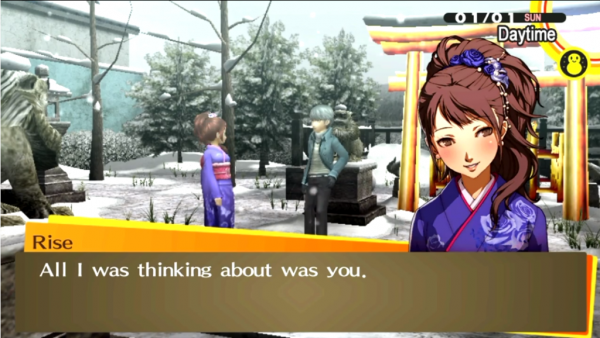 Fair warning, love-filled games may not be for everyone, especially those that get too detached from reality. Just like it may be possible for some to lose their grip after playing violent video games, some can fall in love with video game characters. Back in 2009, a man from Tokyo, Japan decided to marry a character from the Nintendo DS game, "Love Plus." This game is known as a dating simulator. The main point is to form relationships with a number of women. The man would not give his real name to news outlets, and asked to be called "Sal 9000."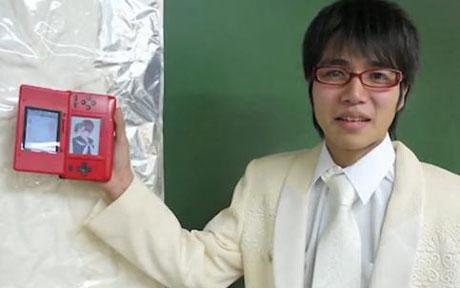 That's was an unfortunate side of this topic, but there's also an interesting positive side to think about. Some are beginning to say these games can help people build relationship skills for the real world. I definitely believe this as an inverse effect to internet forums and certain other video game interactions. Some people don't realize they're talking to other real people, or perhaps they just don't care, so they become very hateful and use language that would be considered horrid in normal company. But in video game circles, various hate speech is all too common. A little bit of practice before real world interactions can always be helpful. I'm sure many of us know how things can get awkward quickly after talking with someone you like. Wouldn't it be great if we had a checkpoint to reload to instead of dealing with our bad conversational choices?
Of course, we all know select people that see any sort of love interests in video games will automatically think it's sad or pathetic. Personally, I think it shows how unique and immerse video games can really be. You can read romance books or watch movies and feel a number of emotions in one way or another, but video games allow you to interact with them and experience it from a completely different perspective. I urge everyone to give them a chance and hold back any judgments. Try it, you just may like it.