Need a capture card that can record 1080p and 60fps? This might be for you!
The Game Capture HD60 Pro is the latest and best video capture device from Elgato. It boasts 1080p 60fps recording capabilities, live streaming, H.264 hardware encoding and more. Does it live up to the hype?
This product is an internal desktop card with a PCIe x1 interface. That basically means it can fit in any PCIe slot on your motherboard. It has an HDMI input and HDMI output, nothing more and nothing less. Unfortunately, it does not include a dongle of any sort to allow retro game capture. If you would still like to record old video games or audio and video from old devices (VHS, DVD, etc), you will need another device like the Tendak HD Video Converter. Also note, this will only record unencrypted non-HDCP signals!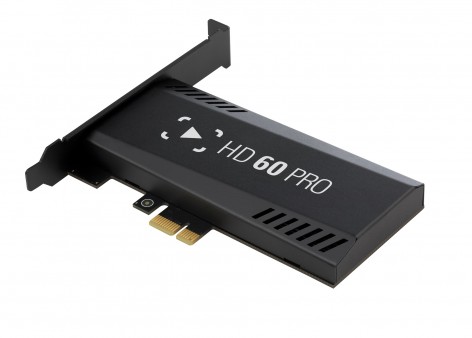 As you would expect, the hardware your computer runs will need to be up to date in order to record and stream. The recommended system requirements are:
Windows 7 SP or later
2nd Generation Intel Core i5 CPU (or comparable)
Stream Command: 2nd generation Intel Core i7 CPU (or comparable)
PCIe x1/x4/x8/x16 slot
4 GB RAM
Internet connection
That last one is pretty important. Unlike most pieces of hardware, the Elgato Game Capture HD60 Pro does not come with any software. You will need to visit the Elgato website to download the software to actually record and stream. And of course, you will need internet if you want to actually stream!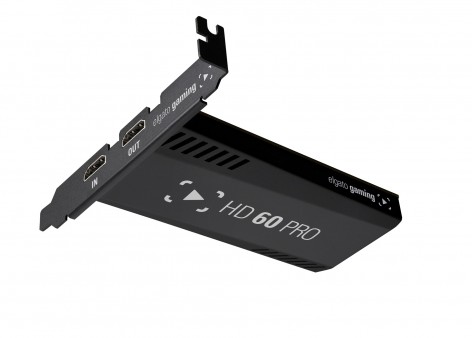 The software is actually the best capture software I've come across at this time. It has completely lag-free HDMI pass-through. You can either use the software to play your game right on your screen, or you can use the HDMI pass through to play on the TV screen while recording or streaming on your computer.
Before you actually record, you will need to mess with the sliders in the various settings menus. The settings buttons are marked by a cog or a hammer and wrench. Either choose best performance or highest quality. If you feel your computer is up to it, crank the slider up to the highest quality. The best this device can do is 1080p 60fps at 60 Mbps, and stereo audio at 220 Kbps and 48 kHz. The video file it saves in is .MP4 using the H.264 codec. This is a very common file type for video editing these days, and I'm glad to see some capture software using it.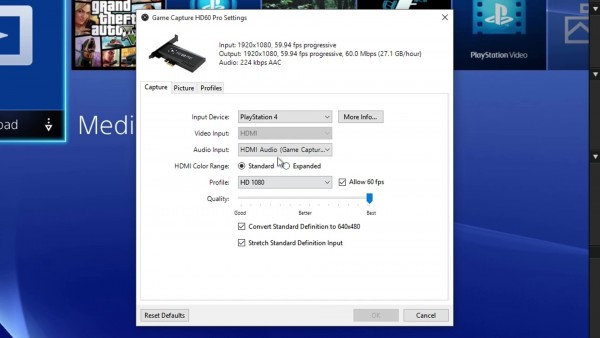 There are a number of options while recording. For starters,  you can choose mobile, standard, HD 720, or HD 1080 for the video; you can enable or disable 60fps recording; and the Brightness, Contrast, Saturation, and Hue can be altered. The game's audio can be increased up to 12 dB or decreased until muted, and a microphone can be used alongside the captured audio. The microphone's audio levels can be increased or decreased 20 dB.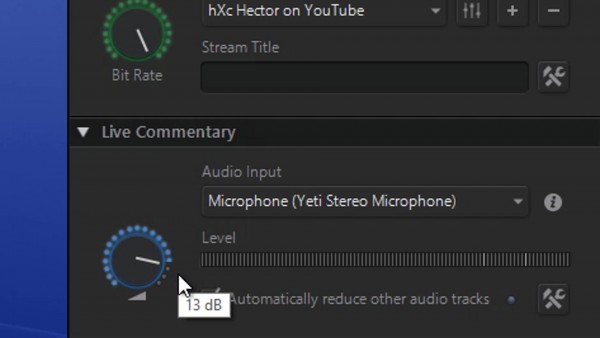 One of the coolest features on the Game Capture software is the flashback recording. Near the record button is a small timeline. If you weren't recording and something awesome happened, you can go back on the timeline and press record to capture what you missed!
When it comes to streaming, there are some ups and downs. Twitch, YouTube, Ustream, DailyMotion, and RTMP are the available streaming services with this hardware. You can record up to 1080p 60fps simultaneously while streaming, but the live stream can only output a max of 1080p 30fps or 720p 60fps with 8 Mbps quality. Live commentary can be enabled or disabled at any time during the stream.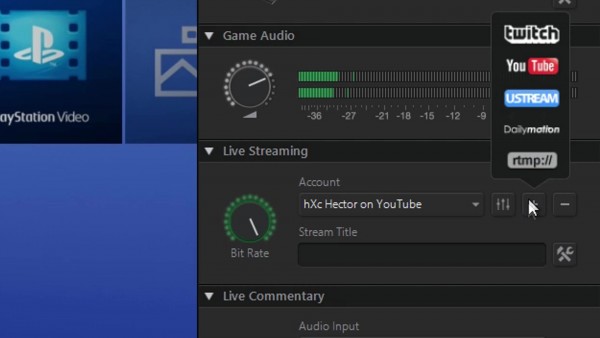 One of the coolest features on the Game Capture HD software is the Stream Command options. Right above the capture and stream buttons are several boxes. These boxes allow you to add webcams and logos on different parts of the video. This can be done for recorded video or live streams, and the webcam and logos can be dragged around and altered in the video preview.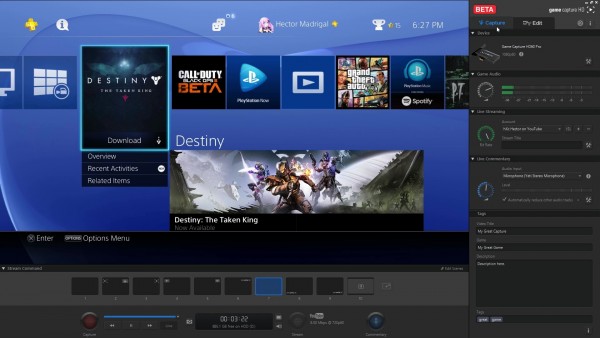 Lastly, if you don't want the audio commentary or webcam to be included in the exported video, you can check a box in the settings menu to prevent these from mixing. There are many choices with this software!
All in all, I highly recommend this capture card for the professionals out there. It may be overkill for a regular user, and the price tag is pretty hefty for an average person, but this is perfect for the professionals. And that's all there is to my Elgato Game Capture HD60 Pro review. If you'd like to buy this product for yourself, click the Amazon link below. Use my link and I'll get a small cut. It won't cost you anything extra, but it will help keep my site running.