Back to the Future II is becoming a reality…..sort of.
As many fans know, part of Back to the Future II took place on October 21st, 2015, which is right around the corner! We're still far from the future that was shown in the movie, but many companies are trying to catch up as quickly as possible with these announcements.
Back in 2011, Nike worked with Nick Kicks to make Nike MAG, a shoe similar to the one Marty McFly used in the movie. Only 1500 were made and auctioned off, but they lacked the power laces that automatically tied the shoe. The company claimed the shoe would have power laces by 2015, but they're still not available. See the trailer for the original shoe below.
Today on October 5th, Pepsi announced Pepsi Perfect will be available in stores on October 21st. It appears to be the same old Pepsi but with the same bottle and name found in the movie.
Also today on October 5th, Universal Pictures Home Entertainment released a very funny trailer for Jaws 19. For those that may not remember, Jaws 19 played in the holomax movie theater in Back to the Future II. The hologram came out and bit Marty in the middle of the street.
We still don't have hoverboards, but a fake video was released last year from the HUVrTECH channel claiming they created a real hoverboard. It featured Tony Hawk and Christopher Lloyd, the actor who played Doc Brown in the Back to the Future movies.
If any other companies do make announcements in the next two weeks, I'll be sure to update this article with more information and videos! We can help make BTTF2 a reality too. Remember, we're supposed to be dressing like this!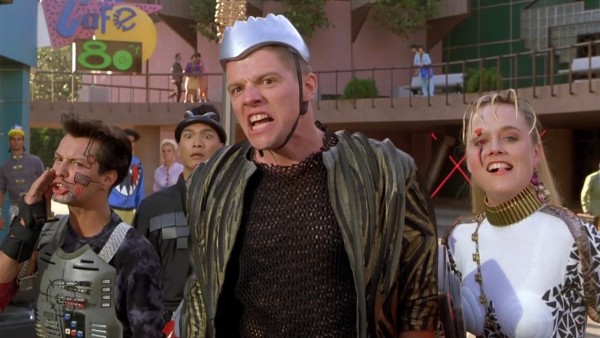 UPDATE
It is now Back to the Future Day, as everyone is calling it. Pepsi says they're only selling 8,500 bottles of Pepsi Perfect, and Michael J Fox tried on a prototype for the Nike shoes with power laces.
Additionally, USA Today changed their logo to the one seen in the film, and they're taking orders on a copy of USA Today from the movie. For only $5, you can get this piece of memorabilia.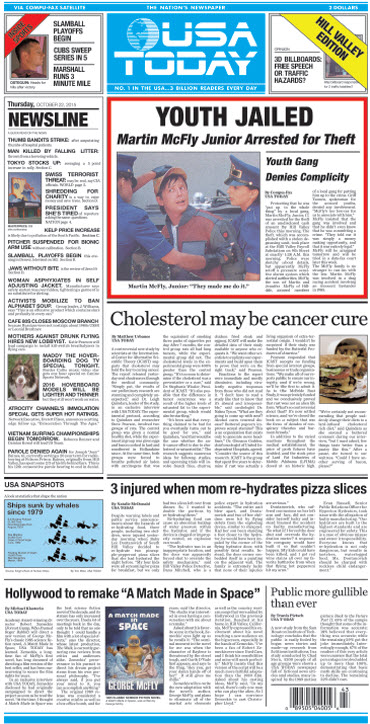 Due to a technicality, we also have cars fueled by trash. The trash is broken down, sent to a facility that gets purified hydrogen, which then powers an electric car.
Nintendo re-released Wild Gunman on the Wii U virtual console in the UK. The game doesn't appear to be available in the US, which is  little unusual. Maybe it'll take a little more time. For those that don't remember, Wild Gunman was the arcade game Marty played in the 80s cafe. And yes, that little kid is Elijah Wood.