This limited edition BABYMETAL World Tour 2014 Apocalypse Set was available only to The One members. Let's open it up.
The BABYMETAL World Tour 2014 Apocalypse Set includes the BABYMETAL Live in London concerts and much more. The previous limited edition sets just had the live blu rays and a few extra goodies. This has the entire Live in London set, a completely different show, and some more goodies. Since I've already reviewed BABYMETAL Live in London, I won't go over it again.
It comes in a cardboard box that is about 12.25 inches wide, 10.5 inches high, and 1.75 inches thick. Inside the box is a temporary tattoo sheet and a black box with the same logo as the cardboard box.
The black box holds two foldable cases with the media (CDs and BDs) and a photobook.
The media case has four CDs on one side, two for each of the concerts from the Live in London shows, and two Blu Ray discs on the other side. The first disc in the Live in London shows. The second disc was a completely different show at Makuhari Messe on September 14th, 2014. This disc also has a special feature with shots of BABYMETAL during their shows throughout the world. The best part is when YUIMETAL and MOAMETAL sing Headbanger at two different shows. It's only about a 30 second clip each, but it was cool to hear them sing instead of SU-METAL.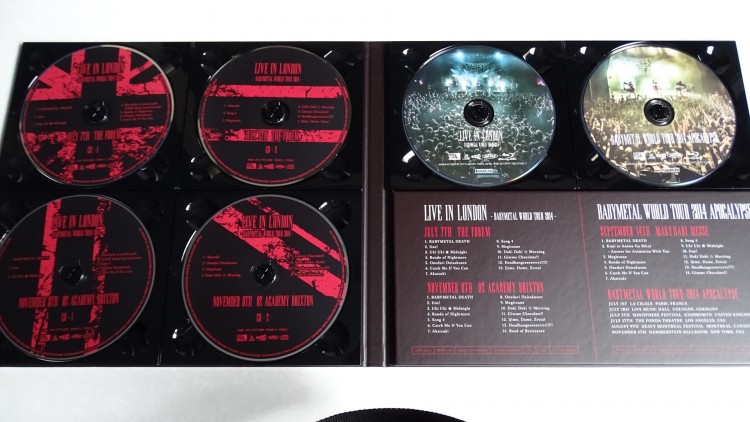 As for the show at Makuhari Messe, it was an okay show. Nothing too special compared to all the other shows from the previous live Blu Rays. You can see the set list of all three shows below the Blu Ray discs on the image above.
The photo book contains a number of excellent images from the world tour. You can see BABYMETAL, the Kami Band, and the audience. The book is divided up into several shows from the world tour. See the video at the top of the page for a complete look through of the photo book.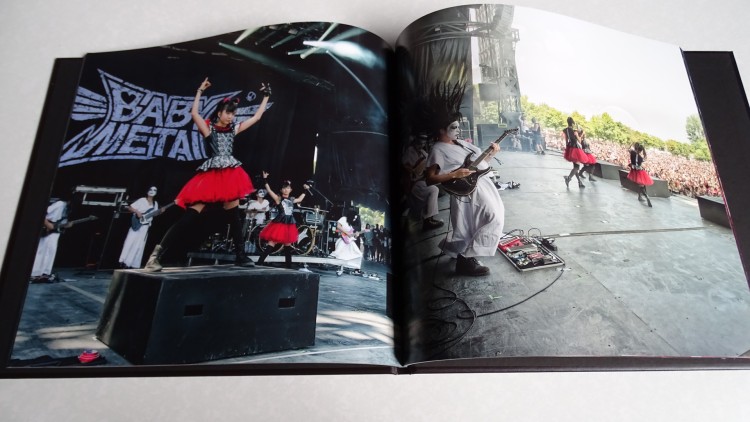 That's all for this product review. You can see a thorough visual breakdown in the video at the top of this page. Keep an eye on my website and YouTube channel, because more BABYMETAL product reviews will be coming soon!