The track list and album artwork has been revealed for BABYMETAL Metal Resistance. See the translations for all three versions.
BABYMETAL's second album, entitled Metal Resistance, is releasing on April 1st, 2016. Today, February 19th, the track list and album artwork was revealed for all three versions.
In case you didn't know, there's a standard version, a Limited Edition CD/DVD Bundle, and a CD/BD Bundle for The One Members.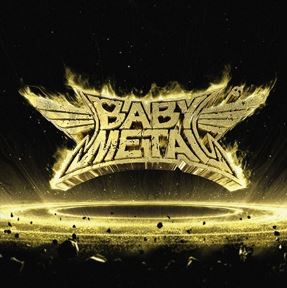 The standard version's album artwork has the same BABYMETAL crash logo, but this time it's golden. I felt this was odd since the album is titled Metal Resistance. It makes sense for the first album to have the logo since it is entitled BABYMETAL, but I was hoping for something on this new album. The track list is as follows:
Road of Resistance
KARATE
あわだまフィーバー (Awadama Fever)
ヤバッ!(Yaba!)
Amore – 蒼星 –
META!メタ太郎 (Meta Taro)
シンコペーション (Syncopation)
GJ!
Sis. Anger
NO RAIN, NO RAINBOW
Tales of The Destinies
THE ONE
As you can see, the names are pretty straight forward. However, there are some people may not understand.
Number three, Awadama Fever, has been translated as bubble fever. Some say the bubbles are like bubble gum, but I have heard the bubbles are like soap bubbles.
Number four, Yaba!, is a shortened and slang version of Yabai. Yaba can have a good meaning or a bad meaning depending on how it's used. That's good or that's bad.
Number five has some kanji that may translate into blue star. A Japanese friend told me Japanese people call Earth a blue star.
Number six has a Japanese name, Taro. A Japanese friend said that's the name of an old man and some metal musical composition.
Number seven is a musical term. Here is a definition from Google: In music, syncopation involves a variety of rhythms which are in some way unexpected which make part or all of a tune or piece of music off-beat.
Number eight is a shorthand version of Good Job.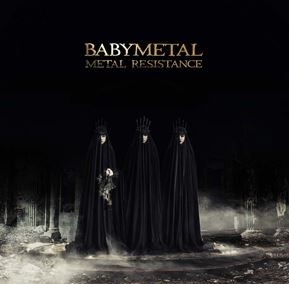 The CD/DVD Combo has a better cover, but it's still really minimalist compared to past covers. The bundled DVD includes seven songs from TOKYO METROPOLITAN ROCK FESTIVAL 2015 (2015.5.24).
メギツネ (Megitsune)
いいね!(Iine)
Catch me if you can
ヘドバンギャー!!(Headbangya)
Road of Resistance
ギミチョコ!!(Gimme Chocolate)
イジメ、ダメ、ゼッタイ (Ijime, Dame, Zettai)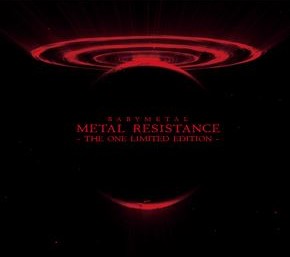 The special CD/BD bundle for The One members includes two alternate songs on the CD and a Blu Ray of two full concerts. The album artwork is very minimalist like the others. It also appears to be the exact same logo from the front of the BABYMETAL World Tour 2014 Limited Edition set.
One new song is an alternate version of GJ, entitled GJ!- ご褒美編 -. The other new song is an alternate version of The One, entitled THE ONE – Unfinished ver. -. There was an unfinished version of Akatsuki at one of the past concerts. It was basically an acoustic version with piano and string instruments.
The two concerts on the blu ray are APOCRYPHA – THE BLACK MASS – and APOCRYPHA – THE RED MASS -. These were all boys and all girls concerts.
「APOCRYPHA – THE BLACK MASS – (2015.4.23)」
Road of Resistance
ウ・キ・ウ・キ★ミッドナイト
あわだまフィーバー
Catch me if you can
悪夢の輪舞曲
おねだり大作戦
メギツネ
いいね!
ヘドバンギャー!!
イジメ、ダメ、ゼッタイ
「APOCRYPHA – THE RED MASS – (2015.4.24)」
メギツネ
ド・キ・ド・キ☆モーニング
いいね!
紅月-アカツキ-
4の歌
Catch me if you can
ヘドバンギャー!!
イジメ、ダメ、ゼッタイ
ギミチョコ!!
Road of Resistance
Did you order any of these three bundles? I did, along with the US Mystery Bundle. No news has been given on what's inside that Mystery Bundle just yet, but keep an eye on my website and YouTube channel, and I'll post an update as soon as possible.
Update
It would appear the English version of Metal Resistance has different songs compared to the there Japanese versions. Now that Metal Resistance is available on the US iTunes store, I see that number seven is From Dusk Till Dawn instead of Syncopation. I wouldn't think they'd rename the same song, so most people are assuming these are completely different songs. Also, Yaba is written as Yava. For those unfamiliar with Japanese, there is no V sound, so they often use B sounds.