BABYMETAL Legend 2015 returns to Japan for the New Year Fox Festival. See how it stacks up against the others.
BABYMETAL Legend "2015" New Year Fox Festival was released in August of 2015, but it originally took place around new year 2014-2015 in Japan at the Saitama Super Arena.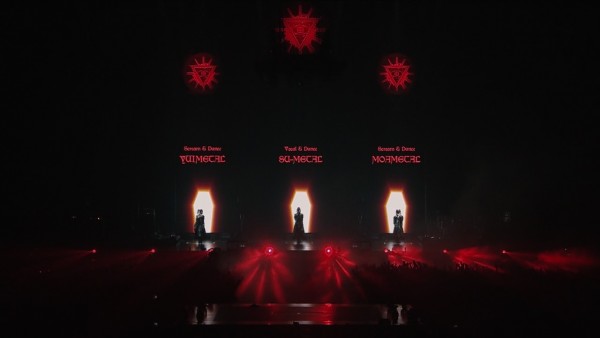 This band has become a huge international sensation, so the bright people in sales and merchandise decided to only sell this Blu Ray at a Japanese website. Of course, it sold out almost immediately, and now you can't find it anywhere (as of October 2015) unless you pay $200-$500 on eBay. But does this concert really live up to that sort of hype and that price?
Like usual, before jumping into the review of the concert itself, I'll list the tech specs of the Blu Ray. There is only a single concert on a single disc. It was shot in 1920 x 1080p at 23.98 frames per second. It has a 16:9 aspect ratio without any bars at the top or bottom of the screen. The audio is Stereo Linear PCM 48 KHz/24bit. Basically the same as the previous live Blu Rays.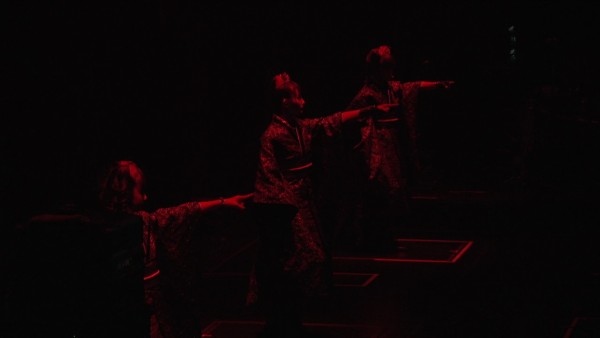 The lighting and color in this concert is absolutely fantastic. The girls and the band can be seen clearly in bright lights and the deep reds. Additionally, the sound set up is beautiful. This set up is as good, if not better, than Live at Budokan.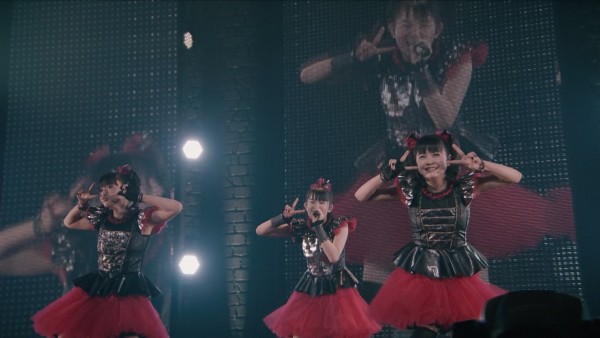 All four members of the Kami Band are on the stage from the beginning until the end of the concert. They're the same four men from the Live at Budokan concerts. Sometimes the band members switch out from concert to concert, but they appear to be the same men from Budokan.
The girls are singing like in Live at Budokan and Live in London. Of course, there are some back up vocals during select parts of select songs, like growls and whispers, but it also seems like there's an extra vocal track behind Su-Metal to give her a fuller, more rhythmic sound. She did sound a bit flat in previous concerts.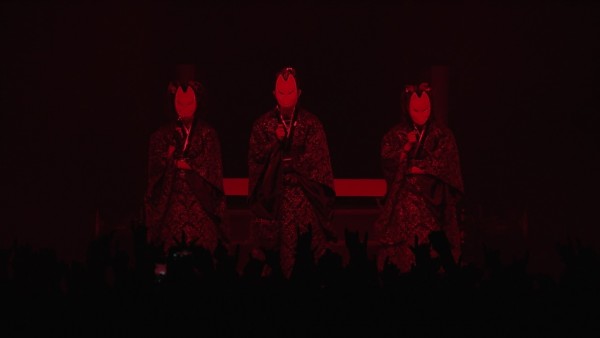 Now for the set list. There are a total of 15 songs — 16 if you count Mischief of Metal Gods, which is always at the beginning of Rondo of Nightmare and never included in the set list in the chapters menu or back of the box. The total run time is 1 hour and 35 minutes.
Megitsune
Iine
Awadama Fever
Akatsuki
Onedari Daisakusen
Catch me if you can
Uki Uki Midnight
Song 4
Rondo of Nightmare
Head Banger
Gimme Chocolate
Ijime, Dame, Zettai
~ENCORE~
BABYMETAL DEATH
Doki Doki Morning
Road of Resistance
Just like every other concert they've held and filmed, there's an encore after the concert appears to be over. I'm sure they plan the encore before the concert even begins. An unusual thing to note was the intro to Ijime, Dame, Zettai. For some reason they used the English intro from Live in London. This is weird since the concert is in Japan.
There was some pyrotechnics in a few songs, but I would have preferred if there were more. For example, in Akatsuki, they used CO2 jets instead of fire.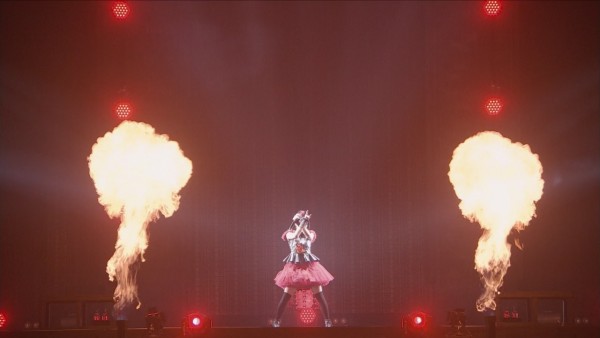 A highlight of the concert is the brand new song called Awadama Fever. From what I understand, Awadama translates to soap bubbles. It's a pretty good song, but I didn't like how the drums were completely electronic over the speakers. The drummer was there on stage providing back up, but the main drums were completely artificial.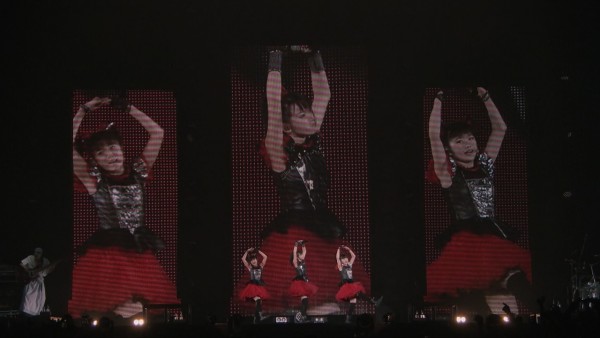 Most of the concert is what you would expect, except there were a few changes in choreography to make use of the massive stage with three smaller stages on the sides and front. According to the official YouTube channel, there were 20,000 people in this arena. They were very active during the sing-a-longs, did a little crowd surfing, and formed mosh pits and whirlpools throughout the concert.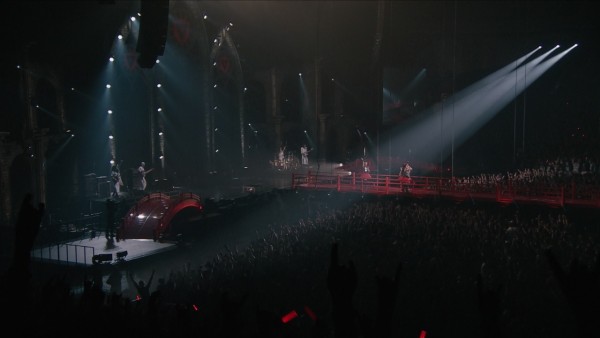 The final song, Road of Resistance, was taken from this concert and made into a music video for the official YouTube channel. You can see that video below.
In conclusion, this was probably the absolute best BABYMETAL Live to date on Blu Ray. It is a little lame how there's only one concert on this Blu Ray while the price is the same as the others, and it's incredibly stupid to sell this in Japan only with very limited supplies! I guess everyone else in the world will have to shell out $200+ on eBay or just wait and hope they reprint this concert. If they make more, I highly recommend buying this at the base price of $50 if you are a BABYMETAL fan of any sort.