A visual novel about the origin story of BABYMETAL, but is it any good? Here is a review from a true BABYMETAL fan.
Last year, BABYMETAL announced a visual novel telling the mythological origin story of the band. Being a writer and a huge fan of BABYMETAL, I was very excited to read what they came up with. We've seen clips and short stories placed throughout BABYMETAL's live concerts in Japan, but none of the companies translated these clips from Japanese. While some images were obviously intros to songs, others seemed to tell us something more.
I was hoping they would have made sense of all the clips and images to create a complete story — or at the very least begin a comic series telling the legend of BABYMETAL. Unfortunately, we're treated to an entirely new tale that has no relation to the previous BABYMETAL myths other than the Fox God and name of the three girls. In all honesty, I had a tough time following the visual novel. It didn't make much sense and it failed to capture my attention. The only positive to this manga is the artwork.
Following their history of collectibles, BABYMETAL decided to release five different covers of this visual novel where four fit together to create a large picture. The inside is exactly the same, only the cover is different.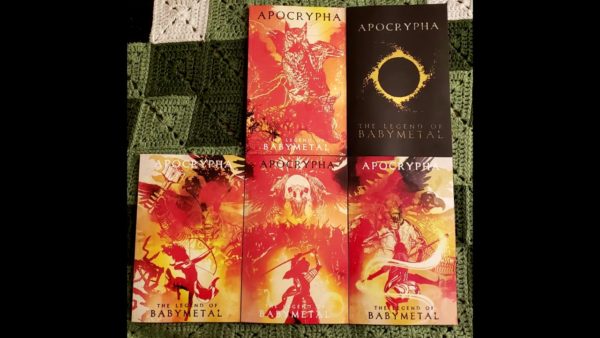 I hate this collectible approach BABYMETAL has taken with Apocrypha. It would make sense if there were something different within each book, but they are the exact same book! Not only that, you have to search different book stores to find the different covers. It would have been much better if they included a poster of the covers as other bands have done with their album releases. Luckily I found the same image online, which you can download below.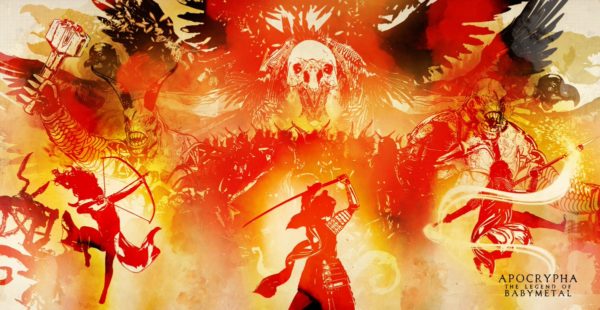 So, is Apocrypha: The Legend of BABYMETAL worth buying? I would say all BABYMETAL fans should at least get one copy. The artwork is great, it's only around $30, and it's another piece to add to your collection. Of course if it was not a BABYMETAL-related item, I probably would have skipped it entirely.
Some newer fans might not know, but BABYMETAL released small booklets many years ago telling some of the origin story. Hardcore BABYMETAL fans would definitely want to save up for those, if they can find them. I previously reviewed the BABYMETAL booklets here. You can also read the translated scans here.